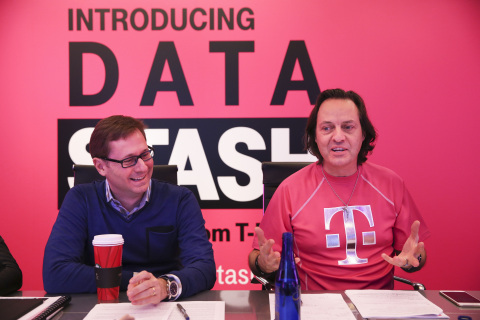 T-Mobile's Q4 2014, and full year earnings call will be taking place tomorrow and Wells Fargo analyst Jennifer Fritzsche has already had her say on what is likely to be announced. T-Mo's focus during the Uncarrier-style earnings call will be margins and "future technology deployments", according to the market analyst.
We were already treated to preliminary earnings numbers by T-Mobile last month. The carrier reported that it had added an impressive 2.1 million net subscribers during the final quarter of the year, 1.3 million of which were branded T-Mobile postpaid subs. Fritzsche's analysis focusses more on the financial figures and network expansion, however.
According to the Wells Fargo analyst, we're to expect an announcement that the company pulled in revenue of $7.92 billion. Service revenue is likely to be around $5.88 billion, around 14% higher than the same quarter in 2013. Equipment revenue, on the other hand, will be up 22% on the year-ago quarter at $1.93 billion. All this means T-Mobile could announce adjusted EBITDA (Earnings before interest, taxes, depreciation, and amortization) of $1.65 billion.
We're also going to see some announcements made on spectrum: Specifically, its portfolio following the recent AWS-3 auction, 700MHz spectrum rollout and its thoughts on use of unlicensed spectrum.
As reported by Fierce Wireless:
"We will look for an update on TMUS's spectrum portfolio following the AWS-3 auction in which it spent $1.8B, including the deployment of its 700 MHz A Block spectrum, thoughts on the broadcast incentive auction and updates on its LTE Unlicensed (LTE-U) initiatives," she added. "We also expect TMUS to provide color on the decommissioning of MetroPCS and guidance on cost synergies in 2015."
As previously announced, T-Mobile's fourth quarter earnings call will take place tomorrow, February 19 at 9:00am Eastern, and ending at 10:30am Eastern. That's 6:00am to 7:30am Pacific.
Source: Fierce Wireless