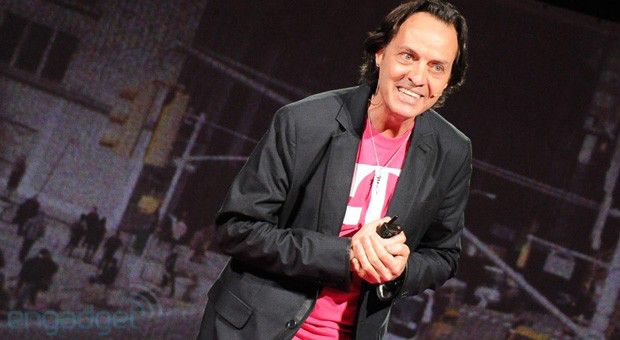 T-Mobile has become the most talked about carrier in the U.S. wireless industry. Its bold Uncarrier moves have made it the talk of the town. Its growth and popularity since starting Uncarrier have been incredible. And many will put this boldness and success down to one person: John Legere.
More often than not, tech reporters will come away from a T-Mobile press event with comments on the chief's style and choice of language. And the same is true of his online presence. He's often caught TweetStorming on important issues, bigging up his brand or  berating his competitors. Most recently, with Marcelo Claure, Sprint's relatively new CEO. And he got a response.
Yesterday afternoon, Mashable published an article on John Legere in which it printed an email exchange between themselves and our favorite company's CEO. The main subject was his use of Twitter.
Legere is obviously very active on Twitter, leading some critics to say that he's promoting himself and not T-Mobile. His response: There's no difference. He and T-Mobile are one and the same. He is T-Mobile.
At times, Legere is controversial in what he posts publicly, and he admits that there a things he says "every now and then" he wishes he hadn't. But he won't change his philosophy. To JL, listening to customers, connecting with them is the most important part of being the CEO. He doesn't spend all day in meetings.
"This the most important thing I can do as a CEO –- listen to customers, learn and take action. Whether it's on Twitter, in call centers or in stores, staying connected to customers is my No. 1 job. CEOs who don't do it are missing the point. This is a huge competitive advantage."
Of course, then came the question as to whether or not the other CEOs should do it. Or if it is only appropriate when you're the underdog. To which came my favorite response of the interview: "We are not an underdog brand."
Legere states that T-Mo is "punching above its weight", but that it also has the "best brand in this category", pointing to the company's growth as evidence for that statement.
"All CEOs and companies should be this straightforward, honest and transparent with their customers, competition and employees who are interested in what they have to say. They should all take customer feedback this directly and then be ready to act on it. But very few do, so no, I don't think this approach is for everyone."
If you get chance, you should head on over to the original article and give it a read. It's always good to read the CEO's thoughts on why he does the things he does.
Source: Mashable