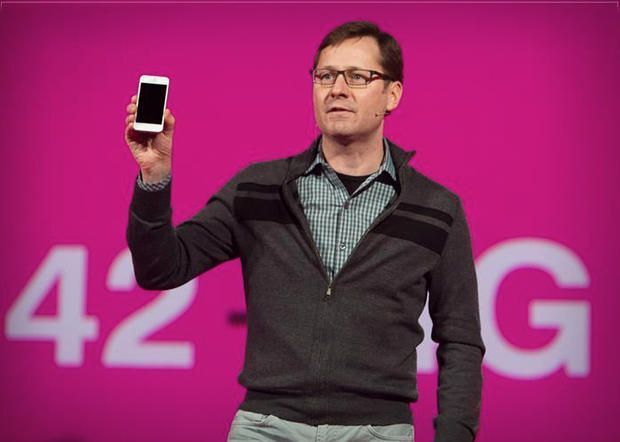 In an email sent out to all T-Mobile employees this morning, John Legere outlined a corporate re-shuffle taking place at the Un-carrier. Undoubtedly, the biggest news is Mike Sievert's move from CMO (chief marketing officer) to COO (chief operating officer).
In the memo to staff – which we've been able to look at (thanks to our sources) – Legere states that he has created the position for Sievert. His responsibilities will include guiding all customer facing operations across the business, in a role which sees him responsible for marketing, sales and customer care for all distribution channels both direct and indirect, for each of the company's brands.
Taking Sievert's place as Executive Vice President and Chief Marketing Officer is Andrew Sherrard. He will now lead the marketing teams for each of the brands under T-Mobile's umbrella.
Another new position is President – T-Mobile Indirect Channels. A role assigned to Tom Keys. He will now lead partner relationships including all dealers for T-Mobile and MetroPCS. Previously, Keys was EVP and COO of the MetroPCS business unit. Legere praises Keys' work in his current role, expanding and growing MetroPCS' distribution which helped make T-Mobile the largest prepaid carrier among the 4 national network operators.
Other promotions include Ami Silverman, the new EVP of T-Mobile Retail, Jon Freier who has been promoted to EVP of Customer Care, Brian Brueckman the new SVP of Direct to Customer and Janice Kapner who is promoted to SVP of Corporate Communications.
With all these changes, T-Mobile's executive teams have been altered. The Senior Leadership Team looks as follows:
John Legere – President/CEO
Mike Sievert – COO
Tom Keys – President, T-Mobile Indirect Channels
Andrew Sherrard – EVP/CMO
Ami Silverman – EVP T-Mobile Retail
Jon Freier – EVP Customer Care
Braxton Carter – CFO
Neville Ray – CTO
Gary King – CIO
Larry Myers – EVP HR
Peter Ewens – EVP Strategy
Dave Miller – General Counsel
David Carey – EVP Corporate Services
Mike Sievert is also establishing a Commercial Operating Team, which will is "accountable for driving devisions and tradeoffs seamlessly between our brands and offers to maximize the company's performance in each channel of distribution." The team will be led by Mike Sievert and will include many of the already mentioned names. The full COT will be:
Mike Sievert – COO
Andrew Sherrard – EVP/CMO
Ami Silverman – EVP T-Mobile Retail
Jon Freier – EVP Customer Care
Tom Keys – President of Indirect
Brian Brueckman – SVP, Direct to Customer
Matt Millen – VP Business Markets
Greg McAllister – SVP, Commercial Analytics and Insights
A huge congrats from us at TmoNews. After the past couple of years, it's really no surprise to see key members of the team be rewarded for the momentum and growth achieved. Long may it continue.
The only tinge of sad news is that the company's COO of Business, Jim Alling – who joined T-Mo back in 2009 – has now decided to leave, having fulfilled his goals for T-Mobile and for himself. Alling will continue with the company for the next month or so before he leaves for "his next challenge", and will aid the team's transition.