A detailed report put together by Jan Dawson, compares all four major U.S. carriers' performance and stats after each published their second quarter performances. All in all, it makes for great reading from a T-Mobile perspective. T-Mo lead the way with net subscriber additions and losses, and as a result is closer than ever to catching up with Old Yeller.
If taken a few of the highlights here, but you should check out the full report.
Net Additions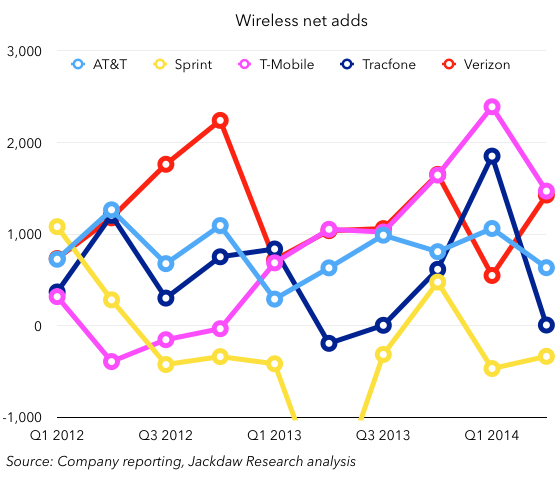 The chart above shows how all four major carriers, plus Tracfone, have performed in terms of net adds over the past couple of years. For those unsure, net adds measures the total number of new customers added, minus the number of customers that have left. And for the past five consecutive quarters, T-Mobile has been the best-performing carrier, or as close to Verizon as makes no difference. The very fact that a carrier with half the  number of subscribers is performing as well (or better) than the #1 carrier is fantastic. Its net adds have been over 1 million in every quarter since the 2nd quarter of last year.
Subscriber Losses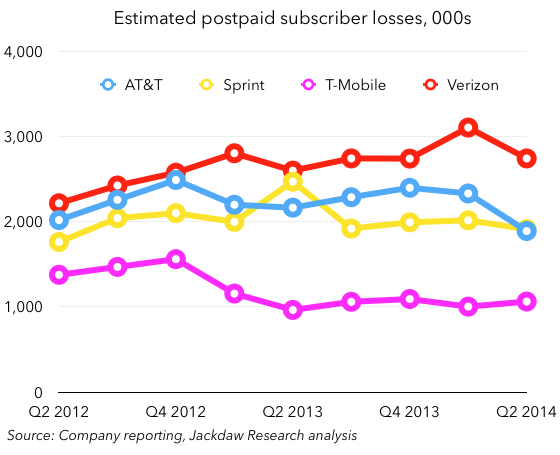 Part of T-Mobile's success is that – out of all four major carriers – it's losing the fewest subscribers. While 2-3 million customers have left Sprint, AT&T and Verizon each quarter for the past 2 years, T-Mobile's only lost around 1 million per quarter for the past 5.
Total Subscribers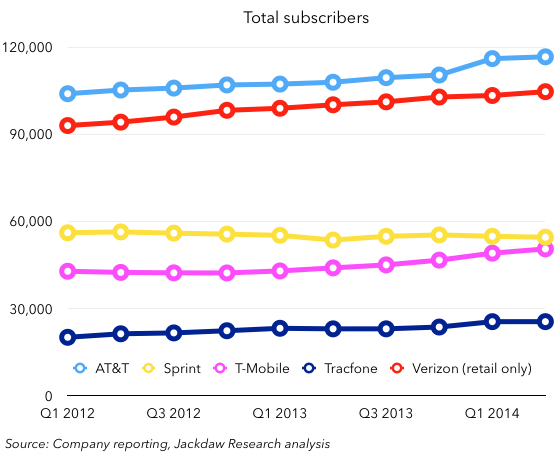 Just look how close the magenta-colored line in the chart is to the yellow one now! T-Mobile is sitting on just over 50.5 million total subscribers, while Sprint is around 53 million. With the way things are going, T-Mobile could overtake Sprint as the #3 carrier by the end of this year.
Perhaps the areas T-Mobile isn't performing are ones that indicate just how competitive it is. Its profit isn't as high as some of the other carriers, and average revenue per user (ARPU) is lower, as are few other financial metrics. But, if a company is going to be competitive, it has to take a hit somewhere. But we've already seen a few moves designed to address those issues. Changing the unlimited Simple Choice plan to $80 per month, adding the new pay-as-you-go minimum, and asking subscribers to pay at least 50% EIP if they want to JUMP! among others. We can just be glad T-Mobile returned to making profit again last quarter. Even if it isn't making as much of it as AT&T and VZW.
If you want to see more, read Jan's full report. It's a great read if you're in to comparing stats.