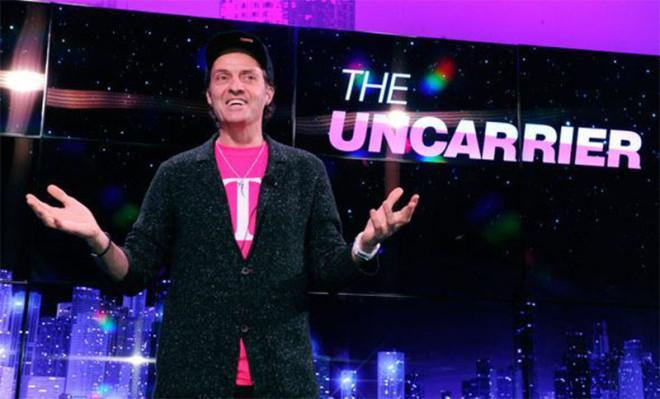 It's been little under two weeks since T-Mobile announced its quarterly results for Q3 2013. It was a very strong quarter for the magenta colored carrier and one which indicated that Tmo is certainly going about things the right way. By challenging the status quo and becoming the "UNcarrier" it's stopped being just another network operator, and is now the cool, rebellious kid that everyone in high school wishes was their friend. And it's paying off. Customers are subscribing.
I was checking out some analysis picked up at FierceWireless today, comparing the quarterly results of the major carriers in the States, and it struck me: The past couple of quarters, T-Mobile has performed like one of the top two, not #4. In Q2, it added 1.13 million subscribers compared to AT&T's 632,000 and Verizon's 1.29 million. In Q3 it added 1.023 million compared to AT&T's 989,000 and Verizon's 1.29 million. That brings Tmo up to 45 million subscribers in total.
At the moment, it's still technically the 4th most popular carrier. It's some 9.5 million subscribers behind Sprint, but going on this year's form so far, surely that can't last for too much longer. Sprint has failed to increase its subscriber base for the past three quarters. In fact, since January, it's lost 2.58 million. If all four carriers had started from zero in January, it'd look something like this: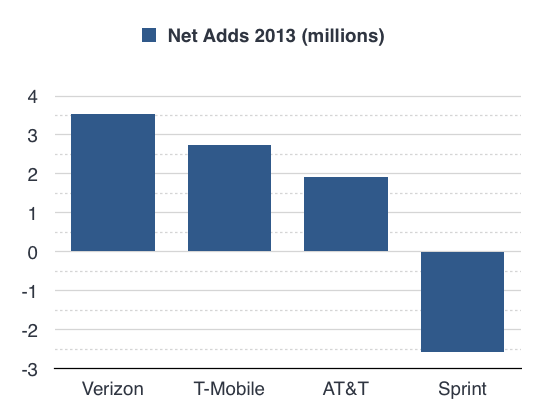 It's important to stress, this chart doesn't include the 9 million or so subscribers T-Mobile gained from the MetroPCS merger earlier in the year.
Why I write this really is that it's easy to look at the other carriers (especially AT&T and Verizon) and see how many subscribers they have on their books. Both have more than double Tmo's. But, the magenta carrier is keeping up this year and adding more subscribers than any other network operator (except Verizon).
In reality, it could be a good few years before T-Mobile is technically the #3 carrier in terms of subscriber base. But just looking at the way it's performing vs. the other carriers, particularly over the past 9 months, is very pleasing indeed. What I think is particularly good is that it's clear the iPhone isn't the reason behind it. Tmo's percentage of phone sales made up by the iPhone is pretty modest. It seems to have struck a decent balance between manufacturers and operating systems. What's made the real difference is the whole "UNcarrier" plan, throughout all the phases as well as acquiring more spectrum, strengthening its infrastructure and rolling out LTE, really quickly to metro areas.
And let's be honest, the other carriers' attempts at copying "JUMP!" have been poorly executed and are not – in any way – consumer focussed.
What do you guys think? Will Tmo be one of the top three soon, will Sprint survive? Let me know your thoughts on Tmo's performance so far this year.