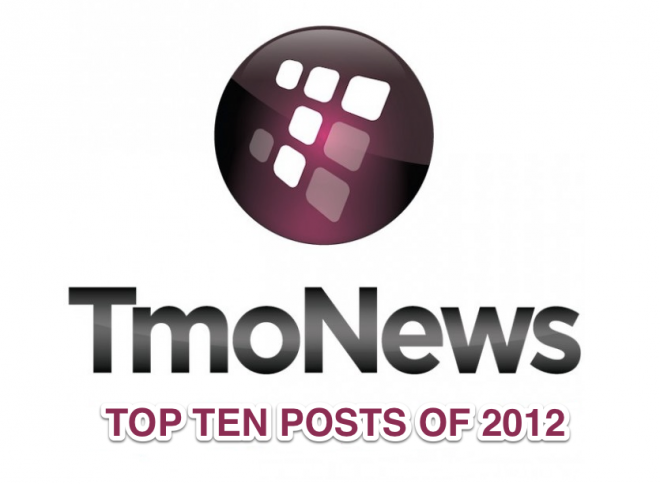 Hello TmoNews readers, with the Christmas holiday behind us and our attention now on the upcoming Consumer Electronic Show, it's time to kick back and check out the top ten TmoNews stories of 2012. As a brief reminder, the top ten posts don't relate to how much traffic hit the website on any particular day. Instead, the articles that make the top ten list were the most viewed posts of the year. So, without further delay, here are the top ten posts of 2012, beginning with number 10.
10) T-Mobile To Offer Additional Unlocked iPhone Support Beginning January 30th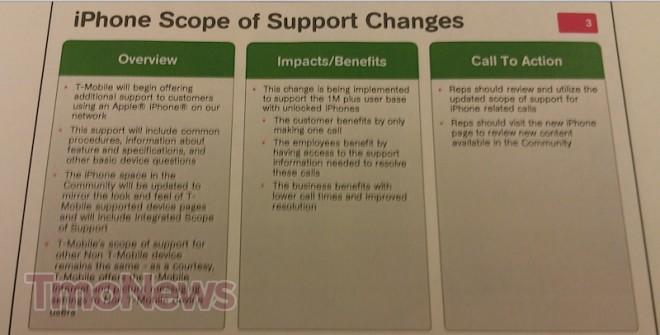 Long before T-Mobile's December announcement that an agreement had been reached to sell "Apple products," T-Mobile announced enhanced unlocked iPhone support in late January. Beginning on January 30th, T-Mobile began "offering additional support to customers using an Apple iPhone on our network." At the time, T-Mobile was concerned about supporting the needs of more than one million unlocked iPhone owners on the Magenta network.
9) Editorial: Why A Snapdragon S4 Galaxy S III Is Awesome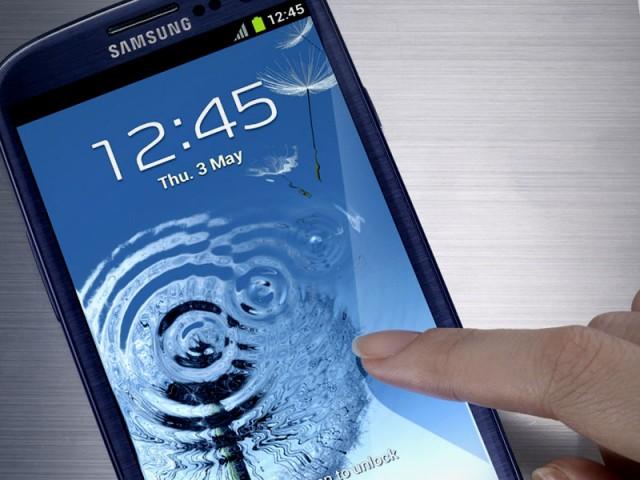 Coming in at number 10 is an editorial by our resident guru of all the things Conan Kudo who took on the idea that the Galaxy S III and its Snapdragon S4 processor was a good thing. The initial reaction by the US audience to the absence of an Exynos processor inside the Galaxy S III led to a lot of impressions that the US was getting the short end of the Samsung stick. As it turns out, the Galaxy S III was a great device and the lack of an Exynos processor has hardly stopped sales in the US.
8) T-Mobile Announces Galaxy S III Retail Availability For June 21st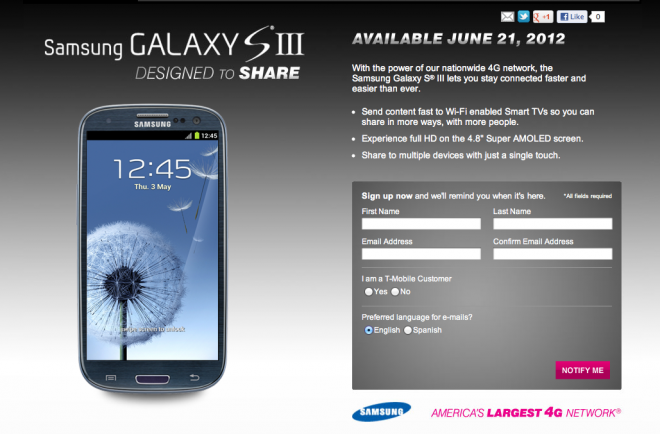 The number 9 story once again takes on the Galaxy S III and the official T-Mobile release announcement for a June 21st launch. Unfortunately T-Mobile didn't release pricing information with their announcement, and we all know what happened with the split launch. Still, the release of the Galaxy S III was one of the T-Mobile highlights of 2012.
7) HTC Sensation 4G Ice Cream Sandwich Update Arrives May 16th, Amaze 4G In "Coming Weeks"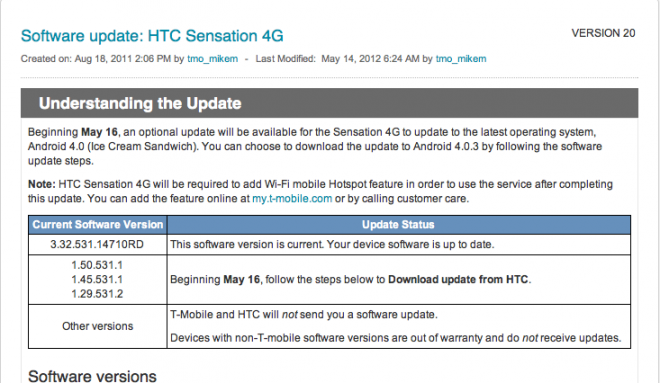 Happy happy joy joy as the Sensation 4G and the release of its Ice Cream Sandwich update took the number 8 spot in our top 10 stories of 2012. The update began on May 16th and Sensation 4G fans took the news like kids in a free candy store. The unfortunate twist with the Sensation 4G update was the news that T-Mobile eliminated the free Wi-Fi Mobile Hotspot feature and instead required customers to add-on the $14.99 plan to continue using Mobile Hotspot.
6) Update: T-Mobile Galaxy S II Ice Cream Sandwich Update Available Tonight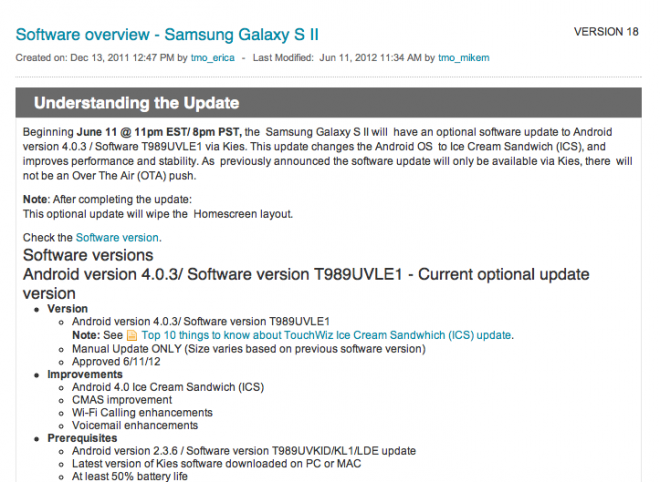 Once again another Ice Cream Sandwich update graces our top ten with number 7 and the Galaxy S II ICS upgrade. The update dropped on June 11th and like the Sensation 4G update, was welcomed by the masses with open arms and plenty of happiness. The update required the use of Samsung's Kies software which was met with a little frustration, but ultimately the release of the update overshadowed the use of software required to perform the update.
5) T-Mobile's Planned Dates For Ice Cream Sandwich, Upcoming Device Launches

Here we go again with more Ice Cream Sandwich news in the top 10 stories as a leaked calendar provided a bunch of rumored dates for release. The April 27th post highlighted the release of the Galaxy S II, Sensation 4G and Amaze 4G ICS updates. Ice Cream Sandwich update timetables weren't the only info contained within this calendar as new device launch dates were also included. Unfortunately, the calendar of dates didn't contain any high-profile devices, but we love rumored release dates all the same.
4) T-Mobile Releases Father's Day Sale Details, All 4G Smartphones Free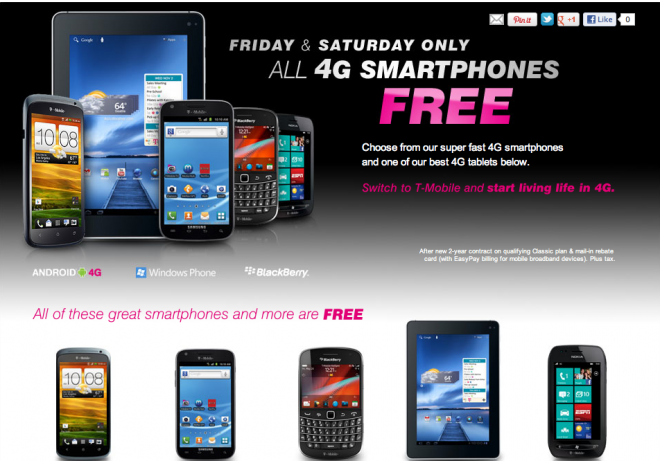 T-Mobile loves their Father's Day sales and this June 11th post with T-Mobile's official sale announcement holds down our number four top read post of 2012. T-Mobile offered all of their 4G smartphones free with qualifying plans and was good for both new and eligible customers. T-Mobile offered smartphones like the HTC One S for $299 with a $300 mail-in rebate offering a net price of $0.00 after rebate. Not a bad deal!
3) (Updated With Top 29 Markets) T-Mobile Breaks Up Galaxy S III Launch Into Two Phases, Pricing Info Revealed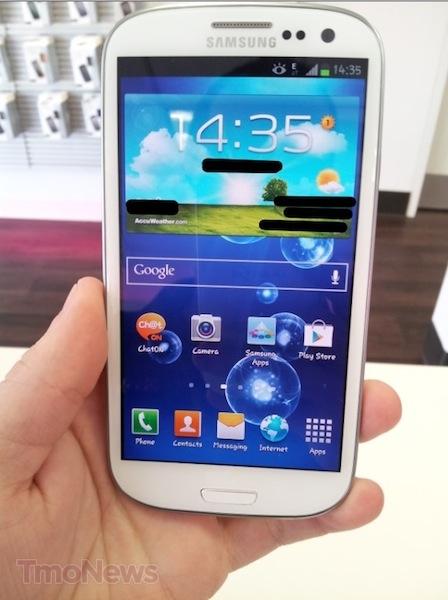 The June 19th story highlighting the breakup of T-Mobile's release of the Galaxy S III grossed a total of 982 comments, one of our highest comment counts ever. Still, this post only arrived at number 3 on our top posts of 2012 as T-Mobile stated that they were attempting to offer the best possible handset release experience with a two-pronged approach to release. The release of the Galaxy S III was met with locations in the top 29 markets receiving their inventory first followed by the rest of the country.
2) T-Mobile Holding Two Day Samsung Sale On November 16th, 17th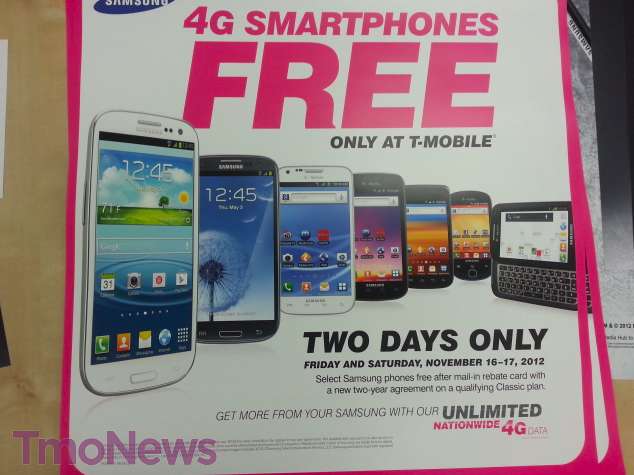 Surprisingly, T-Mobile's Samsung smartphone sale on November 16th and 17th was the second most read post of the year. Samsung two-day sales are becoming more and more common as a T-Mobile sale of choice and this time around the Galaxy S III was involved which is always a good thing these days. Anytime we can score some savings on some of the top devices we're happy campers.
1) Upcoming Release Dates For The Galaxy S III, Galaxy Note And Huawei-Based myTouch Devices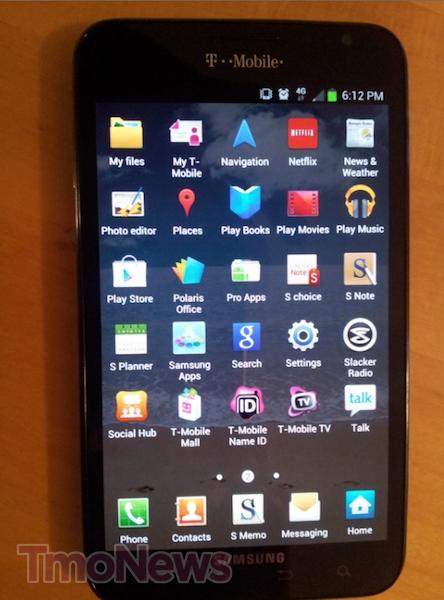 There's nothing you guys love more than a release calendar full of future handset releases and our number one post is exactly that. This May 25th post was a real doozy with the Galaxy Note and Galaxy S III included, two of T-Mobile's most exciting handset releases this year. Unfortunately, T-Mobile's original Galaxy Note release lasted only a few short weeks before it disappeared into the nether regions only to be replaced by the far more powerful and useful Galaxy Note II. That wasn't such a bad thing though was it?