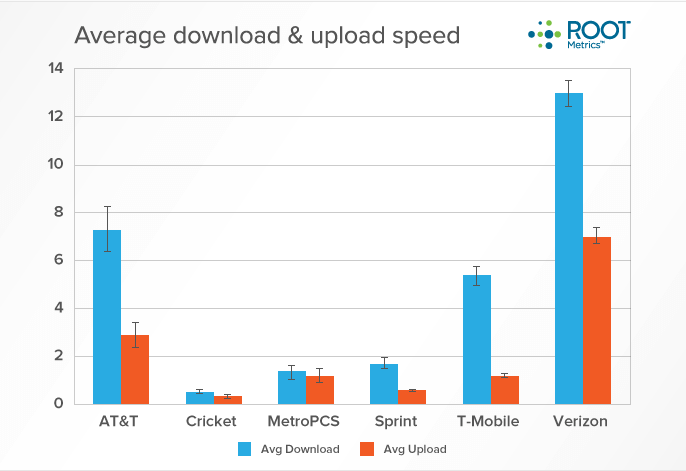 The good folks at RootMetrics are back with another network study breakdown spanning 75 markets, 100,000 miles and 500,000 driven and indoor data tests to find the very best in wireless data service. I'll jump right to the conclusion and let you all in on how T-Mobile performed:
T-Mobile, meanwhile, often recorded download speeds that were closer to LTE speeds than you might expect and was very close to AT&T in overall performance. The name "HSPA+42" might not have the cachet of "LTE," but it shouldn't be lost in the LTE shuffle.
I'd say that's plenty for the T-Mobile folks to be proud and while it will come as little surprise that Verizon was the overall winner, T-Mobile's performance was incredibly solid. In fact, the Root Metrics report says that T-Mobile's scores became a "major story of our testing." When compared to AT&T's LTE network for average download data speed, T-Mobile kept pace with AT&T, though AT&T did outdo T-Mobile in upload speeds. AT&T's average downlink speed was 7Mbps passing T-Mobile's 5Mbps — however, both carriers fell behind Verizon even as they passed Sprint, MetroPCS and Cricket (where available) by a mile.
T-Mobile's speed reliability also kept pace with AT&T's network even while both were beaten by Verizon again in how often during the testing period they hit the 5Mbps mark or higher by hitting that number in at least 46.7% of tests, against AT&T's 48.1% and Verizon 77.4%.  Once again Root Metrics praised T-Mobile's performance:
While T-Mobile can't tout LTE, their HSPA+42 network is turning in some very respectable download speeds and might surprise consumers.
Furthermore, Root Metrics' CEO Patrick Linder praised T-Mobile in a company blog post:
"Beyond Verizon, things get more interesting, especially given T-Mobile's strong performance without the availability of LTE," RootMetrics' Patrick Linder wrote in a company blog post. "Their HSPA+42 network proved a major story of our first-half testing. Though AT&T edged ahead of T-Mobile, the distance between the carriers was small. In fact, despite AT&T's rollout of LTE, they were often closer to T-Mobile than to Verizon."
It's a lengthy study with plenty of info on how T-Mobile performed against both AT&T, Sprint and Verizon LTE networks, and I urge you to take a few moments and read through the study. You can find both the full study and company blog post linked below.