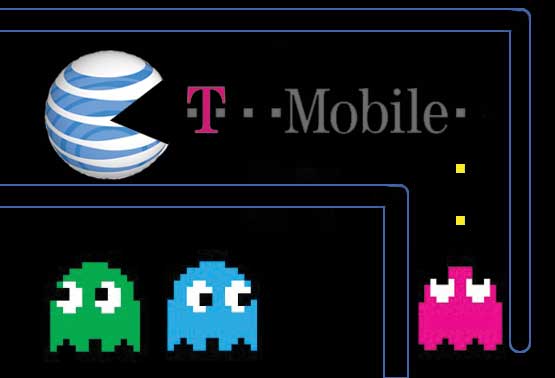 While we're excited by the news that AT&T's proposed acquisition of T-Mobile looks all but dead, I'm fearful that T-Mobile's darkest days may still be ahead. While analysts, press, bloggers and the like all predict this deal will now just drag on until AT&T decides to finally throw in the towel, T-Mobile has to suffer the consequences of such actions.
Given the news that AT&T is prepared to offer even more concessions in order to appease the Department of Justice, the company seems convinced it can still push this deal through, all while dragging T-Mobile through the mud. Morale, marketing and continued attempts at customer gains are thrown into the wind as T-Mobile still is seen as kowtowing to AT&T's whim until the very last day. If AT&T promises to fight until the DOJ renders a decision, we're talking at least the end of February into March at the earliest before we could see AT&T pull out altogether. That is unless AT&T decides not to fight the DOJ and give up before then.  However, its recent language leads us to believe otherwise. At this point, AT&T has to wait for the FCC to reply to its request to withdraw the application. The FCC can respond in one of three ways:
• The FCC can allow AT&T and Deutsche Telekom to withdraw their application   without prejudice allowing the companies to refile their application at any time. This is the most likely scenario.
• The FCC can allow the proceeding to end with prejudice, meaning the companies would be unable to resubmit their applications later. This would effectively kill the deal as AT&T would require FCC approval to transfer spectrum from T-Mobile to its own network.
• The FCC can go forward with its decision to hold a hearing and send the case to an administrative law judge thereby denying the petition to remove their applications. The hearing itself would begin after the Department of Justice antitrust lawsuit concludes. Regardless of the decision by the FCC, public interest groups are requesting the FCC publish its findings in order to determine how the FCC came to its decision to request a hearing.
The FCC decision could spell the end for the AT&T-T-Mobile deal before the Department of Justice case even begins. On top of the FCC response, the next court hearing for AT&T-T-Mobile is November 30th in front of Judge Huvelle where AT&T could present its new proposal to sell off as much as 40% of T-Mobile's assets in an effort to appease the Justice Department. How or if Judge Huvelle will address the FCC decision to hold an administrative hearing and will it affect her expedited schedule for the case remain to be seen. Along with the Judge Huvelle update, November 30th marks the FCC's monthly meeting. Though AT&T isn't on the agenda for the day, it's likely it will come up in some capacity, at the very least after the meeting is over when remarks are made to the press.
November 30th aside, let's look at another proposal a number of you like to consider. The Department of Justice language has indicated that it wants to keep a four pony race going in the wireless industry, all but eliminating a potential buyout by Sprint as many of you suggest would be the next logical step. Not to mention Sprint has to finalize their Clearwire, Lightsquared and LTE plans before even attempting to come up with enough cash to make Deutsche Telekom a serious offer. DT knows it will likely never see another bid as high as $39 billion, but I don't think it will accept the first offer once AT&T withdraws its bid either. Sprint may not be able to meet DT's terms, not to mention have enough cash to continue its own network buildout, all while avoiding the the nightmares that were endured due to incompatible networks with Nextel.
Moving on, we'd be remiss if we didn't return to our earlier statement regarding the possibility that T-Mobile's darkest days still lay ahead. Without a potential buyer, plans to further build up the network beyond the next two years or opportunities for massive customer gain, T-Mobile still needs one hell of a plan to compete. It's likely, in fact it's almost a certainty, that will only happen with another buyer, be it a private equity group, cable company or an overseas telecom carrier making a play. A buyer will have to be willing to not only meet Deutsche Telekom's asking price, but also throw in enough money to raise T-Mobile's profile and enhance its network. That's a tall order, even for companies with plenty of cash on hand.
T-Mobile's biggest hopes lie with becoming a scrappy competitor in the value market, putting the grind on companies like Virgin Mobile, MetroPCS, Leap, Cricket and, to some extent, Sprint. If T-Mobile is left standing on its own, it will, as some have predicted, implement a "Plan B" alternative and fight harder for the lower end of the market. This market is currently a stronghold for the likes of Metro, Boost Mobile, Virgin Mobile, Leap and even Sprint in the form of value pricing and "unlimited data.". T- Mobile could emerge from this deal as a national player in a value market with a super fast network enhanced by acquired assets from an AT&T deal breakup and work with a revitalized focus on capturing a larger share of the prepaid market.
If the deal fails, MetroPCS and Leap lose an opportunity to enhance their own networks as they were said to be in talks with AT&T to acquire divested T-Mobile spectrum. However, MetroPCS has gone on record stating it is not interested in transitioning into a national carrier. AT&T's failure to close this deal will ensure T-Mobile begins to look at markets controlled by the likes of MetroPCS and turn its attention in that direction. In effect, the collapse of this deal is worse for MetroPCS, Sprint and Leap than the passage of it. If the deal did indeed pass, the market for value customers could increase exponentially as T-Mobile customers look for alternatives rather than sticking with AT&T's already high-price monthly rate plans. Those customers could flock to lower- priced carriers in the hopes of maintaining T-Mobile-level monthly pricing.
The biggest winner from all of this will undoubtedly be Verizon which will continue its strategy of maintaining what is arguably the nation's most reliable network while all of the companies involved in this deal try and salvage the remnants. AT&T, who claims to be in quite a "spot" and needs spectrum immediately, will not only lose the opportunity to gain T-Mobile's spectrum but it will also be forced to hand some over as per the agreed upon breakup fee.
Shifting gears again, we need to touch base on the elephant in the room…the lack of the iPhone on T-Mobile's network as it still leaves them as odd man out in a four pony race. T-Mobile has thrown its lot in with Android and for good reason, but the lack of an iPhone is still hurting its image even if it isn't drastically hurting its customer gains. If T-Mobile were to suddenly gain the iPhone on its network it would help the image, but it wouldn't suddenly turn around the company's fortunes. While a number of reasons have been floated as to why T-Mobile isn't carrying the iPhone, one of the reasons being floated is T-Mobile isn't seen as a safe bet and with Apple requiring the manufacturing of a specialized chip inside iPhone for T-Mobile's bands, they clearly aren't producing it.
T-Mobile employees and customers deserve an end to this AT&T nightmare, in one direction or another. For those of you who opposed the merger right from the get go or jumped on the bandwagon eventually, the deal finally appears to be dwindling down and most analysts give it a slim chance at best to succeed. That's the good news. The bad news is that T-Mobile's fortunes are still heading in the wrong direction and while the AT&T deal drags on to the bitter end, the company continues to operate like it's an AT&T pawn.
It's the end of the Thanksgiving weekend and we're thankful that the AT&T nightmare looks less likely than ever but, as T-Mobile fans, employees and customers, we're not out of the woods yet. There is still a long, dark road ahead and we can only hope that T-Mobile finds a bright shining light to guide us through.