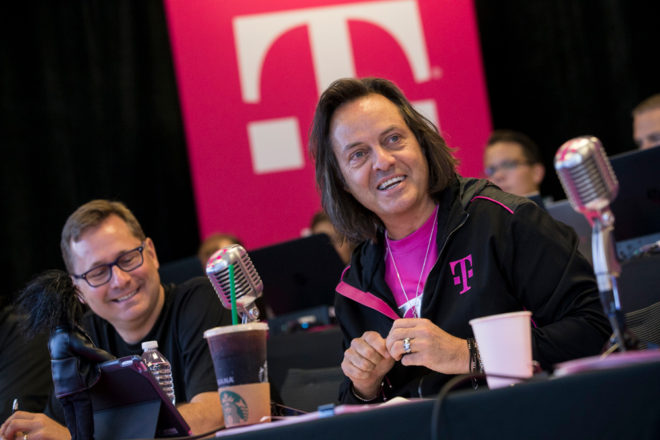 A little more than seven years after joining T-Mobile, John Legere has announced that he's leaving the company in the near future.
Legere will exit his position as T-Mobile CEO on April 30, 2020. Starting May 1, 2020, Mike Sievert will be T-Mo's President and CEO. John Legere will remain a member of the board at T-Mobile.
The T-Mobile board of directors, Legere included, has been involved in a multi-year leadership succession process and ultimately chose Sievert as the next T-Mobile CEO. Sievert joined T-Mobile in 2012 as its Chief Marketing Officer and then became Chief Operating Officer in 2015. He joined the board of directors and was named president of T-Mo in 2018.
Here's what John Legere had to say about Mike Sievert:
"I hired Mike in 2012 and I have great confidence in him. I have mentored him as he took on increasingly broad responsibilities, and he is absolutely the right choice as T-Mobile's next CEO. Mike is well prepared to lead T-Mobile into the future. He has a deep understanding of where T-Mobile has been and where it needs to go to remain the most innovative company in the industry.

"I am extremely proud of the culture and enthusiasm we have built around challenging the status quo and our ongoing commitment to putting customers first. Together, these attributes have distinguished T-Mobile in the marketplace and on Wall Street, giving us a powerful business advantage that is instilled throughout every level of T-Mobile. I am confident it will thrive under Mike's leadership."
Meanwhile, Mike Sievert thanked Deutsche Telekom CEO Tim Höttges and T-Mobile's board of directors for the opportunity to become the new T-Mo CEO and John Legere for everything he's done for the carrier over the past 7+ years. And while he may not be as brash as Legere, Sievert pledged that T-Mobile's "Un-carrier culture" won't change:
"The Un-carrier culture, which all our employees live every day, will not change. T-Mobile is not just about one individual. Our company is built around an extraordinarily capable management team and thousands of talented, committed, and customer-obsessed employees.

"Going forward, my mission is to build on T-Mobile's industry-leading reputation for empowering employees to deliver an outstanding customer experience and to position T-Mobile not only as the leading mobile carrier, but as one of the most admired companies in America."
As for what Legere will do after stepping down as T-Mobile CEO, he was tight-lipped about his plans but did say that he's "not retiring." He did touch on the recent rumors about him becoming WeWork's new CEO, saying that was "never having discussions" about running WeWork.
T-Mobile made a couple of other executive announcements today. First up, T-Mo CFO Braxton Carter has extended his contract through July 1, 2020 to help with the transition to Mike Sievert as the new T-Mobile CEO. Additionally, T-Mobile CTO Neville Ray is being given the title of President of Technology at T-Mo.
Source: T-Mobile