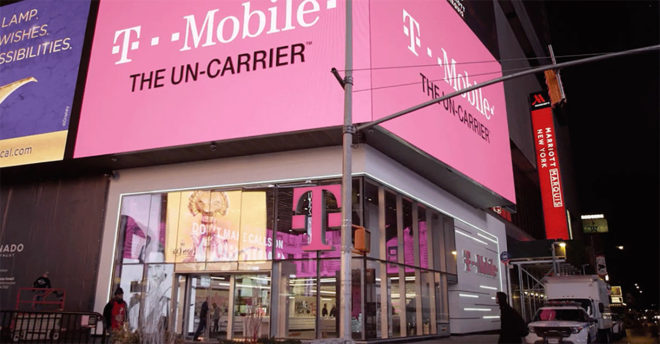 T-Mobile's Q3 2019 numbers are in.
T-Mobile reports that it added 1.7 million new customers in the third quarter of 2019, making it the 26th straight quarter that T-Mo has added more than 1 million new subscribers. Of that 1.7 million, there were 1.1 million branded postpaid net additions and 62,000 branded prepaid net additions, with that latter figure up 27,000 year-over-year.
At the end of Q3 2019, T-Mobile had a total of 84.2 million customers.
The Q3 2019 results also include some record-breaking financials. T-Mobile says that it pulled in record service revenues of $8.6 billion, up from $8.1 billion in the year-ago quarter. Total revenues grew, too, going from $11.0 billion in Q3 2018 to $11.1 billion in Q3 2019.
On the network side of things, T-Mobile says that its 600MHz LTE coverage is 200 million people and nearly 8,300 cities and towns in 48 states and Puerto Rico. To compare, T-Mo's 600MHz LTE reached 156 million people and nearly 6,600 cities and 156 million people in Q2 2019.
Also of note is that when you combine 600MHz and 700MHz, T-Mobile's low-band LTE covers 311 million people. In total, T-Mo says that its 4G LTE network reaches 326 million people.
Today's report also notes that Voice over LTE (VoLTE) made up 90% of all calls on the T-Mobile network in Q3 2019, up from 85% in the year-ago quarter. Carrier aggregation is live in 956 markets, an increase from 904 markets in Q3 2018, while 4×4 MIMO availability has grown to 683 markets. 256 QAM is available across T-Mobile's entire 4G LTE footprint, and License Assisted Access (LAA) is available in 29 cities: Atlanta, Austin, Chicago, Denver, Houston, Las Vegas, Los Angeles, Miami, New Orleans, New York, Philadelphia, Sacramento, San Diego, Seattle, and Washington, D.C.
T-Mobile also touched briefly on its 5G network plans today. It says that its mmWave 5G network that's live in six cities — New York City, Los Angeles, Dallas, Atlanta, Cleveland, and Las Vegas — will be expanded and enhanced over time by continued deployments and the addition of new high-band spectrum. T-Mo also says that its mid-band spectrum will now be reserved for LTE and that if it closes its merger with Sprint, it will deploy 5G on Sprint's unused 2.5GHz spectrum.
Finally, T-Mo reiterated its plans to launch 600MHz 5G "on a nationwide footprint" later this year.
T-Mobile is hosting an earnings call to discuss its Q3 2019 results this afternoon. I'll be listening in and will report back with any interesting tidbits that John Legere and Co. have to share.
UPDATE: T-Mobile CEO John Legere said that he now expects the T-Mobile-Sprint merger will be permitted to close in early 2020. Legere also teased a new Un-carrier announcement for November 7th that he referred to as "New T-Mobile Un-carrier 1.0".
Source: T-Mobile