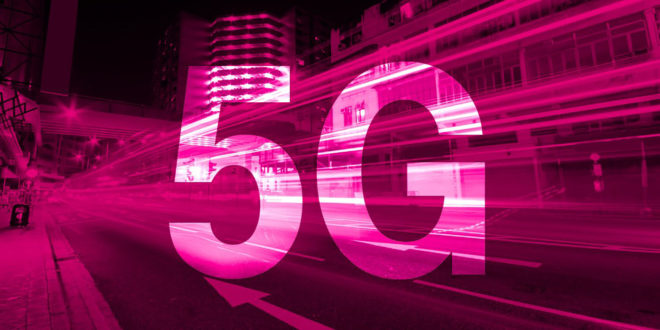 Along with the news that it's exclusively launching the OnePlus 7T Pro 5G McLaren Edition, T-Mobile today revealed some news regarding its 5G network.
T-Mobile says that it will cover 200 million people with 5G using 600MHz before the end of 2019, which is an accelerated rollout. T-Mo isn't saying exactly where it plans to deploy its 600MHz 5G coverage, though.
T-Mo explains that it's been building toward its 600MHz 5G launch for two years, building out thousands of 5G-ready towers and cell sites that can send out 5G on 600MHz spectrum.
When it comes to smartphones, T-Mobile currently plans to launch two phones later this year that'll be able to access this 600MHz 5G coverage. They include the Samsung Galaxy Note 10+ 5G and the OnePlus 7T Pro 5G McLaren Edition. No pricing or launch date for either device has been announced.
T-Mobile currently offers 5G in parts of six cities: New York City, Los Angeles, Las Vegas, Dallas, Cleveland, and Atlanta. That 5G coverage is based on millimeter wave (mmWave) spectrum, which offers fast speeds but limited reach. On the flip side, the 600MHz 5G coverage won't be quite as speedy as the mmWave 5G, but it will have better reach and building penetration.
The Samsung Galaxy S10 5G that's sold by T-Mobile is able to access mmWave 5G. When the Galaxy Note 10+ 5G and OnePlus 7 Pro 5G McLaren Edition arrive at T-Mo later this year, they'll be able to tap into the 600MHz 5G but will not support the mmWave 5G.
There are only a couple months left in 2019, so if T-Mo is indeed planning to cover 200 million people with 600MHz 5G before the end of the year, we should be hearing more about this launch soon. Stay tuned.
Source: T-Mobile