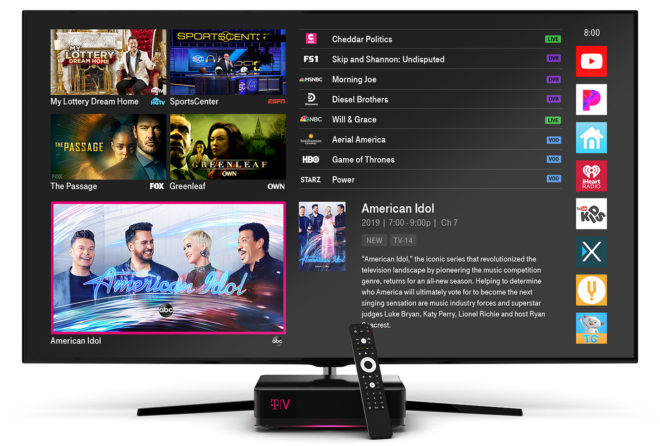 One week after announcing its content deal with Viacom, T-Mobile has taken the wraps off of its new TV effort.
TVision Home is T-Mobile's television service, a rebranded and upgraded version of the Layer3 TV product that T-Mobile bought last year. The service uses your wired broadband connection and includes more than 275 channels, including HD premium channels and 4K content, and T-Mo promises more than 35,000 on-demand movies and shows. Customers also get a DVR with 1TB of storage, letting them save more than 400 hours of HD content for viewing later.
Along with traditional TV channels, T-Mobile says that streaming services like Pandora, iHeartRadio, XUMO, CuriosityStream, Toon Googles, and HSN will be available at launch, with Netflix, YouTube, and Amazon Video coming later. You can connect your social networks to view Facebook photos and Twitter profiles, too, and you can access your security cameras to keep an eye on your house while you're on the couch. Support for controlling TVision Home with Amazon Alexa or Google Assistant is included as well.
AI plays a role in TVision Home, with a personalized UI that'll get smarter the more content you watch. The AI will remember what you watch as well as when and where you watch it to serve up shows for you based on the hour and your location.
In the future, T-Mobile plans to launch a TVision Home companion app for Android and iOS so that you can watch TV on your smartphone anywhere in your house.
T-Mobile is launching TVision Home on April 14th in Chicago, Dallas-Fort Worth, Los Angeles, New York City, Philadelphia, San Francisco, Washington D.C., and Longmont, CO. More markets are coming later this year.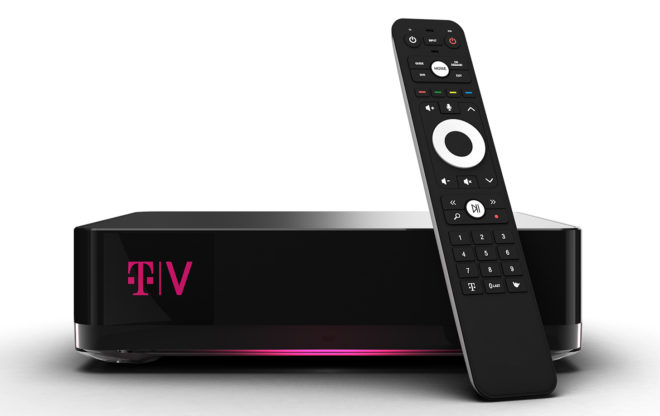 When it comes to pricing, TVision Home will cost $90 per month, including a $9.99 per month discount for T-Mobile customers that's available to everyone for a limited time. You can add connected TVs for $10 per month per television set. Premium TV packages like HBO and Showtime as well as on-demand rentals are extra.
Like with Carrier Freedom and its wireless service, T-Mobile is launching a Satellite Freedom offer for TVision Home. With this deal, T-Mobile will pay off contract termination fees for Dish and DirecTV customers, up to a $500 via a prepaid card, when they switch to TVision Home.
While TVision Home currently runs on a cable box, T-Mobile has plans to bring TVision on "popular third-party TV platforms", letting you download an app and select your home or mobile subscriptions.
It's nice to see T-Mobile getting the ball rolling on its home TV service more than a year after first announcing plans to get into the TV business. That said, the market for TV services has been heating up lately, with the emergence of streaming services like Sling TV, YouTube TV, Playstation Vue, and others, and so T-Mo is going to be facing some stiff competition right out of the gate.
Now that it's official, what do you think of TVision Home? Do you plan on signing up when it's available in your city?