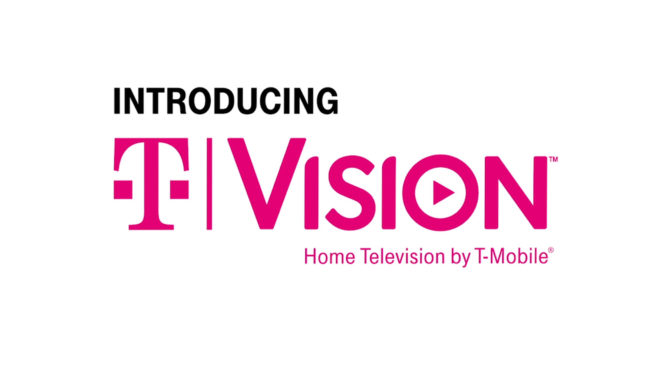 Today's the day that T-Mobile's new TV effort goes live.
TVision Home launches today in Chicago, Dallas-Fort Worth, Los Angeles, New York City, Philadelphia, San Francisco, Washington D.C., and Longmont, CO. More markets will get TVision Home later this year. Pricing is set at $90 per month including a $9.99 per month discount for T-Mobile customers that's available to everyone for a limited time. Adding TVs will cost $10 each per month. TVision Home uses your existing wired broadband connection.
If you're a a Dish or DirecTV customer, T-Mobile has a deal to tempt you to switch to TVision Home. With Satellite Freedom, T-Mo will pay your contract termination fees up to $500 via a prepaid card when you switch from Dish or DirecTV to TVision Home.
In exchange for their $90 each month, TVision Home customers get more than 150 channels, local broadcasts, regional sports, and DVR. Premium TV packages like HBO and Showtime are available for an extra charge. T-Mobile touts that in total, TVision Home has more than 275 channels available along with more than 35,000 on-demand movies and shows. If that's not enough content, support for apps like Pandora, iHeartRadio, CuriosityStream, Toon Googles, and HSN is available, and Netflix, YouTube, and Amazon Video are coming soon.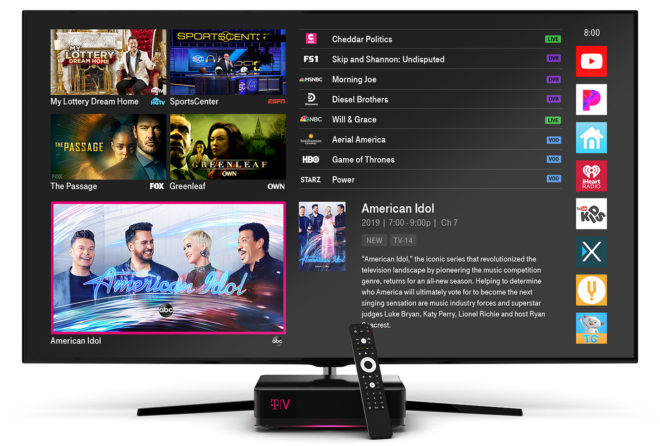 Other features of TVision Home include DVR with 1TB of storage that's good for more than 400 hours of DVR content and an AI that'll learn what you watch as well as when and where you watch it to serve up shows that you'll like based on the hour and your location. TVision Home is integrated with Facebook and Twitter, too, and you can use Amazon Alexa and Google Assistant to control TVision Home with your voice.
T-Mobile plans to launch TVision Home apps for Android and iOS in the future so that you can watch TV on your phone anywhere in your house. Also planned for the future is bringing TVision to "popular third-party TV platforms" so that you can download an app and begin watching without the need for an extra box or other piece of equipment.
We've seen streaming services like Sling TV, Playstation Vue, and YouTube TV become popular lately, and so TVision Home is facing some competition right out of the gate. T-Mobile's service is also only available in eight markets at launch, so hopefully we see it expand to more markets soon so that other consumers have the chance to try TVision Home if they'd like to.
Now that TVision Home has been official for a few days, what are your thoughts on T-Mobile's TV service? What would you like to see change in the future?
Source: T-Mobile