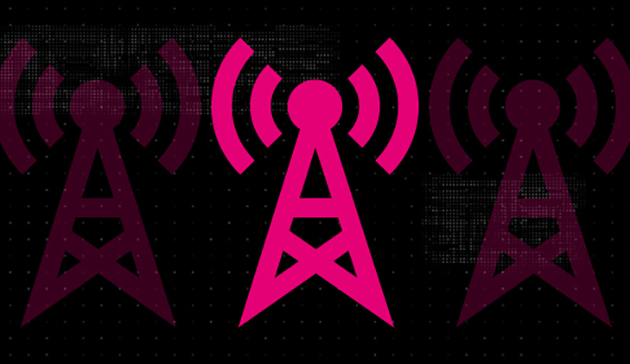 One week after T-Mobile announced a round of mid-band LTE upgrades, it's got another batch of upgrades to tell us about.
T-Mobile has upgraded hundreds of cell sites with more mid-band LTE capacity, says T-Mo CTO Neville Ray. These upgrades include both PCS and AWS spectrum.
#WeWontStop getting faster! In two weeks, 100s of new @TMobile sites have been upgraded with more midband capacity. GO, TEAM, GO!! #AcrossTheGrid @MetroByTMobile pic.twitter.com/8UPAuIMhQ9

— Neville (@NevilleRay) April 12, 2019
This is a pretty sizable batch of upgrades, and it includes cities like Phoenix, AZ; Jacksonville, FL; Des Moines, IA; Klamath Falls, OR; Wilmington, DE; and Rochester, MN. You can check out the full list of cities and towns that were recently upgraded with more mid-band LTE capacity below.
Buckeye, AZ
Casa Grande, AZ
Phoenix, AZ
Quartzsite, AZ
Tucson, AZ
Mountain Home, AR
Sheridan, AR
Brawley, CA
Chula Vista, CA
Compton, CA
Concord, CA
El Centro, CA
Fortuna, CA
Gilroy, CA
Harbor City, CA
Highland, CA
Indio, CA
Lake Elsinore, CA
Los Angeles, CA
Malibu, CA
Menlo Park, CA
Merced, CA
Northridge, CA
Oakland, CA
Orange, CA
Perris, CA
Rancho Cordova, CA
Riverside, CA
San Bernardino, CA
San Clemente, CA
San Diego, CA
San Jose, CA
San Marcos, CA
San Mateo, CA
Santa Ana, CA
Shingle Springs, CA
Spring Valley, CA
Temecula, CA
Torrance, CA
Tulare, CA
Upland, CA
Vista, CA
West Hollywood, CA
Winchester, CA
Aurora, CO
Wilmington, DE
Bradenton, FL
Brooksville, FL
Jacksonville, FL
Palmetto, FL
Tallahassee, FL
Tampa, FL
Venice, FL
Ashburn GA
Cave Spring, GA
Conley, GA
Duluth, GA
Ellenwood, GA
Fairburn, GA
Forest Park, GA
Grayson, GA
Greenville, GA
Lawrenceville, GA
Marietta, GA
McDonough, GA
Roswell, GA
Savannah, GA
Smyrna, GA
Tucker, GA
Nampa, ID
Benton, IL
Lake Zurich, IL
Rochelle, IL
Royalton, IL
Sesser, IL
Staunton, IL
Sycamore, IL
Crown Point, IN
Mount Vernon, IN
Anamosa, IA
Atlantic, IA
Cambridge, IA
Des Moines, IA
Hazleton, IA
Mitchellville, IA
Montezuma, IA
Mount Sterling, IA
New Sharon, IA
Sac City, IA
Williamsburg, IA
Cadiz, KY
Baton Rouge, LA
New Orleans, LA
Aberdeen, MD
Brookeville, MD
Catonsville, MD
Derwood, MD
Ellicott City, MD
Flintstone, MD
Fort Washington, MD
Fulton, MD
Germantown, MD
Glen Burnie, MD
Greenbelt, MD
Gwynn Oak, MD
Halethorpe, MD
Havre de Grace, MD
Laurel, MD
Little Orleans, MD
Middle River, MD
Montgomery Village, MD
Oxon Hill, MD
Pittsville, MD
Potomac, MD
Princess Anne, MD
Rockville, MD
Rosedale, MD
Silver Spring, MD
Upper Marlboro, MD
Lawrence, MA
Big Rapids, MI
Cadillac, MI
Ewen, MI
Gaylord, MI
Harbor Springs, MI
Lake City, MI
Newport, MI
White Cloud, MI
Minneapolis, MN
Rochester, MN
Biloxi, MS
Gulfport, MS
Annapolis, MO
Bonne Terre, MO
Buffalo, MO
Caledonia, MO
Chamois, MO
Marionville, MO
Warrenton, MO
Bellevue, NE
Las Vegas, NV
Reno, NV
Manchester, NH
Annandale, NJ
Bayonne, NJ
Beachwood, NJ
Bloomfield, NJ
Branchville, NJ
Camden, NJ
Dover, NJ
East Brunswick, NJ
East Orange, NJ
Elizabeth, NJ
Fairfield, NJ
Fort Lee, NJ
Livingston, NJ
Maplewood, NJ
Monroe Township, NJ
New Milford, NJ
Newark, NJ
Paterson, NJ
Somerset, NJ
Vernon, NJ
Voorhees, NJ
West New York, NJ
Santa Fe, NM
Bay Shore, NY
Bellport, NY
Bronx, NY
Brooklyn, NY
Buffalo, NY
Center Moriches, NY
Centereach, NY
Cutchogue, NY
East Berne, NY
East Moriches, NY
Farmingville, NY
Flushing, NY
Getzville, NY
Greenport, NY
Hauppauge, NY
Holbrook, NY
Holtsville, NY
Middle Island, NY
Moriches, NY
Mount Sinai, NY
New York, NY
Newburgh, NY
Ozone Park, NY
Patchogue, NY
Plainview, NY
Ridge, NY
Rochester, NY
Ronkonkoma, NY
Smithtown, NY
Stony Brook, NY
Warwick, NY
Westhampton, NY
Yaphank, NY
Cary, NC
Chapel Hill, NC
Charlotte, NC
Durham, NC
Fayetteville, NC
Huntersville, NC
Monroe, NC
Oxford, NC
Pineville, NC
Raleigh, NC
Winston Salem, NC
Minot AFB, ND
Portland, ND
Fargo, OK
Klamath Falls, OR
Blue Bell, PA
Mount Morris, PA
Oil City, PA
Washington, PA
Bayamon, PR
Cayey, PR
Corozal, PR
Mayaguez, PR
Ponce, PR
San Juan, PR
Providence, RI
Pendleton, SC
Chattanooga, TN
Nashville, TN
Austin, TX
Baytown, TX
Bonham, TX
Fort Worth, TX
George West, TX
Jacksboro, TX
Jasper, TX
Lorena, TX
Mission, TX
Rio Grande City, TX
Tulia, TX
Clearfield, UT
Alexandria, VA
Arlington, VA
Ashburn, VA
Falls Church, VA
Harrisonburg, VA
Henrico, VA
McLean, VA
New Market, VA
Portsmouth, VA
Quantico, VA
Richmond, VA
South Boston, VA
Sterling, VA
Woodbridge, VA
Buckley, WA
Packwood, WA
Petersburg, WV
Green Bay, WI
Milwaukee, WI
Source: Neville Ray (Twitter)