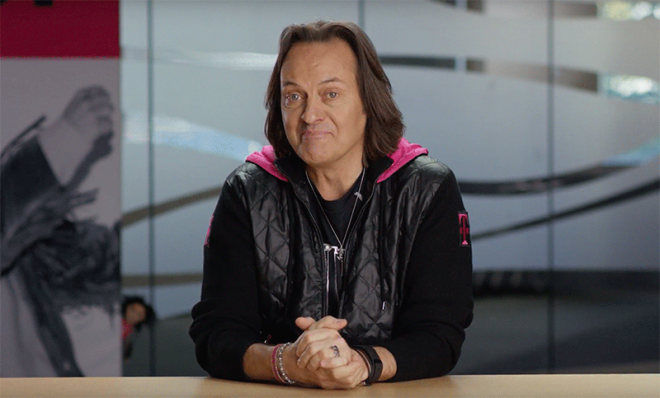 Following the news last month that T-Mobile CEO John Legere and other T-Mo executives stayed at a hotel owned by President Trump following the announcement of their merger with Sprint, more details on the T-Mo execs' stays have come out.
T-Mobile has confirmed that it's spent approximately $195,000 at Trump's Washington D.C. hotel ever since the T-Mobile-Sprint merger was announced in April 2018. Anthony Russo, T-Mobile's VP of federal legislative affairs, confirmed the info in a letter to Sen. Elizabeth Warren (D-MA) and Rep. Pramila Jayapal (D-WA) after they asked questions about T-Mobile execs' patronage at the hotel. The $195,000 covered costs related to a meeting space, catering, business center services, audio/visual equipment rental, lodging, meals, taxes, and other expenses.
Russo also confirmed that prior to the announcement of the T-Mobile-Sprint merger, two T-Mo execs each had one overnight stay at Trump's Washington hotel. Following the announcement of the merger, though, The Washington Post reports that internal hotel documents show T-Mobile executives staying at least 52 nights.
Russo goes on to explain that the amount that T-Mobile spent at Trump's hotel represents about 14 percent of the $1.4 million that T-Mobile paid at Washington D.C. hotels during the same period. T-Mo spent nearly $750,000 at Hilton hotels in the Washington D.C. area during the same time.
"I want to reiterate, as we indicated in our initial response, that T-Mobile respects the regulatory review process underway concerning our pending merger with Sprint. The Department of Justice and Federal Communications Commission are giving this transaction a thorough and objective analysis," Russo wrote in his letter. "While we understand that staying at Trump properties might be viewed positively by some and negatively by others, we are confident that the relevant agencies address the questions before them on the merits."
T-Mobile CEO John Legere previously issued a statement on this matter when news of T-Mo execs staying at Trump's D.C. hotel first came out. "Wow – A lot of attention on where I choose to stay in DC. I've said many times that I respect this process and am working to get our merger done the right way," Legere said. "I trust regulators will make their decision based on the benefits it will bring to the US, not based on hotel choices."
The proposed merger of T-Mobile and Sprint is still being reviewed by the FCC and DoJ. T-Mobile has said that it remains confident that the deal will be approved in the first half of 2019.
Source: The Washington Post