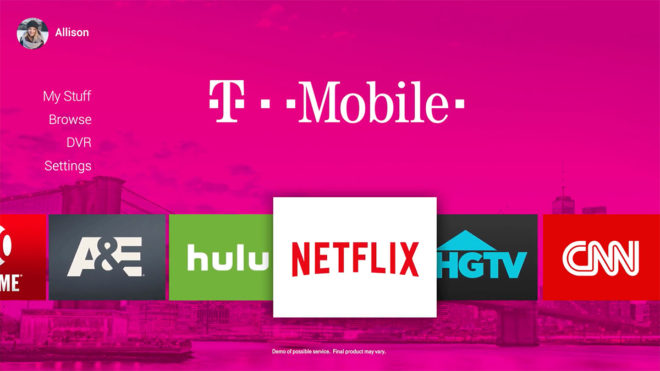 T-Mobile hasn't said much about its streaming TV ambitions since its Layer3 TV acquisition earlier this year, but a recent FCC filing has shed a bit of light on what T-Mo's TV plans look like if it's allowed to merge with Sprint.
In the filing, T-Mobile explains that if it's allowed to merge with Sprint, the New T-Mobile "will be able to offer the first wireless only bundle for T.V. + home internet". T-Mo adds that thanks to the capacity and coverage that its 5G network would have thanks to merging with Sprint, the New T-Mobile will bring 4K, wireless-first TV to urban and rural customers.
T-Mo completed its acquisition of Layer3 TV in early 2018. The company has said that it plans to launch a pay TV service in 2018, but we haven't heard much about it lately. We still don't have a lot of info about its channel lineup, pricing, or anything like that, but we do know that the combination of the Layer3 TV acquisition and the Sprint merger both play an important role in T-Mo's TV plans.
T-Mobile also talked a bit about what it hopes to do for in-home broadband if its merger with Sprint is approved. For example, T-Mo says that its 5G network will offer high-speed wireless broadband with speeds faster than 100Mbps to 66 percent of the U.S. by 2021, with that number growing to 90 percent by 2024. T-Mobile anticipates that it expects to deliver broadband internet to 9.5 million people by 2024, which would make it the fourth largest internet service provider in the U.S. by subscriber count.
Via: FierceVideo
Source: FCC (PDF)