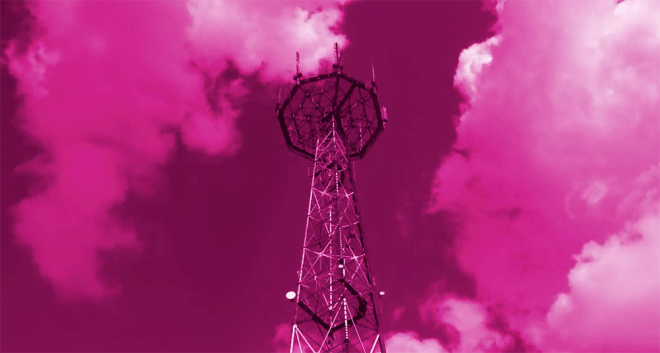 Ookla and OpenSignal both released reports today on the state of U.S. mobile networks, and T-Mobile did pretty well for itself in both.
T-Mobile was the fastest carrier in the U.S. in the first and second quarters of 2018, says Ookla. T-Mobile finished with a Speed Score of 27.86, with Verizon coming in second at 26.02, AT&T in third with 22.17, and Sprint in fourth with 20.38. The Speed Score is a metric that incorporates download and upload speeds, with 90 percent of the Speed Score attributed to download speed and 10 percent to upload speed.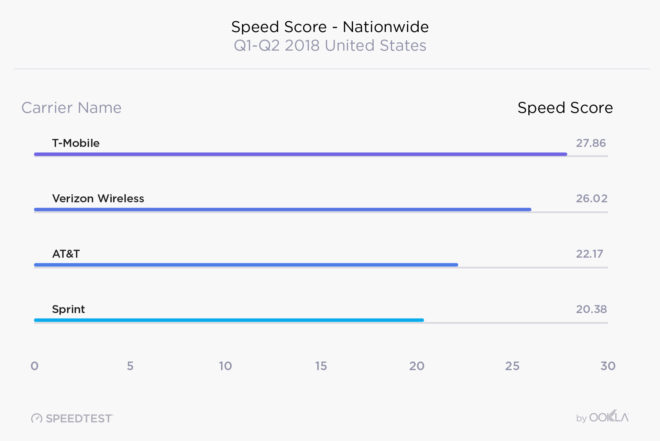 T-Mo also came out in first in Ookla's measurement of National HD Speed Ratio, which measures what percent of a carrier's download data samples are capable of delivering an HD experience (equal to or above 5Mbps). T-Mobile posted an HD Speed Ratio fo 86.6 percent, Verizon's was 85.8 percent, AT&T's was 77.4 percent, and Sprint's was 75.2 percent.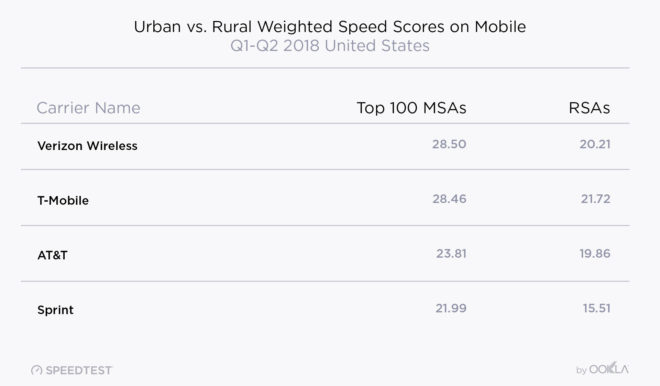 Two areas where T-Mo finished in second rather than first were in scores focused on the top 100 metropolitan areas. Verizon barely edged out T-Mobile in Speed Score and HD Speed Ratio in both areas, though T-Mo did beat out Verizon in both area when Ookla focused on rural areas.
Finally, Ookla revealed the fastest carrier in many major cities across the country. T-Mobile came out on top in several of them, including Boise, ID; Columbus, OH; Portland, OR; and Philadelphia, PA.
Ookla got its results from 2,841,471 unique mobile devices that completed 12,475,733 tests during the first half of 2018.

Meanwhile, OpenSignal put out its own report today on the state of U.S. mobile networks between March and July 2018. T-Mobile won out in this report, too, coming in first in 3G and 4G download speeds and overall download speed, 4G upload speed, and 3G latency. T-Mo also tied for first with Verizon in the 4G availability category.
T-Mobile posted an average 4G LTE download speed of 21.57Mbps in OpenSignal's report, besting Verizon and its 20.56Mbps speed. T-Mo's upload speed finished at 7.45Mbps, while Verizon's was 6.94Mbps.

T-Mobile and Verizon have been going back and forth when it comes to the crown of fastest U.S. carrier depending on which test you look at. Today T-Mo was named the fastest in the U.S., which is exciting news. Of course, not every carrier is perfect in every part of the U.S., but T-Mo has been working to improve its network by rolling out 600MHz coverage, adding mid-band LTE capacity, and expanding low-band LTE coverage.
To read the full Ookla and OpenSignal reports, hit the links below.
Sources: Ookla, OpenSignal