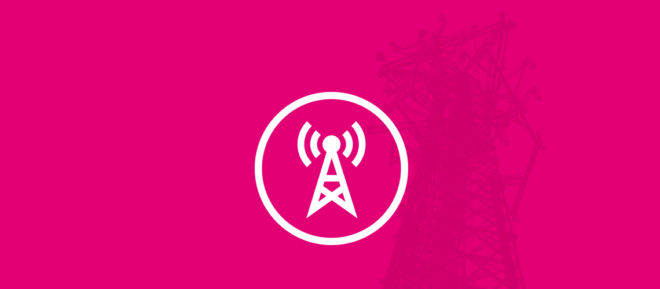 A couple of weeks after T-Mobile CTO Neville Ray announced T-Mo's last round of mid-band LTE network upgrades, another batch of upgrades have been confirmed.
Ray took to Twitter today to say that T-Mobile has upgraded hundreds of cell sites with more mid-band LTE capacity in the last two weeks. These include both AWS and PCS spectrum upgrades.
100s of sites were upgraded with more midband capacity in just the last two weeks and #WeWontStop! This is why we've had the fastest LTE network for 4 years!! @TMobile @MetroPCS #Amped pic.twitter.com/xGzXdBM03G

— Neville (@NevilleRay) July 11, 2018
Included in this latest round of mid-band LTE capacity upgrades are markets like Washington, DC; Spirit Lake, IA; Detroit, MI; and Norfolk, VA. You can find the full list of cities and towns included in this latest batch of upgrades below.
Westport, CT
Trumbull, CT
Washington, DC
Wilmington, DE
Newark, DE
Parrish, FL
Bradenton, FL
Naples, FL
Sebring, FL
Valrico, FL
Miami, FL
Jacksonville, FL
Hortense, GA
Brunswick, GA
Monroe, GA
Atlanta, GA
McDonough, GA
Westchester, IL
Itasca, IL
Lake Forest, IL
Michigan City, IN
Munster, IN
Indianapolis, IN
Lime Springs, IA
Lawler, IA
Cresco, IA
Scranton, IA
Odebolt, IA
Lake View, IA
Arthur, IA
Terril, IA
Spirit Lake, IA
Ruthven, IA
Royal, IA
Okoboji, IA
Milford, IA
Lake Park, IA
Hartley, IA
Greenvine, IA
Graettinger, IA
Everly, IA
Estherville, IA
Arnolds Park, IA
Spencer, IA
Sioux Center, IA
Rock Valley, IA
Rock Rapids, IA
Primghar, IA
Sheldon, IA
Remson, IA
Orange City, IA
Le Mars, IA
New Hampton, IA
Nashua, IA
Marble Rock, IA
Ionia, IA
Greene, IA
Fredericksburg, IA
Elma, IA
Dumont, IA
Clarksville, IA
Charles City, IA
Bristow, IA
Aredale, IA
Whittemore, IA
West Bend, IA
Webster City, IA
Swea City, IA
Storm Lake, IA
Rolfe, IA
Ringsted, IA
Renwick, IA
Pocahontas, IA
Palmer, IA
Mallard, IA
Lone Rock, IA
Laurens, IA
Havelock, IA
Goldfield, IA
Fenton, IA
Emmetsburg, IA
Eagle Grove, IA
Clarion, IA
Burt, IA
Bancroft, IA
Ayrshire, IA
Armstrong, IA
Algona, IA
Woden, IA
Ventura, IA
Titonka, IA
Thompson, IA
Stacyville, IA
Sheffield, IA
Scarville, IA
Saint Ansgar, IA
Rockwell, IA
Rockford, IA
Riceville, IA
Osage, IA
Northwood, IA
Nora Springs, IA
Manly, IA
Lake Mills, IA
Klemme, IA
Kensett, IA
Kanawha, IA
Joice, IA
Hanlontown, IA
Hampton, IA
Grafton, IA
Garner, IA
Forest City, IA
Dougherty, IA
Crystal Lake, IA
Corwith, IA
Clear Lake, IA
Buffalo Center, IA
Britt, IA
Belmond, IA
Mason City, IA
Woodward, IA
Williams, IA
State Center, IA
Rhodes, IA
Perry, IA
Minburn, IA
Marshalltown, IA
Granger, IA
Dows, IA
Colo, IA
Albion, IA
Adel, IA
Ashland, KY
Fort Knox, KY
Salisbury, MD
Frederick, MD
Silver Spring, MD
Kensington, MD
Sandy Spring, MD
Dickerson, MD
Bethesda, MD
Upper Marlboro, MD
Clinton, MD
Laurel, MD
New Bedford, MA
Fall River, MA
Needham Heights, MA
Needham, MA
Arlington, MA
Braintree, MA
Stoneham, MA
Melrose, MA
Quincy, MA
Medford, MA
Marblehead, MA
Saugus, MA
Tewksbury, MA
Burlington, MA
Shelby, MI
Fremont, MI
Clarkston, MI
Sterling Heights, MI
Ferndale, MI
Detroit, MI
Riverview, MI
Livonia, MI
Belleville, MI
Ann Arbor, MI
Warren, MI
Southfield, MI
Madison Heights, MI
Clinton Township, MI
Littlefork, MN
Saint Paul, MN
Livingston, MT
Columbus, MT
New Brunswick, NJ
Atlantic City, NJ
Sicklerville, NJ
Mount Laurel, NJ
Hammonton, NJ
Cherry Hill, NJ
Bogota, NJ
Paterson, NJ
Wayne, NJ
Newark, NJ
East Orange, NJ
Rochester, NY
West Henrietta, NY
Victor, NY
Buffalo, NY
Binghamton, NY
Syracuse, NY
Highland, NY
Ravena, NY
Mastic, NY
Patchogue, NY
Levittown, NY
Islandia, NY
Bay Shore, NY
East Meadow, NY
Jamaica, NY
Brooklyn, NY
Long Island City, NY
Yonkers, NY
Charlotte, NC
Alexander, ND
Grassy Butte, ND
Hiram, OH
Lorain, OH
Elyria, OH
Columbus, OH
Blacklick, OH
Pottstown, PA
Blue Bell, PA
Norristown, PA
Jenkintown, PA
Fort Washington, PA
Elkins Park, PA
Perkasie, PA
New Hope, PA
Montgomeryville, PA
Chambersburg, PA
Harrisburg, PA
Rixford, PA
Austin, PA
Martinsburg, PA
Coalport, PA
Carolina, PR
Trujillo Alto, PR
Guaynabo, PR
Catano, PR
Toa Baja, PR
San Juan, PR
Caguas, PR
Aguas Buenas, PR
Mayaguez, PR
Dorado, PR
Aguadilla, PR
Cranston, RI
Providence, RI
West Warwick, RI
Keystone, SD
Custer, SD
Roanoke, VA
Chesterfield, VA
Norfolk, VA
Falls Church, VA
Leesburg, VA
Chantilly, VA
Salem, WV
Parkersburg, WV
Huntington, WV
Harpers Ferry, WV
Charleston, WV
Mason, WI
Abbotsford, WI
Wausau, WI
Racine, WI
Source: Neville Ray (Twitter)