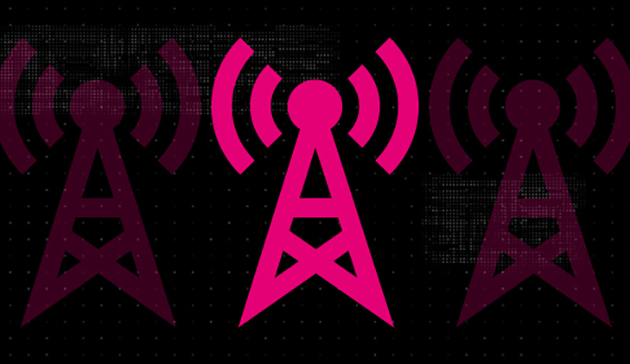 It's been a while since T-Mobile last announced a low-band LTE expansion, but today that drought has been broken.
T-Mobile CTO Neville Ray today confirmed that T-Mo has added low-band LTE to more cell sites over the past two weeks. T-Mobile has confirmed to me that this expansion includes both 600MHz and 700MHz spectrum.
Our network team added lowband LTE to 100s of sites in just two weeks, which means more and better coverage. And #WeWontStop!! @TMobile @MetroPCS #AcrossTheGrid pic.twitter.com/KOW9wGv1pv

— Neville (@NevilleRay) July 17, 2018
Some of the cities included in this low-band LTE rollout include Little Rock, AR; San Diego, CA; Rochester, NY; and Seattle, WA. You can see the full list of cities below.
Has your city been included in T-Mo's latest low-band LTE expansion?
Midland City, AL
North Little Rock, AR
Little Rock, AR
Fayetteville, AR
Montebello, CA
San Diego, CA
Desert Center, CA
Imperial, CA
Irvine, CA
Kettleman City, CA
Bakersfield, CA
Arroyo Grande, CA
Palmdale, CA
Salinas, CA
Daly City, CA
Redwood City, CA
San Bruno, CA
Sunnyvale, CA
San Francisco, CA
Byron, CA
Hayward, CA
Napa, CA
Oakland, CA
San Jose, CA
Lodi, CA
Merced, CA
El Dorado, CA
Colfax, CA
Chico, CA
Broomfield, CO
Denver, CO
Central City, CO
Silver Plume, CO
Colorado Springs, CO
Rangely, CO
Monroe, CT
Washington, DC
Wilmington, DE
Rehoboth Beach, DE
Tallahassee, FL
Miami, FL
Tampa, FL
Sebring, FL
McDonough, GA
Atlanta, GA
Statesboro, GA
Monroe, GA
Brunswick, GA
Hortense, GA
Honolulu, HI
Moore, ID
Itasca, IL
Westchester, IL
Homer Glen, IL
Chicago, IL
Cicero, IL
Indianapolis, IN
Michigan City, IN
New Orleans, LA
Upper Marlboro, MD
Dickerson, MD
Burtonsville, MD
Silver Spring, MD
Boston, MA
Fall River, MA
Southfield, MI
Riverview, MI
Detroit, MI
Commerce Township, MI
Grand Rapids, MI
Saint Paul, MN
Kansas City, MO
Ashland, MT
Musselshell, MT
Choteau, MT
Fort Benton, MT
Sparks, NV
Amherst, NH
East Orange, NJ
Newark, NJ
Wayne, NJ
Wildwood, NJ
New Brunswick, NJ
Albuquerque, NM
Santa Fe, NM
Taos, NM
Mount Vernon, NY
Mastic, NY
Johnstown, NY
Ravena, NY
Highland, NY
Syracuse, NY
Buffalo, NY
Victor, NY
West Henrietta, NY
Rochester, NY
Hobbsville, NC
Blacklick, OH
Columbus, OH
Elyria, OH
Lorain, OH
Coalport, PA
Martinsburg, PA
Rixford, PA
Thompson, PA
Hunlock Creek, PA
Montrose, PA
Quakertown, PA
Dresher, PA
Feasterville Trevose, PA
North Augusta, SC
Eagle Butte, SD
Dallas, TX
Wichita Falls, TX
Killeen, TX
Edinburg, TX
Harlingen, TX
Pflugerville, TX
Levelland, TX
Lubbock, TX
Eden, UT
Santaquin, UT
Manassas, VA
Charles City, VA
Norfolk, VA
Lynchburg, VA
Seattle, WA
Oak Harbor, WA
Winthrop, WA
Clearmont, WY
Source: Neville Ray (Twitter)