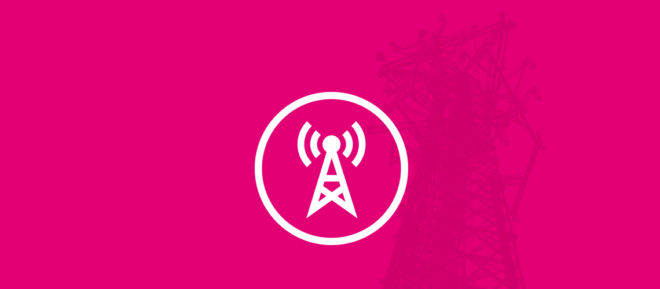 Three days after announcing a low-band LTE expansion, T-Mobile today confirmed that it recently rolled out some new mid-band LTE coverage, too.
T-Mobile CTO Neville Ray says that T-Mo has upgraded hundreds of cell sites with more mid-band LTE capacity in the last two weeks. You can find Ray's announcement below and the full list of cities included in this rollout at the bottom of this post.
100s of sites were upgraded with more midband capacity in just the last two weeks and #WeWontStop! This is why we've had the fastest LTE network for 4 years!! @TMobile @MetroPCS #Amped pic.twitter.com/dPSaDiGZCJ

— Neville (@NevilleRay) April 21, 2018
I've reached out to T-Mobile to confirm the bands included in this rollout, but previous mid-band LTE upgrades included both PCS and AWS airwaves, and so it's likely that this one does as well.
Is your city included in this latest round of mid-band LTE upgrades?
Phenix City, AL
Mobile, AL
Tuskegee, AL
Gadsden, AL
Danville, AL
Stamford, CT
Westport, CT
New Canaan, CT
Greenwich, CT
Fairfield, CT
Danbury, CT
Brookfield, CT
Trumbull, CT
Westbrook, CT
Shelton, CT
Portland, CT
Newtown, CT
Monroe, CT
Wethersfield, CT
Windsor, CT
Bloomfield, CT
Avon, CT
Washington, DC
Rehoboth Beach, DE
Newark, DE
Naples, FL
Frostproof, FL
Lakeland, FL
Clearwater Beach, FL
Saint Petersburg, FL
Tampa, FL
Boca Raton, FL
Fort Lauderdale, FL
Pompano Beach, FL
Homestead, FL
Pembroke Pines, FL
Hallandale, FL
Jacksonville, FL
Arlington, GA
Atlanta, GA
Conyers, GA
Michigan City, IN
Hebron, IN
Indianapolis, IN
Elizabethtown, KY
Russell Springs, KY
Raccoon, KY
West Liberty, KY
Russell, KY
Cynthiana, KY
Wilmore, KY
Hagerstown, MD
Essex, MD
Baltimore, MD
Pikesville, MD
Towson, MD
White Marsh, MD
Owings Mills, MD
Joppa, MD
Columbia, MD
Cockeysville, MD
Bel Air, MD
Silver Spring, MD
Gaithersburg, MD
Bethesda, MD
Jessup, MD
Hyattsville, MD
Oxon Hill, MD
Bowie, MD
North Beach, MD
North Dartmouth, MA
Fall River, MA
Needham, MA
Belmont, MA
Arlington, MA
Watertown, MA
Brookline, MA
Randolph, MA
South Weymouth, MA
Weymouth, MA
Melrose, MA
Medford, MA
Cambridge, MA
West Roxbury, MA
Jamaica Plain, MA
Boston, MA
Stoughton, MA
Woburn, MA
Woburn, MA
West Springfield, MA
Gulfport, MS
Hattiesburg, MS
Salem, NH
Phillipsburg, NJ
Edison, NJ
Florence, NJ
Egg Harbor Township, NJ
Pleasantville, NJ
Riverside, NJ
Burlington, NJ
Bernardsville, NJ
Lake Hopatcong, NJ
Morganville, NJ
Monmouth Beach, NJ
Middletown, NJ
Keansburg, NJ
Hazlet, NJ
Red Bank, NJ
Saddle Brook, NJ
Hillsdale, NJ
Bergenfield, NJ
Hackensack, NJ
Little Falls, NJ
Elizabeth, NJ
Newark, NJ
Union, NJ
Plainfield, NJ
Warren, NJ
Verona, NJ
Millburn, NJ
Maplewood, NJ
Livingston, NJ
Linden, NJ
North Arlington, NJ
Fort Lee, NJ
Clifton, NJ
Rochester, NY
Buffalo, NY
New Berlin, NY
Waterloo, NY
Cincinnatus, NY
Red Hook, NY
Patterson, NY
West Islip, NY
Hauppauge, NY
Massapequa, NY
Jericho, NY
Melville, NY
Bay Shore, NY
Woodmere, NY
Valley Stream, NY
Merrick, NY
Ridgewood, NY
Woodside, NY
Forest Hills, NY
Elmhurst, NY
Jackson Heights, NY
Brooklyn, NY
Long Island City, NY
Middletown, NY
Bronxville, NY
Scarsdale, NY
North Salem, NY
Bronx, NY
Staten Island, NY
New York, NY
Jacksonville, NC
Charlotte, NC
Mooresville, NC
Forest City, NC
Cornelius, NC
Winston Salem, NC
Vincent, OH
South Point, OH
Ironton, OH
Gallipolis, OH
Dayton, OH
Brookville, OH
Cincinnati, OH
Barberton, OH
Bedford, OH
Strongsville, OH
Independence, OH
Cleveland, OH
Eastlake, OH
Willoughby, OH
Mentor, OH
Chagrin Falls, OH
Berea, OH
Columbus, OH
Westerville, OH
Blacklick, OH
Phoenixville, PA
Downingtown, PA
Philadelphia, PA
Levittown, PA
Bensalem, PA
Moosic, PA
Clarion, PA
Pittsburg, PA
Allison Park, PA
Carolina, PR
Guaynabo, PR
Bayamon, PR
Toa Alta, PR
Toa Baja, PR
San Juan, PR
Juncos, PR
Luquillo, PR
Coamo, PR
Fajardo, PR
Cayey, PR
Caguas, PR
Naranjito, PR
Ponce, PR
Yauco, PR
San German, PR
Mayaguez, PR
Manati, PR
Lajas, PR
Hatillo, PR
Utuado, PR
Barceloneta, PR
Arecibo, PR
Cranston, RI
West Greenwich, RI
Taylors, SC
Greenwood, SC
Greenville, SC
Myrtle Beach, SC
Conway, SC
Summerville, SC
Sullivans Island, SC
Ladson, SC
Columbia, SC
Nashville, TN
Woodbury, TN
Madison, TN
Liberty, TN
Franklin, TN
Lynchburg, VA
Bland, VA
Roanoke, VA
Portsmouth, VA
Hampton, VA
Norfolk, VA
Virginia Beach, VA
Suffolk, VA
Richmond, VA
Mechanicsville, VA
Midlothian, VA
Glen Allen, VA
Fredericksburg, VA
Vienna, VA
Triangle, VA
Sterling, VA
Weston, WV
Salem, WV
Waverly, WV
Maben, WV
Lyburn, WV
Chapmanville, WV
Charleston, WV
Spencer, WV
Cottageville, WV
Fraziers Bottom, WV
Danville, WV
Amma, WV
Oceana, WV
Source: Neville Ray (Twitter)