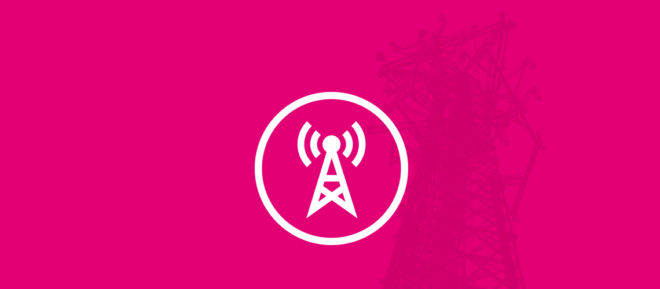 Two weeks after T-Mobile rolled out mid-band LTE capacity upgrades to hundreds of cell sites, T-Mo has confirmed that even more upgrades have been made.
T-Mobile CTO Neville Ray today announced that hundreds of sites have been upgraded with mid-band capacity in the last week weeks. T-Mo has confirmed to me that these are PCS and AWS upgrades.
100s of sites were upgraded with more midband capacity in just the last two weeks and #WeWontStop! This is why we've had the fastest LTE network for 4 years!! @TMobile @MetroPCS #Amped pic.twitter.com/lI8Dy6kAXU

— Neville (@NevilleRay) April 6, 2018
As usual, I've got the full list of markets included in this latest upgrade at the bottom of the post. If your city is included, be sure to let us know if you're seeing network improvements!
Mobile, AL
Saraland, AL
Gulf Shores, AL
Anniston, AL
Montgomery, AL
Millbrook, AL
Huntsville, AL
Madison, AL
Stamford, CT
Wilton, CT
Southport, CT
Weston, CT
Westport, CT
Norwalk, CT
Greenwich, CT
Fairfield, CT
Cos Cob, CT
Brookfield, CT
Bethel, CT
Bantam, CT
Stratford, CT
Easton, CT
Trumbull, CT
West Haven, CT
New Haven, CT
Shelton, CT
Portland, CT
Middletown, CT
Clinton, CT
Oakdale, CT
Newington, CT
West Hartford, CT
Windsor Locks, CT
Vernon Rockville, CT
New Britain, CT
Manchester, CT
Berlin, CT
Glastonbury, CT
Farmington, CT
Bloomfield, CT
Washington, DC
Lecanto, FL
North Port, FL
Cape Coral, FL
Clearwater Beach, FL
Lake Worth, FL
West Palm Beach, FL
Fort Lauderdale, FL
Miami, FL
Pompano Beach, FL
Hollywood, FL
Pensacola, FL
Jacksonville, FL
Edgewater, FL
Augusta, GA
Atlanta, GA
Conyers, GA
Gurnee, IL
Fox River Grove, IL
Fox Lake, IL
Crystal Lake, IL
Elk Grove Village, IL
Fort Wayne, IN
Gary, IN
Highland, IN
Chesterton, IN
Indianapolis, IN
Westfield, IN
Franklin, KY
Murray, KY
Paducah, KY
Ulysses, KY
Louisville, KY
Lewiston, ME
Watertown, MA
Revere, MA
Roslindale, MA
Boston, MA
Peabody, MA
Lawrence, MA
Springfield, MA
West Springfield, MA
Annapolis, MD
Catonsville, MD
Brooklyn, MD
Essex, MD
Baltimore, MD
Randallstown, MD
Columbia, MD
Ellicott City, MD
Silver Spring, MD
Gaithersburg, MD
Greenbelt, MD
Temple Hills, MD
Bowie, MD
Grand Rapids, MI
Holton, MI
Grandville, MI
Middleville, MI
Richland, MI
Lansing, MI
Flint, MI
Brown City, MI
Novi, MI
Sterling Heights, MI
Rochester, MI
Detroit, MI
Southgate, MI
Canton, MI
Wayne, MI
Taylor, MI
Melvindale, MI
Moorhead, MN
Worthington, MN
Minneapolis, MN
Wayzata, MN
Osseo, MN
Champlin, MN
Buffalo, MN
Saint Paul, MN
Wyoming, MN
Saint Francis, MN
Faribault, MN
Forsyth, MT
Joliet, MT
Garryowen, MT
North Brunswick, NJ
Hampton, NJ
Edison, NJ
East Brunswick, NJ
Toms River, NJ
Lakewood, NJ
Mount Laurel, NJ
Cherry Hill, NJ
Burlington, NJ
Howell, NJ
Hazlet, NJ
Westwood, NJ
Fair Lawn, NJ
Irvington, NJ
Springfield, NJ
East Rutherford, NJ
Lyndhurst, NJ
Roseland, NJ
Rahway, NJ
Plainfield, NJ
West Orange, NJ
Elmira, NY
Salamanca, NY
Walden, NY
Clifton Park, NY
Ridge, NY
Massapequa, NY
Jericho, NY
Greenlawn, NY
Great River, NY
Bay Shore, NY
Rockaway Park, NY
Woodmere, NY
Westbury, NY
West Hempstead, NY
Queens Village, NY
Bellerose, NY
Elmhurst, NY
College Point, NY
Brooklyn, NY
Piermont, NY
Pearl River, NY
Yonkers, NY
Bronx, NY
Staten Island, NY
New York, NY
Asheville, NC
Charlotte, NC
Salisbury, NC
Kannapolis, NC
Gastonia, NC
Cornelius, NC
Durham, NC
Raleigh, NC
Wake Forest, NC
Greensboro, NC
Winston-Salem, NC
Glenburn, ND
Canton, OH
Alliance, OH
McDonald, OH
Canfield, OH
Akron, OH
Tallmadge, OH
Ravenna, OH
Medina, OH
Kent, OH
Stow, OH
Cuyahoga Falls, OH
Olmsted Falls, OH
Cleveland, OH
North Olmstead, OH
Lorain, OH
Amherst, OH
Columbus, OH
Reynoldsburg, OH
Lewis Center, OH
Hilliard, OH
Dublin, OH
Downington, PA
Philadelphia, PA
Langhorne, PA
Moosic, PA
Scranton, PA
Saylorsburg, PA
Tamaqua, PA
Bethlehem, PA
Lancaster, PA
East Earl, PA
New Cumberland, PA
Middletown, PA
Pittsburgh, PA
McKeesport, PA
Bethel Park, PA
Rock Hill, SC
Taylors, SC
Greenwood, SC
Greenville, SC
Myrtle Beach, SC
Roebuck, SC
Knoxville, TN
Chattanooga, TN
Nashville, TN
Madison, TN
Franklin, TN
Blacksburg, VA
Roanoke, VA
Mechanicsville, VA
Roseland, VA
Vienna, VA
Annandale, VA
Saint Marys, WV
Ravenswood, WV
Wheeling, WV
Lyburn, WV
Hurricane, WV
Charleston, WV
South Charleston, WV
Ripley, WV
Millwood, WV
Kenna, WV
Amma, WV
Buckeye, WV
Pineville, WV
Oceana, WV
Wabeno, WI
White Lake, WI
Milwaukee, WI
Waukesha, WI
Elkhorn, WI
Mequon, WI
Source: Neville Ray (Twitter)