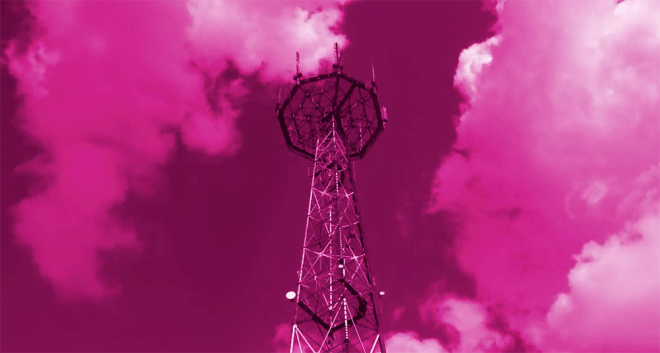 T-Mobile has repeatedly said that it plans to light up its first 600MHz cell sites this year, and recently T-Mo met with the FCC to discuss those rollout efforts.
In its meeting with FCC representatives, T-Mobile talked up its plans to rapidly roll out its 600MHz network and the importance of this coverage. T-Mo explained that the 600MHz rollout will "[bring] new competition and choice to rural areas previously unserved by T-Mobile."
T-Mobile also shared two slides with the FCC, with one showing its projected end of 2017 coverage without its 600MHz spectrum and the other showing its projected end of 2017 deployment with the 600MHz spectrum. We can see a dramatic increase in coverage in in the Midwest, with states like Nebraska, North Dakota, South Dakota, Montana, Wyoming, and Kansas all gaining much more magenta with 600MHz.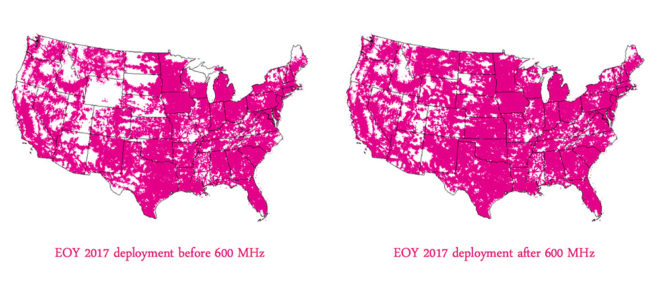 Also a part of T-Mo's meeting was the broadcasters that need to transition off of the 600MHz spectrum so that T-Mobile can begin using it. T-Mobile pointed out that it's doing its part to help broadcasters, like by covering the costs of rural PBS broadcasters in their effort to relocate off the 600MHz airwaves.
T-Mobile used its FCC meeting to express concerns that some broadcasters are trying to use the 600MHz transition funds to help purchase ATSC 3.0 broadcast equipment, and T-Mo also urged the FCC to reject what it says are the "late-filed 'comments' of ION Media Networks as well as the National Association of Broadcasters' March 17, 2017 Petition for Reconsideration of the repacking Public Notice."
Getting back to the 600MHz rollout, T-Mobile has said that it plans to light up its first 600MHz cell sites this month. It's unclear exactly where we'll see 600MHz coverage go live first, but it's still exciting to know that we're so close to the start of the 600MHz rollout, especially considering that the FCC's auction ended just a few months ago.
On the device side of things, T-Mobile will have Samsung and LG phones that support its 600MHz network later this year.
Via: FierceWireless
Source: FCC