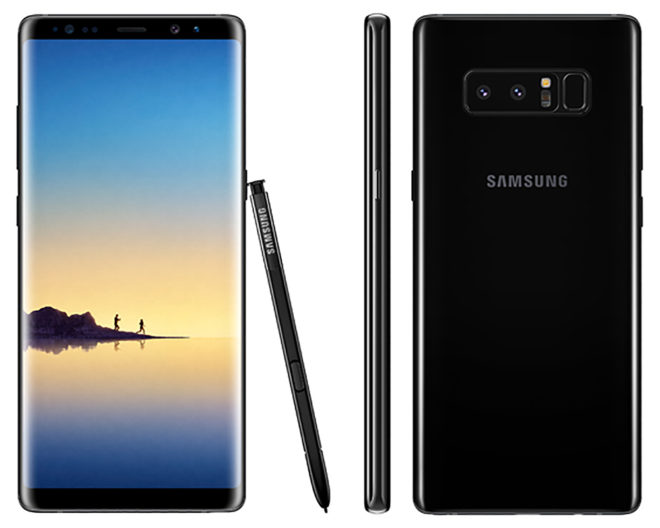 Right on schedule, the Samsung Galaxy Note 8 has been made official.
Samsung today introduced the Galaxy Note 8, its new flagship and the follow-up to last year's Note 7, which was discontinued following recalls and units overheating and catching fire. Samsung has rebounded by giving the Note 8 an updated design and new features.
One of the highlights of the Note 8 is its dual camera setup, a first for Samsung. There are two 12-megapixel cameras on the back of the Note 8, both of which offer Optical Image Stabilization. One camera has a wide angle lens with an f/1.7 aperture, while the other offers 2x optical zoom and an f/2.8 aperture.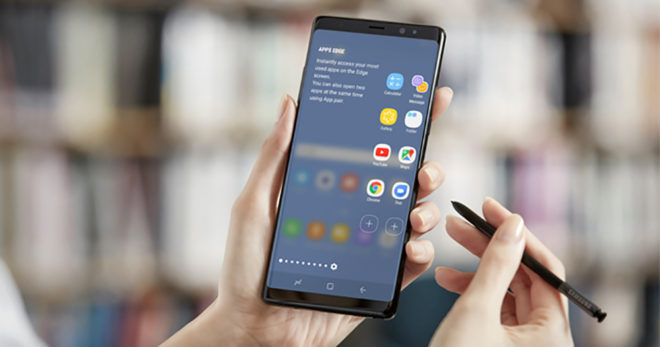 Samsung has created some software features to take advantage of the Note 8's dual rear cameras. For example, Live Focus lets you control the depth of field and alter your photo's bokeh effect in preview mode and after you take the photo. There's also a Dual Capture mode that'll use both rear cameras to take two photos simultaneously — one close up, one wide angle — and let you keep both.
Another notable feature of the Note 8 is its Infinity Display, which first debuted on the Galaxy S8 earlier this year. The Note 8 is packing a 6.3-inch 2960×1440 Super AMOLED display with curved edges and slim bezels all around. Like the S8, the Note 8 offers on-screen Android navigation buttons to keep its bezels slim. Also like the S8, the Note 8's fingerprint reader has been relocated from the front of the phone to the right of the rear cameras.
The S Pen is always one of the major features of Samsung's Note phones, and the Note 8 is no different. Samsung says that the Note 8's S Pen has been enhanced with a finer tip and improved pressure sensitivity. There are also several S Pen-specific software features, like Screen Off Memo that lets you take notes without turning on the Note 8's display and an improved S Pen Translate that lets you hover over text and translate sentences in up to 71 languages as well as convert units and foreign currencies.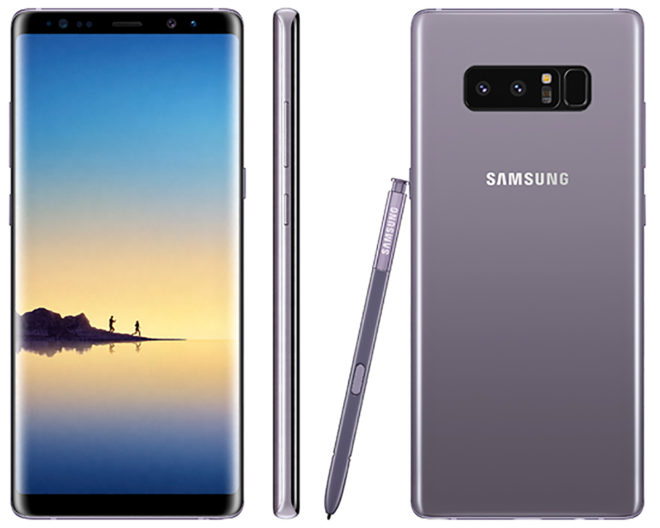 Other specs for the Android 7.1.1-powered Galaxy Note 8 include an octa-core Snapdragon 835 processor, 6GB of RAM, 64GB of built-in storage, and a microSD slot for adding more storage if you'd like. There's an 8-megapixel front-facing camera for all of your selfie needs, Bluetooth 5.0, a 3,300mAh battery, wireless charging support, USB Type-C, and a 3.5mm headphone jack.
All of those features are crammed into a body that's IP68 water and dust resistant. Samsung touts that you can even use the S Pen to write on the Note 8 when the display is wet.
The Note 8 is compatible with the DeX dock that Samsung introduced with the Galaxy S8. You can drop your Note 8 onto the DeX dock and then connect a monitor, keyboard, and mouse to get a desktop-style computing experience.
Finally, it's worth mentioning that the Galaxy Note 8 is not compatible with T-Mobile's new 600MHz LTE network. T-Mo confirmed that to me today, saying that the 600MHz-compatible Samsung phone that was previously promised is still coming.
The Samsung Galaxy Note 8 will launch on September 15th, but you can pre-order one of your own tonight at 9:01 pm PT. T-Mobile will sell the Galaxy Note 8 in Midnight Black and Orchid Grey color options for $210 down and $30 per month on EIP. JUMP! On Demand customers will pay $0 down and $39 per month. Full retail price for the Note 8 will be $930.
Customers that purchase a Galaxy Note 8 on or before September 24th can score a free Samsung Gear 360 camera or a free Galaxy Foundation Kit that includes a 128GB microSD card and a Fast Wireless Charging Convertible stand.