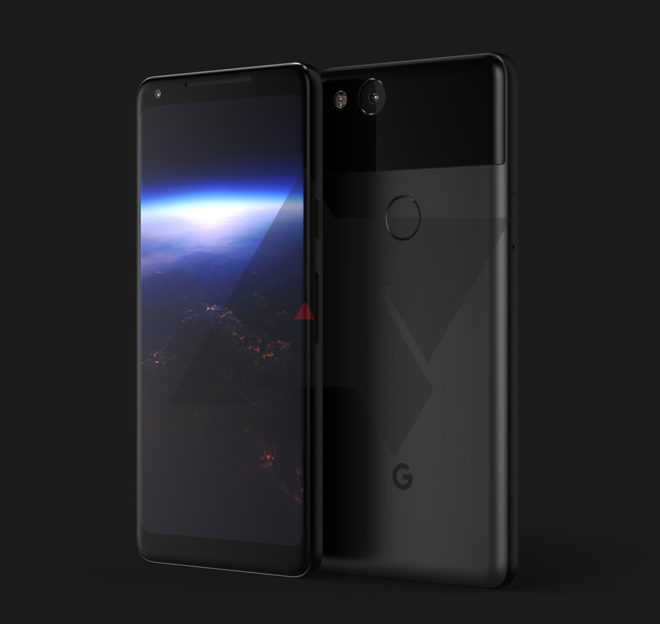 Looks like the LG V30 isn't the only LG-made flagship that's leaking out today.
New renders have been shared that claim to show the design of Google's Pixel XL for 2017, codenamed Taimen. Shared by Android Police, this Pixel XL 2017 is said to be manufactured by LG, a change from last year when both Pixel models were made by HTC.
This Pixel XL 2017 shares some design elements with last year's Pixel XL, but the overall look is more modern. There's a glass back panel like on the Pixel XL, but it appears smaller on the Pixel XL 2017. The rear camera with a silver ring around it is inside the glass panel, but the fingerprint reader is now below it.
Around front we can see even more changes from the OG Pixel XL. The 6-inch display on this new Pixel XL is taller, sporting a 2:1 aspect ratio like the LG G6, while the bezels surrounding it are smaller. We can see a large speaker/earpiece above the screen as well as a front-facing camera.
Meanwhile, the sides of the phone are said to support squeezable actions, similar to the HTC U11. This will reportedly let you squeeze this new Pixel XL to interact with Google Assistant.
There aren't any spec details included in today's report, but a leak from a couple weeks ago did claim to shed some light on the new Pixel XL's feature set. It's rumored to include a 2560×1440 screen resolution, Snapdragon 835 processor, up to 128GB of storage, and 4GB of RAM.
When it comes to the smaller Pixel, it's said that the new model might look similar to the existing model rather than get the updated design shown in this render.
While still a rumor for now, this Pixel XL 2017 design looks like a nice update to the original Pixel XL. It's much more modern and is reminiscent of two of the more popular flagships currently on the market, the LG G6 and Samsung Galaxy S8. The 6-inch screen size might turn some folks off, but like with the G6 and S8, the slim screen bezels could make it a bit easier to handle if you really want this updated design.
Does this rumored Pixel XL 2017 design appeal to you?
Source: Android Police