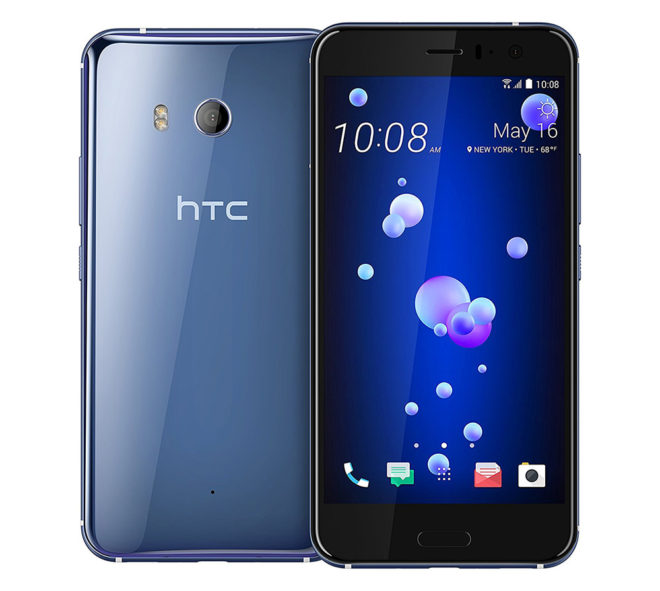 UPDATE: Mo Versi, HTC's VP of Product Management, has confirmed to me that the unlocked HTC U11 supports VoLTE, Wi-Fi Calling, and 256 QAM on T-Mobile, but not 4×4 MIMO.
ORIGINAL: HTC's flagship Android smartphone for 2017 is here.
The HTC U11 is now official, complete with a feature that HTC calls Edge Sense. With it, you can squeeze the sides of the U11 to perform actions, like squeezing once to launch the camera app and then squeezing again to capture a photo, which enables you to snap a selfie with one hand. You can customize the app that launches when you use Edge Sense, and HTC is including a long squeeze feature that'll give you another action to use.
Another feature of the HTC U11 is its AI assistant support. HTC has included Google Assistant with its new flagship, but it's also throwing in Amazon Alexa support, which will be available within 30 days of the U11's launch. And then there's Sense Companion, HTC's assistant which can do things like recommend nearby restaurants at lunch time or suggest that you charge your phone if you've got a late day meeting.
When it comes to raw specs, the HTC U11 is packing a 5.5-inch 2560×1440 Super LCD 5 display with Gorilla Glass 5, a Snapdragon 835 processor, 4GB of RAM, 64GB of storage, and a microSD slot. Also included is a 3000mAh battery, fingerprint reader, NFC, Bluetooth 4.2, and USB Type-C. There is no 3.5mm headphone jack to be found here, but HTC is including a 3.5mm-to-USB-C adapter in the U11's box, and it's also throwing in a pair of USB-C earbuds which can use active noise cancellation.
HTC is also touting the camera functionality of the U11. The back of the device is home to a 12-megapixel camera with UltraPixel 3 tech, dual LED flash, OIS, and EIS. HTC touts that the U11's camera earned a score of 90 from DxOMark, a group that rates camera performance. That's currently the highest score in DxOMark's mobile camera rankings.
Finally, the HTC U11 features glass on both its front and rear, and HTC has made the U11's body IP67 dust and splash resistant.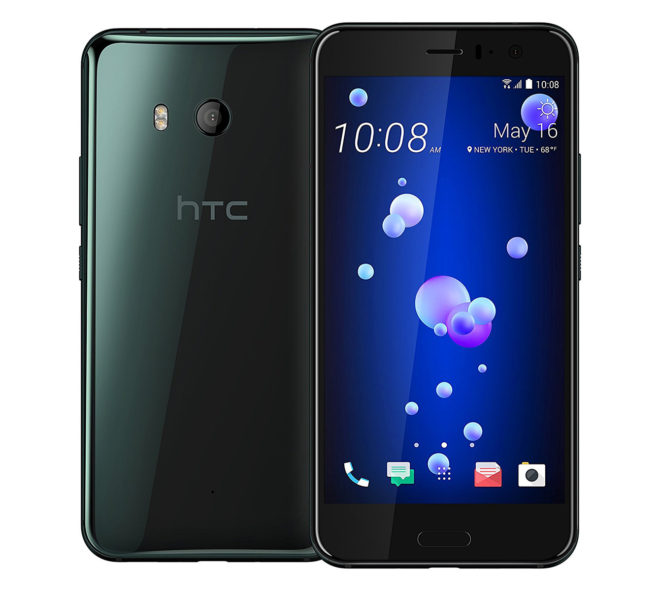 HTC is partnering with Sprint for the U11 launch in the US, but an unlocked model is also available. You can now pre-order it from Amazon and HTC for $649, and it'll launch on June 9.
The unlocked HTC U11 includes support for LTE bands 1, 2, 3, 4, 5, 6, 8, 12, 13, 17, 20, 25, 26, 28, 41, and 66. HTC also says that the U11 supports VoLTE, Wi-Fi Calling, 4×4 MIMO, and 256 QAM. I've reached out to HTC and asked if the unlocked U11 will have these features on T-Mobile US, but haven't yet received a response. I'll update this post when I do.
On paper, the HTC U11 looks like a respectable Android flagship, boasting features like a Snapdragon 835 and Quad HD display. It's also good to see HTC make the U11 splashproof, a feature that was missing from the U Ultra. What will be interesting is seeing how well Edge Sense works and if it's a "use everyday" kind of feature. I'm also looking forward to seeing how the U11's camera performs in the real world. The downside is that T-Mobile customers will have to splurge for the unlocked model, at least for now.
What do you think of the HTC U11? Are you thinking about pre-ordering a unit?