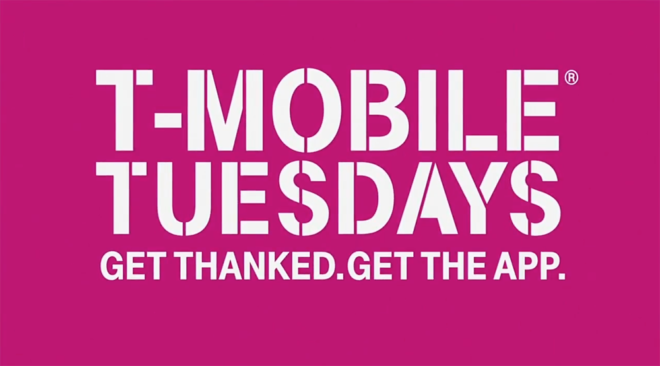 UPDATE: If you're still having issues with the T-Mobile Tuesdays app, John Legere says that you can call 611 and get your codes that way.
UPDATE 2: T-Mobile says that the T-Mobile Tuesdays app should now be working normally. T-Mo also says that this week, you'll be able to use your codes through Friday.
The third T-Mobile Tuesday is officially underway, and unfortunately, it doesn't appear to be starting off smoothly.
Several Twitter users are reaching out to the official @TMobile and @TMobileHelp accounts to complain that the T-Mobile Tuesdays app and website are down. There are complaints that T-Mo customers aren't seeing their gifts, and others are being met with an error message similar to the one that plagued users on the first T-Mobile Tuesday.
#GetThanked 😐😐😐😐excuse me pic.twitter.com/2ODQ2seztR

— Princess Ÿaya ♔ (@CallmeeeYaya) June 21, 2016
T-Mobile's official Twitter accounts are reaching out to those affected, asking some to talk over Direct Message and suggesting that some folks trying logging out of the app and logging back in. Another T-Mo support rep has said that T-Mobile is aware of the server issues and that they're working to resolve it.
@cracklikeyayo Wow, you guys REALLY like to be 'thanked'! Very high demand on the app – we're working on it :) *RubenH

— T-Mobile Help (@TMobileHelp) June 21, 2016
Tons of people are using the #TMobileTuesdays app – more and more each week! Very popular right now. Hang with us!

— John Legere (@JohnLegere) June 21, 2016
The first T-Mobile Tuesday was plagued by server issues that lasted for hours, so here's to hoping that T-Mo is able to fix the problem a bit faster this time. As a reminder, T-Mobile has swapped out Domino's for Lyft this week following overwhelming demand for free pizzas, so this week's gifts include a small Wendy's Frosty, VUDU movie rental, a Lyft ride worth up to $15, and $20 to spend at MLB.com.
Are you experiencing issues with the T-Mobile Tuesdays app and website? Or is everything working smoothly for you?
Thanks, @Telnetport!
Source: Twitter