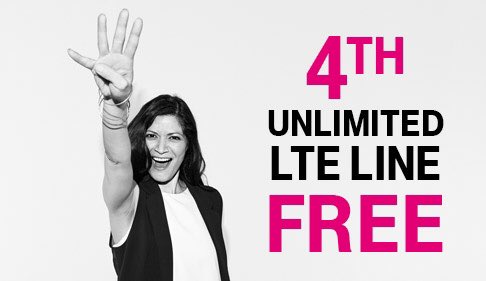 To celebrate its performance in yesterday's OpenSignal network report, T-Mobile is kicking off new deals for families.
T-Mobile's new offers include its "best-ever pricing for families" on 10GB and Unlimited LTE lines as well as giving families their fourth line free. Under these deals, four Unlimited LTE lines will cost $150 per month. If you need more lines, you can add 'em at a rate of $30 each up to 12 lines.
If you don't need bottomless LTE data every month, you can also sign up for a 10GB per month plan. Two lines with 10GB per month will set you back $100 per month, or you can up that to four lines with 10GB every month for $120 using the fourth line free deal. A similar deal was available last July, but more recently that $120/month price got you four lines with 6GB each.
These offers are available to both new and existing Simple Choice customers, and it's available in stores, online, and through telesales (1-877-413-5903). T-Mo also notes that folks that sign up can keep their Unlimited LTE plan for at least two years and any other plan for as long as they're a T-Mobile customer.
Source: T-Mobile