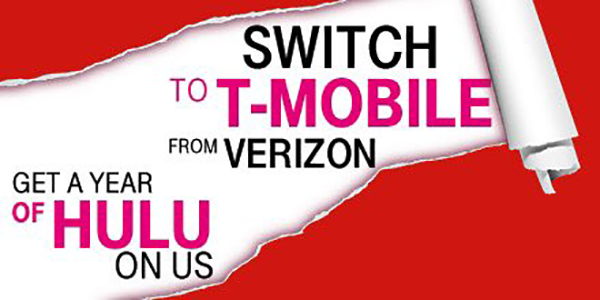 Today it's Verizon's turn to get a gift from T-Mobile, and Big Red customers are getting the gift of entertainment.
Verizon customers that switch to T-Mobile between December 11 and December 17 will get a $100 Hulu subscription gift code, good for 12 months of Hulu's $7.99 per month Limited Commercials plan. This offer ties in nicely with Binge On, which lets T-Mo customers stream video from 24 video services — Hulu included — without using their high-speed data allotment. To get this Hulu deal, you'll need to switch to a Simple Choice postpaid plan, and you'll have to do it online or over the phone. When you do, you'll get your $100 Hulu subscription code in a text message.
Additionally, Verizon switchers can get up to half off the accessories in-store. This is similar to the gift that AT&T customers got last week in that Verizon customers can get their savings when they finance their accessory purchase between $69 and $250, meaning your discount can be up to $125. This discount will be applied as a monthly credit on your bill. You can use this offer on accessories like smartwatches, Bluetooth speakers, fitness trackers, and that Guitar Hero iOS bundle.
Finally, just like with AT&T and Sprint, T-Mobile says that it'll cover the costs of Verizon switchers that have to pay an ETF or pay off a phone to jump ship to Magenta. With Carrier Freedom, T-Mo will pony up as much as $650 per line to cover those payments. To take advantage of Carrier Freedom, you'll need a phone trade-in and then you'll have to buy a new handset from T-Mobile.
Here's what John Legere had to say to potential Verizon switchers:
"Verizon customers put up with a lot of sneaky tricks from Big Red these days. Overpriced data, shocking overage penalties and no early upgrade option – just to name a few. So while Verizon spends billions of dollars on TV ads screaming that 'better matters,' we are going to show their customers why the Un-carrier is better with a real gift, half-off the best accessories and a full year of Hulu that comes with unlimited LTE streaming with Binge On at T-Mobile! It's a gift that will keep giving all year long!"
So to recap, T-Mobile's Un-carrier Unwrapped promotion gave Sprint switchers a $200 bill credit, AT&T customers got an iPhone memory upgrade and half-off accessories, Verizon switchers are getting a free year of Hulu and half-off accessories, and existing T-Mobile subscribers got three months of unlimited LTE data. Your opinion of each of these offers is probably going to vary depending on your likes and dislikes — Android fans probably aren't super jacked about the iPhone upgrade for AT&T switchers — but T-Mo is making an extra effort to get consumers to join Team Magenta this holiday season. Folks do buy smartphones over the holidays, whether as a gift or a gift to themselves, so why not entice customers of other carriers to  buy their new phone from T-Mobile?
Source: T-Mobile