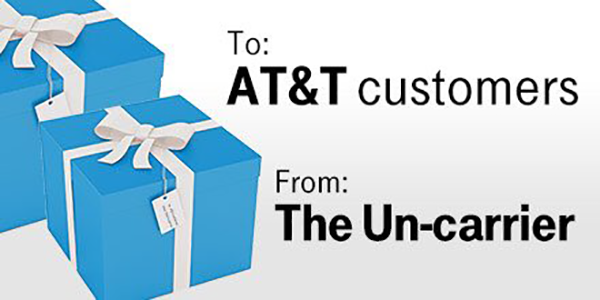 After giving gifts to its own customers and then Sprint subscribers, T-Mobile today revealed its presents to folks on AT&T.
First up, AT&T customers can get a 128GB iPhone 6s for the price of a 16GB model when they switch to T-Mobile. The 16GB iPhone 6s retails for $649.99 while the 128GB model sells for $849.99, so that's a $200 value. The discount will be given as a $200 bill credit.
T-Mo is also offering AT&T switchers half off its in-store accessories. This discount applies on accessories you buy on a finance agreement with a minimum of $69 and a maximum of $250; your discount can be up to $125. Like the iPhone offer, your accessory discount is applied as a monthly credit.
T-Mobile says that the iPhone 6s is "the world's top-selling smartphone," but there are sure to be some folks disappointed that there's not a similar $200 discount on an Android device. Perhaps that's why T-Mo is also offering its half-off accessories discount, which can save AT&T switchers some cash on accessories like smartwatches, Bluetooth speakers, headphones, and Fitbit activity trackers.
Both offers will be available in T-Mobile stores starting tomorrow, December 4, and they'll run through December 13. To qualify, you'll need to port in a line from AT&T, GoPhone, or Cricket, and you'll need a qualifying Simple Choice plan, too. These offers can also be combined with T-Mo's Carrier Freedom, which will pay switchers up to $650 to cover their ETF and phone payments so long as they trade in a smartphone and buy one from T-Mobile.
Now that Sprint and AT&T customers have both gotten their switcher gifts from T-Mobile, that leaves Verizon folk as the only ones waiting to unwrap their present from T-Mobile. Since the Sprint gift came last week and the AT&T presents were delivered this week, it stands to reason that we'll see Santa Legere deliver a gift to Verizon customers next week.
Source: T-Mobile