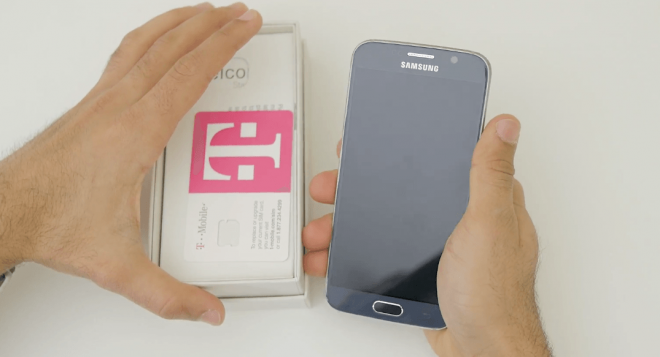 The Samsung Galaxy S6 may no longer be the freshest flagship in Samsung's galaxy, but it's still a solid smartphone, and this weekend you can get a nice deal on one from T-Mobile.
Starting today, October 22, T-Mobile is offering the 32GB Samsung Galaxy S6 on JUMP! On Demand for $0 down and $0 per month with eligible trade-in. To get this price, you'll need to trade in one of the following smartphones: iPhone 6s, iPhone 6s Plus, iPhone 6, iPhone 6 Plus, Samsung Galaxy S6, Samsung Galaxy S6 edge, Samsung Galaxy S6 edge+, Samsung Galaxy S5, Samsung Galaxy Note 5, Samsung Galaxy Note 4, Samsung Galaxy Note Edge.
Meanwhile, T-Mobile is also offering a discounted monthly price on other popular iOS and Android smartphones. To get a price of $0 down and $15 per month, simply trade in an iPhone 5s, iPhone 5c, iPhone 5, Samsung Galaxy S4, HTC One M8, HTC One M9, LG G3, or LG G4. To compare, the price of the Galaxy S6 with no trade-in is $24 per month.
This Galaxy S6 deal can be stacked with T-Mobile's Tablet On Us offer, which will get you a Samsung Galaxy Tab A for $0 down and $0 per month, so long as you activate a data plan on the tablet. This Tablet On Us deal is good if you purchase the Galaxy S6 or the Galaxy S5, Galaxy S6 edge, Galaxy S6 edge+, Galaxy Note 4, Galaxy Note 5, or Galaxy Note Edge. And T-Mo says that if you purchased your phone on or after October 14, you can get yourself a free tablet.
T-Mo's Galaxy S6 offer will run through this weekend, with the price going up to $0 down and $10 per month on Monday, October 26, and it's available in stores and through telesales (1-877-362-6317). Additionally, if you cancel service, your promotional $0 per month pricing will end and you'll have to either turn in your phone or pay it off.
Source: T-Mobile