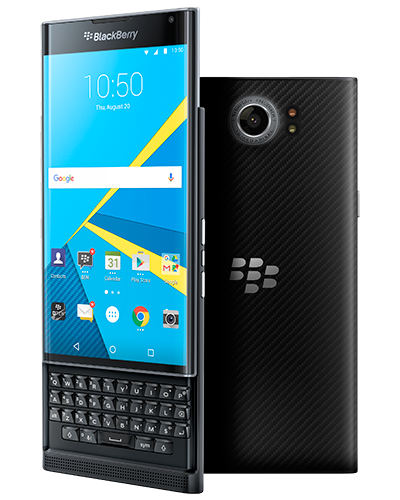 After months of leaks and waiting, BlackBerry today began taking pre-orders for the Priv, its first Android smartphone. Pricing for the Priv is set at $699, and orders are expected to begin shipping out on November 6.
In exchange for your 699 hard-earned dollar bills, you'll get a smartphone running Android 5.1.1 on a 5.43-inch 2560×1440 AMOLED display that's covered in Corning's Gorilla Glass 4. Slide up that display and you'll see the BlackBerry Priv's physical keyboard, which is a "Capacitive Touch Keyboard" that'll give you navigation controls and cursor control.
The BlackBerry Priv sports a Schneider-Kreuznach-certified 18-megapixel rear camera with optical image stabilization, Phase Detection Auto Focus, and a dual color LED flash. The front of the Priv is home to a 2-megapixel camera with a wide selfie mode.

Finally, we dive into the inside of the Priv to find a hexa-core Snapdragon 808 processor, 3GB of RAM, 32GB of storage, and a 3410mAh battery that supports fast charging. There's also a hot-swappable microSD slot that'll support cards up to 2TB in size.
The BlackBerry Priv supports LTE bands 1, 2, 3, 4, 5, 7, 12, 17, 20, 29, and 30. As with other unlocked phones that list band 12 support, though, the Priv's support for T-Mobile's band 12 LTE and VoLTE is unknown. The Priv also offers support for HSPA+ on bands 1, 2, 4, 5/6, and 8, so it ought to play nicely with T-Mo's HSPA network.
One other detail that's worth noting is that while no carriers have announced plans to offer the BlackBerry Priv directly, BlackBerry CEO John Chen previously said that he's working with all of the major carriers on the launch of the device. Additionally, a leak from back in August claimed that the Priv (then known by its "Venice" codename) would be part of T-Mobile's lineup. For now we'll just have to wait and see if T-Mobile does indeed announce plans to carry the Priv.
Source: Shop BlackBerry