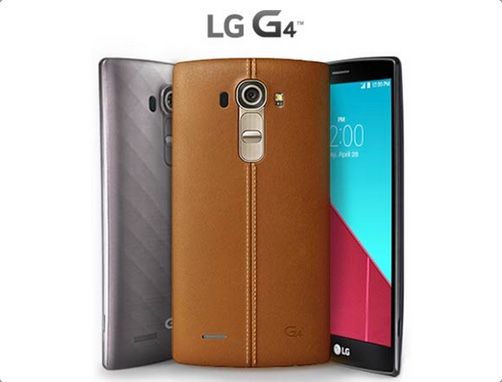 Although it's a couple more weeks until the G4 physically arrives at its stores, T-Mobile is gearing its retail staff up to push the online orders which went live this morning. As announced yesterday, customers can now submit orders for the latest LG "superphone".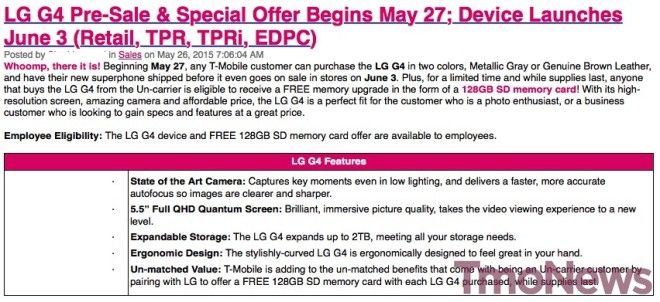 Along with the pre-sale, T-Mobile is also offering subscribers the chance to claim a free 128GB Micro SD card. Promotional flyers for that offer have been sent to stores. And it's no surprise to see those leaflets pushing the exclusive brown leather model of the device. Which – by the way – is definitely the best option. For those who don't like it, T-Mo will be selling the plastic gray model too. If you don't like either, the shell is removable so you should be able to find individual rear shells to buy on eBay (or somewhere similar) within the next few weeks.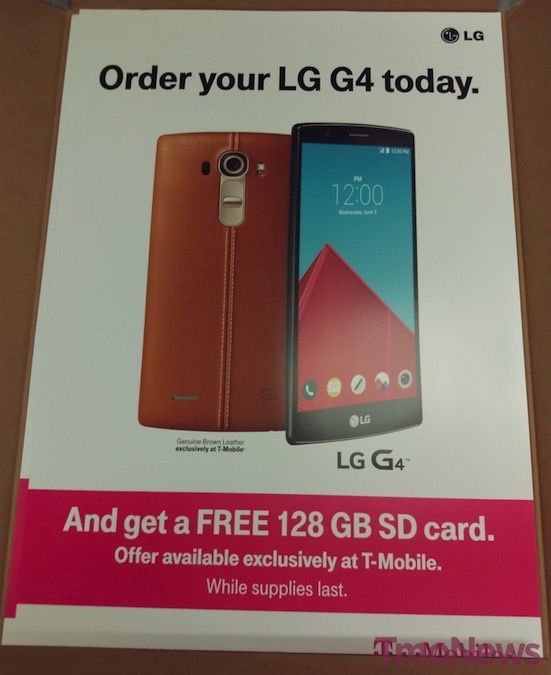 One question that arose yesterday when T-Mobile announced the promotion was whether or not you could take advantage of this offer as well as LG's more widescale promotion. The short answer to that is: yes, you can. The official response from T-Mobile (via PhoneDog) is:
"T-Mobile's offer for the 128GB memory card is exclusive to T-Mobile customers and LG's offer is available to customers of participating retailers and wireless providers. T-Mobile customers who purchase the LG G4 at T-Mobile could be eligible to receive both offers, but they'll need to visit both promotion websites and follow the directions to see if they qualify."
For those who need a refresh, LG is running a promo where customers who buy the G4 can claim a free spare battery, charging cradle and 32GB Micro SD card. To qualify for LG's offer you need to buy from one of its authorized retailers. That list includes the following:
Amazon
AT&T
Best Buy
Costco
Sam's Club
Sprint
T-Mobile
Target
US Cellular
Verizon Wireless
Walmart
Carrier authorized retailers reselling operator services (essentially, branded non-corporate stores)
You can read more about this particular offer, along with all of its terms and conditions, over at LG's bespoke web page. But, potentially, you could end up with two memory cards (one 128GB and one 32GB) as well as a spare 3,000mAh battery and a battery charging cradle, just for buying your G4 from T-Mobile. Let us know if you manage to claim on both promotions after you've bought it because that – to me – sounds like an awesome haul of essential extras.