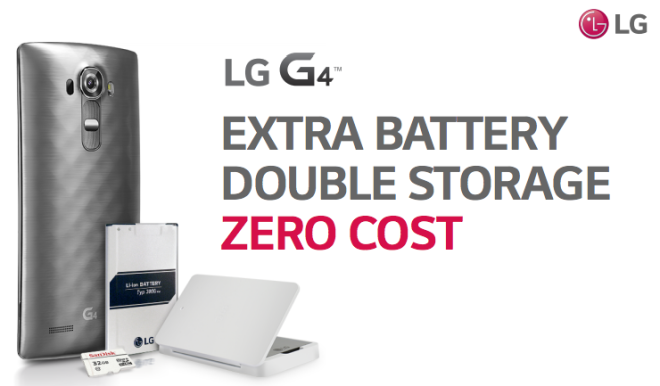 Anyone planning on buying an LG G4 when it eventually lands on T-Mobile store shelves will be glad to know that the Korean tech company is running an awesome promotion for U.S. customers. While supplies last, customers buying the G4 from authorized retailers will be able to claim back an extra battery, a 32GB Micro SD card and a battery charging cradle. Pretty sweet deal, right?
Here's the low-down: Customers in the U.S. buying the device between May 22nd and June 21st, 2015 can submit a registration online or submit via mail. If accepted, they will receive their extra accessories between 4-6 weeks later. Those submitting an online registration have until Monday, July 6 2015 to claim while those who do it through the mail have until Monday, July 13. You can read the full terms and conditions in this PDF.
Authorized retailers include:
Amazon
AT&T
Best Buy
Costco
Sam's Club
Sprint
T-Mobile
Target
US Cellular
Verizon Wireless
Walmart
Carrier authorized retailers reselling operator services (essentially, branded non-corporate stores)
To submit your claim online head on over to www.lgg4promo.com and enter the information requested. This includes your name, address, phone number, email address and carrier where you purchase was made. You'll also be required to upload a legible copy of your receipt. Mail submission requires you to download the redemption PDF form and print it and send it – complete with proof of purchase – to LG's promotion address in Santa Ana, CA.
Source: LG
Hat-tip: PhoneArena