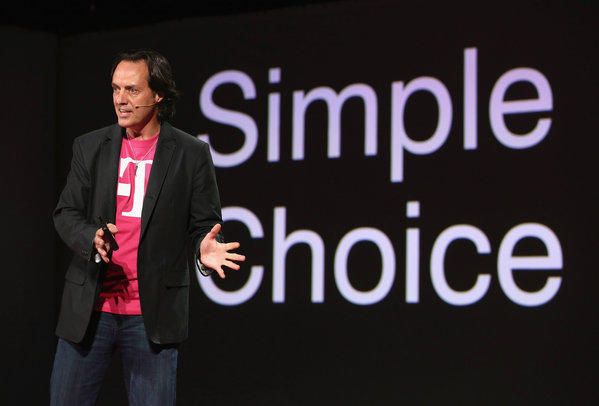 A week ago, we pushed out an article asking how you felt about T-Mobile strategy in switching customers from older, legacy plans to new Simple Choice offers. It became clear beforehand that a number of customers weren't happy about moving to a new plan and potentially losing allowances, or being pushed on to a plan without their permission.
Having spoken to a couple of sources, I can hopefully bring at least a little insight in to the matter. Although I'm still waiting on official word from T-Mobile, my sources sing from the same hymn sheet: You shouldn't be losing any data allowance.
Most of the confusion stems from communication which stated that customers would be switched to a plan with either 30MB or one which matches their "current data allotment."
Most customers being switched are changing on to a "Select Choice" plan which has been designed to fit what the customer is already on. Those without any data on their legacy plan are switched to a plan with 30MB of high-speed data. Like Simple Choice, data speeds are reduced once the download limit is hit. Others should be switched to a plan with the same allowance of high-speed data as their current plan.
However, if you have lost data (or feel like you have seen a reduction), you should call customer care. If they're not helpful at first (which you may have experienced), ask to speak to a supervisor, and they should be able to address your concern. DM'ing the @TMobileHelp Twitter account should prove useful too.
There's a chance that, with the switch, the amount you pay each month changes. But if it does, it's been designed in a way that it only increases or decreases by less than $1 per month. What's more, in addition to having high-speed data allowances matched, customers on the newer plans get the same benefits as those on Simple Choice. For instance, you should get things like Simple Global international data, Inflight texting on GoGo flights etc.
In short, it's been designed so that you gain features but don't lose any. As for being "forced" on to new plans, I've not heard anything from any of my sources to argue that it's not happening. Customers are being moved. That's a taken for granted. And all should have been given notice beforehand. However, no one should be getting a worse deal, and it shouldn't be an inconvenience to anyone.
I say "shouldn't" because there will inevitably be some who don't like it. There are those complaining that T-Mo is going back on a "promise" not to force migrate customers. For those of you in that category I'm afraid I don't have any extra information. But, I can understand the feeling of frustration, for sure.
We're told by a source close to the matter that a dedicated care line is being set up to deal with this issue. We don't have an ETA on when that team will be fully up and running, but it should be relatively soon. We hope that they can help appease any of those still upset by the migration, and explain a little better why it's happening.
If I do get an official statement from T-Mobile, or if they announce anything, I'll be sure to let you know.