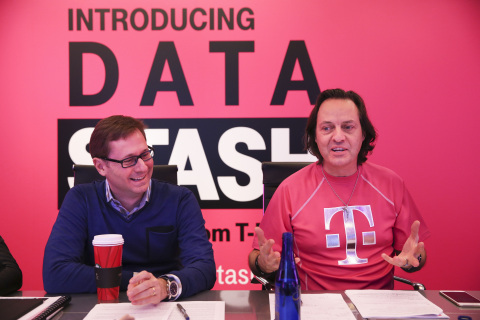 T-Mobile's Data Stash may – in the words of John Legere – be "arguably the biggest thing we've ever done since Uncarrier 1", but other announcements caught my attention more. I'm not belittling the new data rollover scheme. Simply re-emphasizing the truth: Without a killer network, a great offer isn't worth anything. Sprint has found that out to its own detriment. 
In a blog post, T-Mo's network guru, Neville Ray covered all of the encouraging network developments over the past weeks and months.
.
Hitting and Surpassing targets
T-Mobile had a few network goals this year. By the end of 2014 it wanted to:
Cover 250 million Americans with its LTE network
Reach 25 markets with its wideband LTE
Start rolling out the low-band 700MHz spectrum
Each of those targets, the company has either achieved or surpassed. T-Mobile LTE now reaches over 260 million PoPs (people), and its faster wideband LTE network is live in 27 markets. It has also started testing and rolling out its low band spectrum. By the end of 2015 the company intends to reach 300 million Americans with its LTE.
Over the past few months we've noticed many new markets being covered by LTE. Markets which used to be EDGE-only or – in some cases – HSPA at best. The biggest example was Cincinnati, but we've seen numerous examples of more rural cities and towns being graced by LTE networks for the first time. This is T-Mobile using its existing 2G/EDGE 1900MHz frequency band and upgrading it to LTE.
By the middle of next year, T-Mobile is planning to have ALL of its 1900 2G/EDGE sites upgraded to LTE. And if this year's progress and momentum is anything to go by, it would be surprising if the company didn't get it all fully upgraded way before then.
Apart from Wideband LTE, band 12 has been this year's biggest talking point among the T-Mo network fans. Also known as 700MHz, or low-band network, it's going to allow T-Mobile's LTE reach more people because it travels further, and penetrates building walls more effectively.
We have heard of a few sightings recently, but it's always good to hear officially from the man who knows better than anyone else what's happening with T-Mobile's towers and antennas. When T-Mo purchased the 700MHz spectrum from Verizon, Neville Ray promised we would have band 12 LTE rolling out by year's end. And it is.
T-Mobile customers in Cleveland, Colorado Springs, Minneapolis and Washington, DC with LTE Band 12 devices are only the first to reap the benefits of our new low-band LTE, boosting network reach, improving in-building coverage, and extending coverage well beyond major population centers. 
If you have a compatible device, and live in the right location, you could already be making use of the more robust LTE network. Among the devices with 700MHz LTE compatibility are the Samsung Galaxy Note 4 and Note Edge. Two of the most talked about devices this year. And more are coming next year too.
With T-Mobile having hit its target of 25 markets with wideband LTE at the beginning of this month, you could have been forgiven for thinking this year would end on a whimper. But with yesterday's announcements and the arrival of wideband LTE in New York City (one of the most populous markets), the company assured we weren't left disappointed. It also means it's now live in 27 markets, totalling "121 metro areas."
While the blogosphere may have gone crazy on T-Mobile's 21st century spin on rollover allowances, I was far more excited by how far the company has come on its coverage and network expansion. At the end of last year I said that the carrier's resolution for 2014 has to be coverage. Not just more coverage, but better, stronger and faster coverage. It's delivered, more than I expected to. And that's far more important and noteworthy in my mind than letting me keep some of my data allowance in a bank for 12 months. Because chances are, if I don't use it now, I'll never use it.