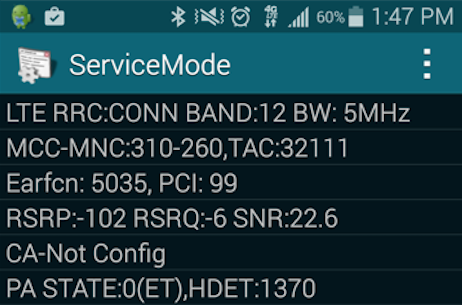 T-Mobile's 700MHz LTE rollout looks to be well under way. While we heard reports that at least one site – in Long Island – was activated recently, it seems that the frequency is also showing signs of life in Houston, Texas. We were sent a screenshot of ServiceMode on a Galaxy Note 4 from a reader, which indicates that a band 12 5+5MHz site is live in the area.
As far as we know, only three devices currently available are capable of picking up band 12 LTE, despite the fact that a few more have the hardware to support it. Samsung's Galaxy Note 4, Galaxy Note Edge and Galaxy Avant are the only ones which can pick up the 700MHz LTE frequency at time of writing. Despite that, Sony's Xperia Z3 and the ZTE ZMAX both have the relevant radio chips to make it possible.
T-Mobile is currently deploying a couple of major network improvements: Wideband LTE and 700MHz (low-band) LTE. For those who aren't sure of the difference, wideband is the "fatter data pipes" which utilize T-Mobile's mid/high frequency spectrum to offer much faster download speeds on a network that's not easily congested. You'll see us referring to 15+15 or 20+20 MHz networks often, when referring to wideband. Think of it – in completely lay terms – as 20 lanes or 15 lanes on each side of the network highway. Traffic can flow much quicker, and easier with more lanes to travel on.
700MHz, commonly referred to as low-band or band 12 spectrum is a lower frequency. As it stands, the 700MHz network isn't wideband. Not yet at least.
Being lower frequency means that it's more capable of penetrating building walls, ensuring that you get better coverage indoors. Before acquiring this lower spectrum, T-Mobile's 1700/2100 and 1900 frequencies were renowned for often disappearing once you stepped in to your home or office. Or – at least – became much weaker. . This is precisely why T-Mobile acquired the A-block spectrum from Verizon early this year, and why it's also pursuing other spectrum holders and agreeing deals across the U.S. Check out this map to keep up to date on developments as T-Mo seeks to buy more of the spectrum, and activates it.
Thanks for sending, George. And as always, thanks, Neal for fielding my questions.