Earlier this year, T-Mobile caused something of a ruckus when it announced it would no longer be offering monthly line rental discounts for its Advantage Plan customers. The plan was to move everyone off the old monthly discount scheme on to a newer model which offered a gift card/discount every time they bought a new phone, or upgraded. After the announcement, it changed its mind somewhat and allowed old Advantage Plan customers to be grandfathered in, past a specific cut-off date. Everyone was happy, at least, for the short term.
Since then, relationships between T-Mobile and some of its corporate partners have ended resulting in some customers losing their discount altogether. Something which can't be avoided. After all, if the company ends its deal with T-Mobile (or the other way around), they can't continue to offer a perk to the customers currently receiving it. Both the AAA and the PTA ended their relationships with T-Mobile earlier this year, and it would seem more companies are doing the same.
Today, we've been informed by a few customers that a new batch of postcard notices are being sent out informing them of further corporate partnerships ending.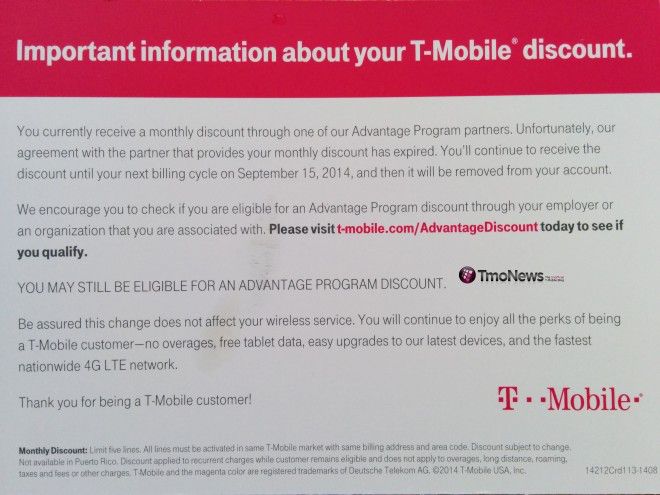 One company T-Mobile has ended its association with is NEXT JUMP. As seen in a screenshot below. One customer got in touch whose Advantage Plan discount was handled through the company that specializes in developing work place culture, and handling corporate discounts and perks.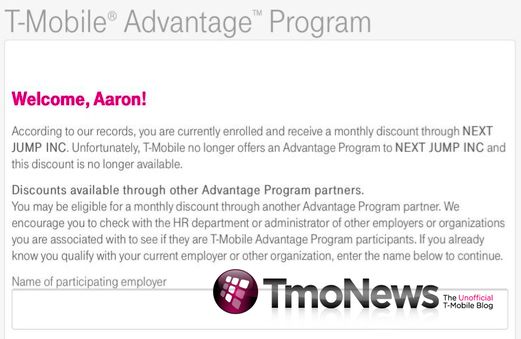 As part of T-Mobile being the "Uncarrier" it believes it should be offering the same prices, the same great value and same service to everyone. The "old hat" system of offering corporate discount to employees or members of specific companies and groups meant having higher then necessary regular prices. And although it sucks to lose discount, it does, from a big picture standpoint make sense in the long run. Particularly if T-Mobile is going to be more successful.
If you've had a post card, or been informed over the past few weeks that your discount is ending, let us know by sending an email to cam@tmonews.com with the details, let us know which company you're associated with which is no longer in relationship with T-Mo and I'll update this post as and when I can. If you're able to, send us pics of the post card/online notice.
UPDATE – If you haven't been sent a notice and you currently receive a discount, please don't take this as a sign that you're going to lose yours. Unless T-Mo gets in touch, via text or post card, there's no need to worry.
UPDATE 2 – Another customer receiving an advantage discount through NEXT JUMP received a text to inform them.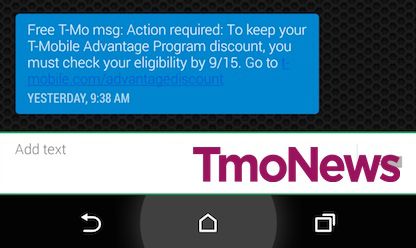 Another customer in New Jersey received the initial post card and he was getting his discount through the American Federation of Teachers in that state. Another still was getting his through working for Scripps Networks Interactive.