The deal between SoftBank and Deutshe Telekom is allegedly a done deal. All that stands in its way – as far as we know – is the regulatory approval needed to make it official. But we know from previous reports, and open statements from the DoJ and FCC, that approval isn't going to be easy to come by.
Part of pushing the deal through will be convincing the DoJ that a merged Sprint/T-Mobile is better for the consumer, and offering them a better choice. New York Times argues, that's a point that'll be tough to prove when coverage maps show that in many major cities the two companies have good coverage. And so merging them is essentially removing an option for customers living in metro areas.
The map below shows where T-Mobile has coverage (pink), where Sprint has coverage (yellow), and where they both overlap (purple).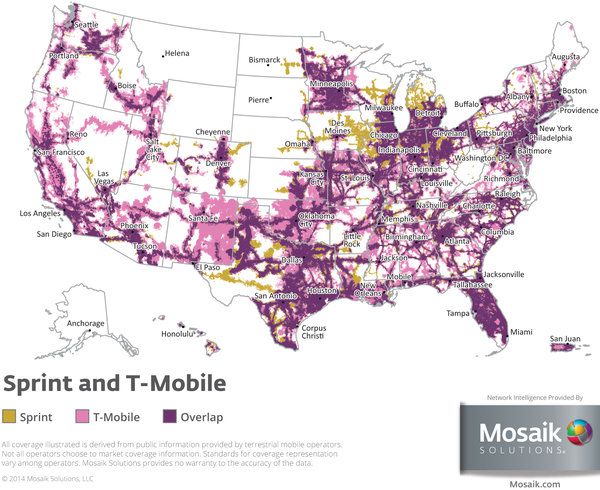 More than likely, T-Mobile and Sprint won't be arguing on the basis of consumer choice. Rather, competing with AT&T and Verizon in terms of finances, technology and customer subscriber base. Gelles of NYT wraps it up nicely:
In essence, they'll be posing the question to regulators: Do you want consumers to have four wireless carriers to choose from, two of which aren't very good? Or do you want consumers to have three carriers to choose from, each of which has nationwide scale and the resources to invest in better technology?
Arguing against that is T-Mobile's progress over the past few years. No, the company doesn't have the resources to compete with Verizon. But for each of the past 5 quarters, it's added over 1 million net subscribers. In the first quarter of this year, the Uncarrier 4.0 initiative ushered in more than 2 million new subscribers. It outperformed every other carrier in that regard. It might never catch up with AT&T and VZW, but it's at least starting to look like a real contender in terms of LTE technology and great offers. Part of me thinks the DoJ would be more likely to "ok" a deal if T-Mobile was doing badly.
Source: NYT