T-Mobile caused something of a stir recently when it announced that it would be ending its corporate discount scheme for anyone who wasn't government or military. Initially, T-Mo planned to end it for everyone, including existing customers. Needless to say, it didn't go down well. People complained, and Magenta changed its mind. Sort of. Existing customers still get to keep theirs, but any new customers will instead get discount towards any new phone when they upgrade, or get a new device. Not a monthly discount.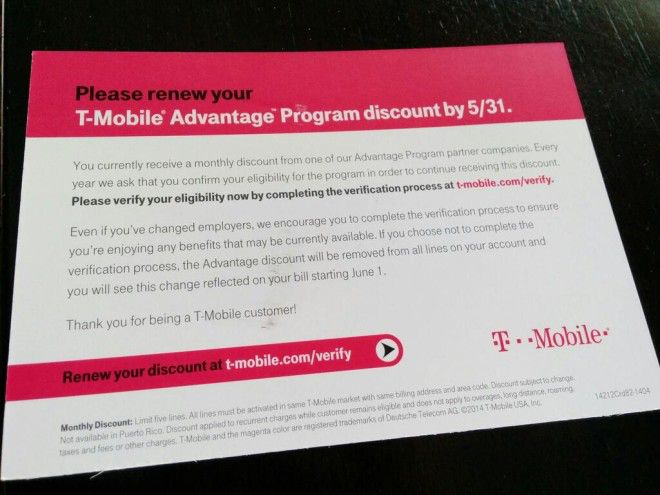 Anyhow, it's the time of year when current Advantage monthly discount customers have to re-verify to make sure they keep their monthly discount. Any of you currently receiving money off your monthly bill through the plan should complete the necessary steps at T-Mobile.com/verify by the end of this month. Obviously, if you don't complete the necessary procedure by May 31st, your monthly discount will be removed. Just wanted to make sure you guys were reminded, in case you didn't get the memo above, or just plain forgot.
Quick Update: It would appear that you only have to re-verify if you receive the notice shown in the image above. However, it's always best to be cautious, and check with the customer services team anyway to be sure.
Update #2: A little further snippet of information, after getting off the phone with T-Mobile's Communications Team. This – as you probably know – is a reminder for those on the old Advantage Program giving them monthly discount to re-verify so that they get grandfathered in. T-Mobile will be sending out SMS messages for those they don't have mail addresses for, and will be sending further communications out to ensure that nobody on the old plan misses out. If you're not on the old monthly discount plan, this doesn't apply to you. It's not a difficult process. Let us know how you get on.