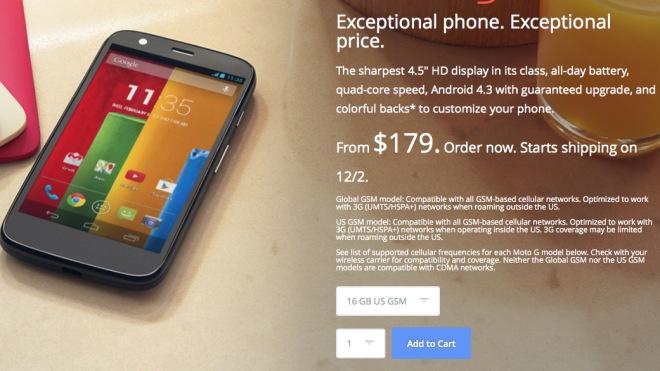 When Motorola announced the Moto G a little while ago, it wasn't clear which specific bands were being supported by the US versions. Motorola didn't announce anything that specific, but we did uncover a FCC patent filing indicating that there was a model built to be compatible with T-Mobile's 1700 (AWS) bands. Today, it's been confirmed.
From today, you can order two different versions of the Moto G. Either the global model (in 8GB or 16GB options) or the US GSM model, also available in both storage models. The global model is not compatible with the 1700 bands. The US model is compatible with the following:
"US GSM Model: GSM/GPRS/EDGE (850, 900, 1800, 1900 MHz)
UMTS/HSPA+ up to 21 Mbps (850, 1700 (AWS), 1900 MHz)"
So it's pretty much as the FCC filing revealed. Of course, this perhaps doesn't do anything to detract from the fact that there is no LTE model. HSPA+ is the fastest "4G" you'll get.
You can order the Moto G from today, and expect shipping any time from December 2nd. 8GB model costs just $179 off-contract and the 16GB version will set you back $199. Both are stupidly good value for money, even if it is without LTE.
Hit the order page to buy, or check out more details.