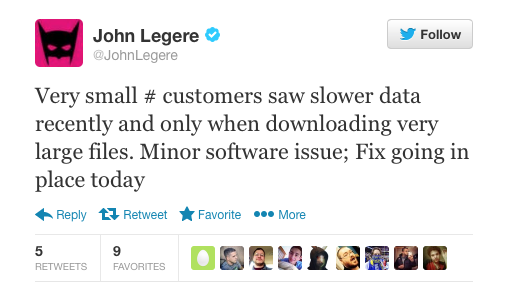 Over the weekend we collected a number of first hand reports from Tmo customers stating that they'd noticed a significant slow down in data speeds over the past few weeks (read our report here). We weren't really sure what the problem was, but we guessed it wasn't throttling, or an issue with specific phones.
Thankfully, there's a fix on the way. John Legere, T-Mobile's CEO tweeted a short while ago stating that this software fix is going in place today. So, we should see the issue disappear over the next couple of days. We've not heard if this is a software issue on the infrastructure end, or if individual phones will need to download something. My suspicion is the former. I'll update you if I hear any more details on this.
UPDATE: 
T-Mobile got in touch to confirm that the software update is on the infrastructure side. Customers don't need to do anything. 
Also, the company's official statement on the issue is below: 
"We are aware of a recent software issue that has slowed data speeds for a very small percentage of our customers, only when downloading large files. Our engineering team is fixing this now and we expect resolution by the end of the day today."