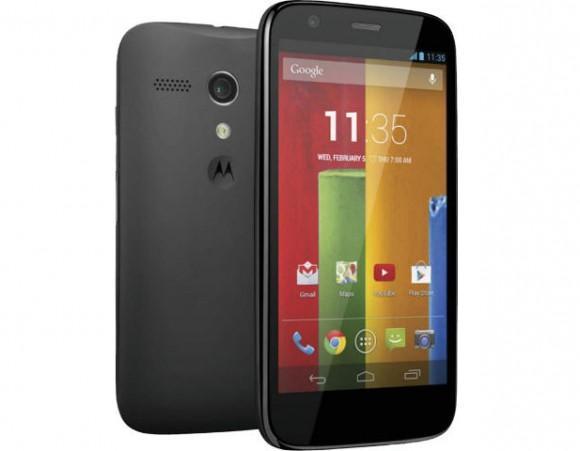 Motorola just held a relatively short launch event in Rio de Janeiro, Brazil. It may seem like an odd location, but the device being announced makes it absolutely clear why it chose Brazil. Simply put, the market this device is aiming at is huge in South America and parts of Asia. Particularly Brazil and India. This is about nailing the sub-$200 market. Motorola believes that 500 million people will by sub-$200 devices in 2014, and it wants to have the best device in that class.
Moto G is Motorola's latest "stock" Android phone and it features some impressive specs:
4.5-inch 720p display
329ppi density
Nano-coating externally and internally to protect against moisture/splashing
1.2GHz quad-core, efficient Snapdragon 400 processor
1GB RAM
8GB or 16GB storage options
2070 mAh, "all day" battery (10 hour talk time on 3G)
Ships with 4.3 Jelly Bean – (4.4 KitKat guaranteed for January 2014)
Interchangeable "Moto Shells" – Swap between different color rear shells, flip shells and "Active Grips" (bumpers)
Initially, it will go on sale in Brazil and parts of Europe this week. With more parts of South America, Asia and Europe getting the device between now and January 2014. The U.S. version won't land until January.
The spec-list is pretty impressive, but is lacking on one thing: LTE.
HSPA+ is as fast as this thing goes. In terms of bands (going off GSMArena specs) it supports 1900/2100 but not 1700. And, it looks like carriers won't be offering it for sale through their own channels in the States. Instead, you'll pay $179 and get the 8GB model off-contract and unlocked through Motorola.com. Unlike a lot of other devices, you only have to pay an extra $20 if you want double the storage. 16GB model will be $199. To reiterate: This is the unlocked, SIM-free cost.
Motorola's aim here is to create device that massively outperforms everything else in its class. Sub $200 handsets are generally awful, and this Moto G should be a breath of fresh air to those in developing markets like Brazil, India and other parts of Asia and South America. In the States, it could be a great option for the cost efficient among you.