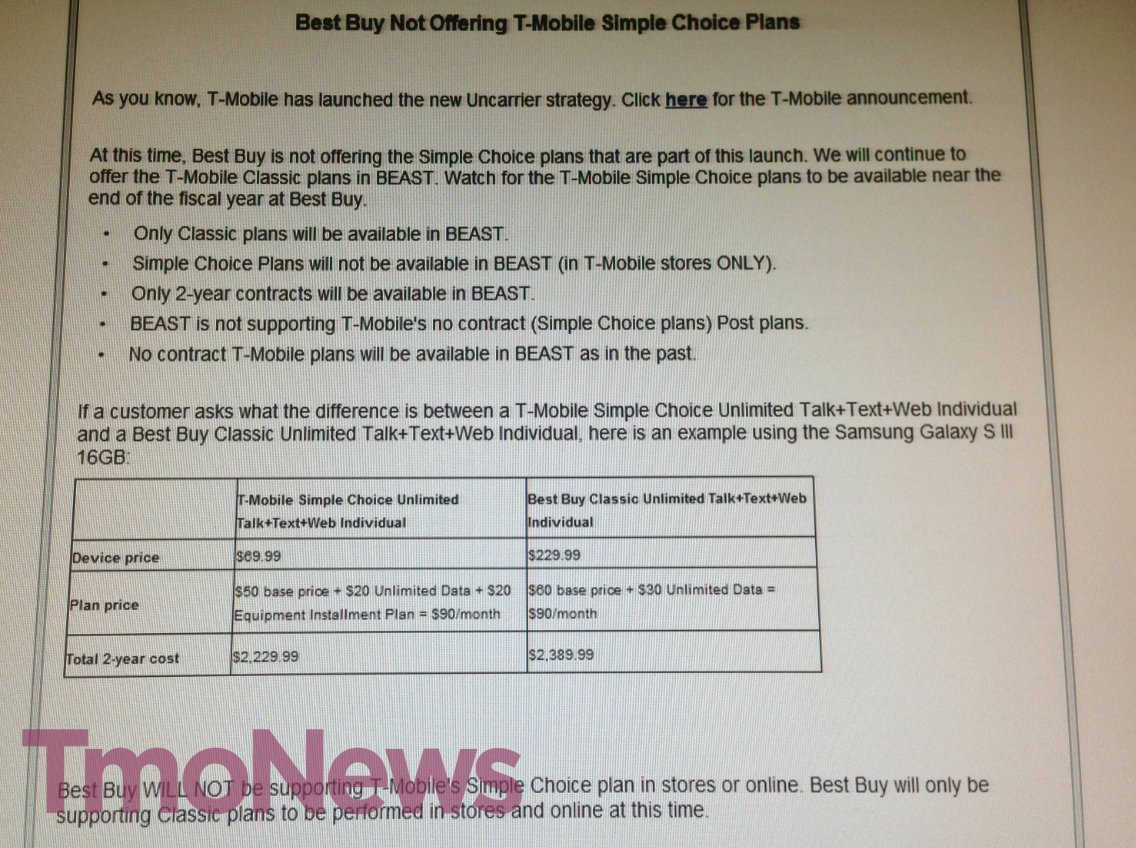 Perhaps one of the most confusing and poorly explained aspects of T-Mobile's new Simple Choice offering is how it works with third-party retailers and authorized dealers. I've tried to do all that I can on my end with TmoNews to help explain that what company-owned channels offer is different from other T-Mobile sales channels. That's why I found this Best Buy screengrab so useful as it helps explain exactly what you can and cannot do at a third-party retailer or authorized dealer for that matter.
For starters, Classic Plans are still available, but only through those third-party channels and not through T-Mobile owned ones.
Simple Choice plans, better known as T-Mobile's new one-size-fits-all Value Plan is not available anywhere other than T-Mobile sales channels.
Two-year contracts and pricing is still available with the new Classic Plan.
There is a plan in the works to completely move away from Classic Plans in the future, but that will take some time for T-Mobile to achieve.
As the image suggests, Best Buy hopes to have Simple Choice plans available by the end of the fiscal year at Best Buy, which according to their investor page — ends in February of 2014. In the hopes of quickly summarizing all of this in the least confusing way possible:
If you have a Classic Plan and want to remain on a Classic Plan, third-party retailers like Best Buy are your only option.
If you have a Classic Plan and want to move to a Value Plan or have Value Plan and want to stay on it, T-Mobile company owned channels are your only option.
Capiche?