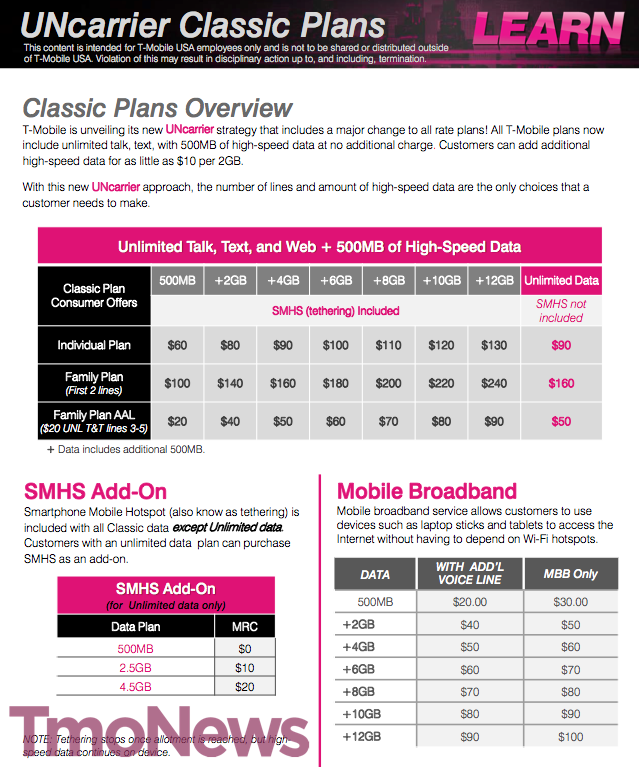 While T-Mobile's corporate owned retail stores will go live with a Value Plan only environment on March 24th, National Retailers are launching a total revamp of the company's Classic Plans. Why two sets of rate plans you ask? The simple answer is that T-Mobile's national retailers like Target, Walmart and Best Buy can't support the Value Plan structure of commissions paid out by the carrier. In the cases of corporate stores where T-Mobile owns the inventory, it's ok to offer a down payment in store and have the rest billed out to the customer.
For third-party retailers who own their inventory, there's no system that allows for equipment installment plans and customers would have to pay full price right up front. We can all imagine how well that would go over. In these cases, what's the incentive for customers to go with a national retailer over the corporate store? The bottom line is that until a solution is found for EIP and up front pricing, third-party retailers will stick with Classic Plans.
Let's be clear with all of this UNcarrier material that there is likely some missing info, so act as if these images are missing some, perhaps important details. For those of you asking what will happen to your current plans after March 24th…the answer is nothing. There's no precedent for a carrier to automatically change rate plans over. The lingering question is whether T-Mobile will ask you to switch to a current plan with your next upgrade or add a line or allow you to keep your then grandfathered plan? That's a question we'll likely see answered with an official launch of UNcarrier later this month.
Like T-Mobile's new Value Plans, they are moving to a one-size fits all Classic Plan. That allows for Unlimited Talk, Text and Web with 500MB of data thrown in automatically. As with the Value Plans, additional data will be the only extra cost allowing customers to choose from unlimited data or 2GB increment all the way to 12GB of data. The standard cost for Unlimited Talk, Text and 500MB of web will be $60, with unlimited data $90. Under the $60 plan, increments of 2GB of data use per month will raise the price by $20 from 500MB to 2GB and then $10 per 2GB increments afterwards.
As for new prepaid plans, some changes on the first two plans with the $50 Monthly4G now bumping solidly to 500MB, $60 moving from 2GB to 2.5GB and the $70 plan staying the same at unlimited talk, text and web.
Remember, these Classic plans (not the Monthly4G, that's available everywhere) will only be available through T-Mobile's third-party national brick and mortar and online retailers. In other words, any non-corporate channel you can buy T-Mobile at today — this new Classic Plan will be yours for the taking.
If you want to refresh your memory with the upcoming one size fits all Value Plan, you can do that here.