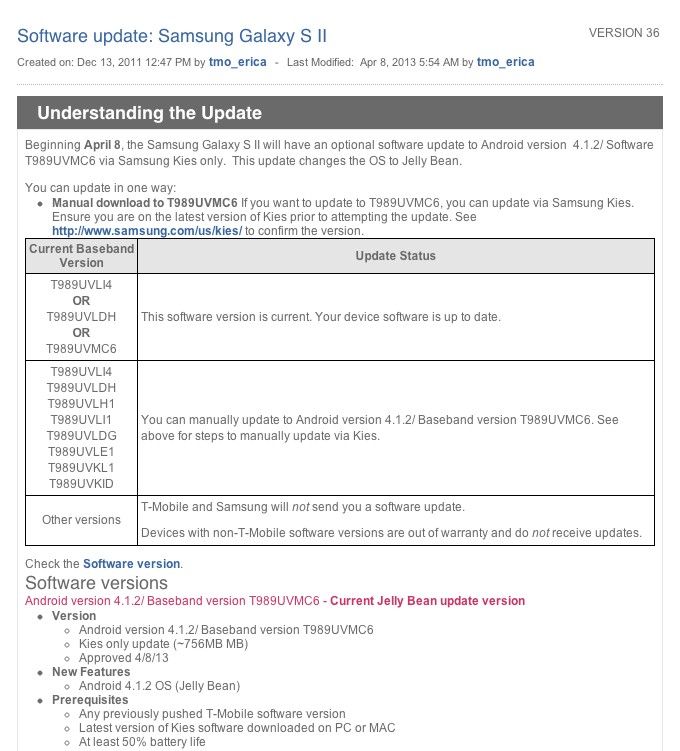 I bet most Galaxy S II owners didn't see this coming as T-Mobile updated the GSII support page this morning with the introduction of Android 4.1.2 Jelly Bean. As the update is optional, the only installation method is through Samsung's Kies software. The manual download to T989UVMC6 will enable Android 4.1.2 and weighs in around 756MB for the download. The Jelly Bean update features a speedier interface, a higher system frame rate combined with some architecture rework leading to a smoother Android experience.
Along with the speed improvements, Google adds a revamped home screen, improved keyboard and a full speech recognition system onboard each device with Google Now. Jelly Bean adds Offline Voice Typing, which allows for voice typing sans web connection. Speaking of voice search, Jelly Bean improves on voice searches with responds to inquiries being returned "much faster."
As for homescreen management, the ability to move widgets around busy homescreens is now included. Sliding a widget around will allow for icons to automatically rearrange themselves around the resized widget. Pretty nifty if you like a lot on your homescreen.
The notifications tray received a major overhaul, with expanded Gmail notifications including richer previews of your unread messages. Most apps can now be accessed straight from notifications, without having to open the native apps themselves. A new priority system in notifications will allow more space on top versus other notifications below. Music can also be handled straight from the notifications screen as well. Google describes Jelly Bean notifications as "actionable, they expand and collapse, and they're customizable."
Fear not HTC One S owners, at some point before we reach a manned mission to Mars we'll see your update hit the air.