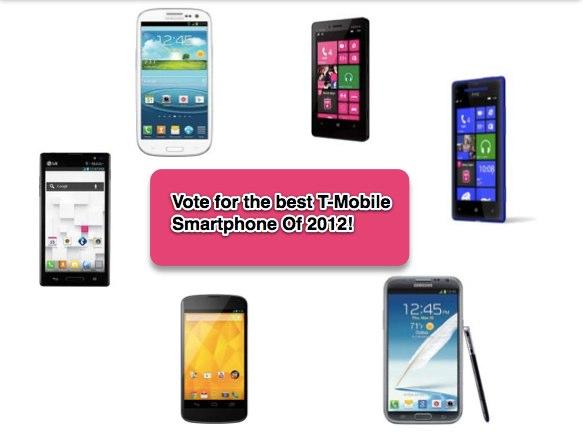 Your votes are in and the list of the top five best T-Mobile phones of 2012 is ready for release. In fact, it was all very much right in line with what we all could have and should have guessed with the Galaxy S III, Galaxy Note II, Nexus 4, HTC One S and Windows Phone 8X topping the charts of T-Mobile releases this year. So here's the top five phones of 2012, in no particular order.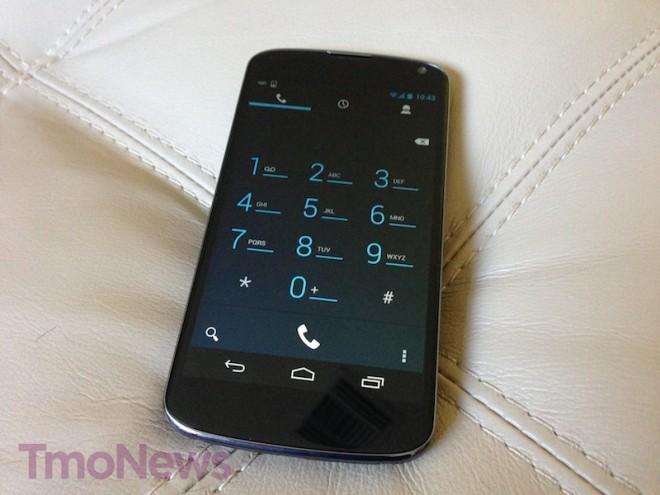 LG Nexus 4 ($199 or $349 depending on where purchased) 
The Google and LG experience smartphone features a 1.5GHz quad-core Snapdragon S4 Pro processor and you'll just need only a few moments with the device to see what that means. The 4.7″ HD display is paired with 2GB of RAM, an 8 megapixel camera, Android 4.2 Jelly Bean and 8 or 16GB of internal memory.
Of course the big "problem" if we can call it that is where to purchase? If you're looking to save, you can score a Nexus 4 on T-Mobile for $199, or you can go the Play Store route and grab the 8GB model for $299 or 16GB model for $349. If I may be so bold to say that buying from Google is your best option — spare yourself the contract and get yourself the same exact device. It's a win-win.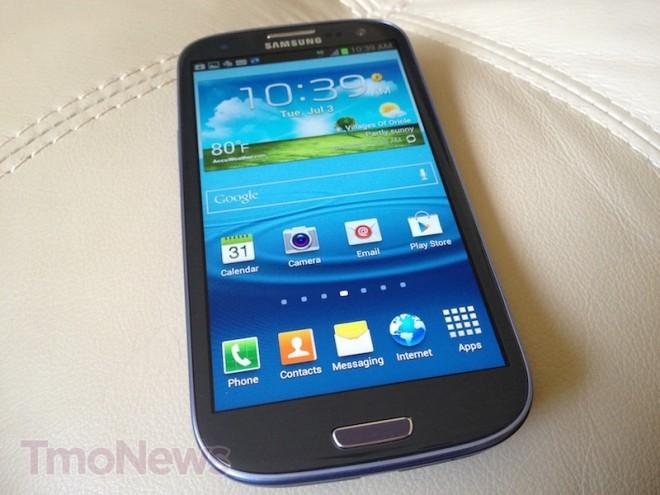 Samsung Galaxy S III ($149 after $100 mail-in rebate through T-Mobile.com)
What can we say about the Galaxy S III that we haven't already said? This is Samsung's flagship smartphone for so many reasons — including its large 4.8″ display, 2GB of RAM, 1.5GHz dual-core Snapdragon S4 processor, 16GB or 32GB of storage and an 8 megapixel camera. Throw in Android 4.1 Jelly Bean and you've got yourself a premier Android device.
There's good reason this is Samsung's best-selling smartphone and I said as much in my review. Perhaps the only downside to the Galaxy S III on T-Mobile is its price tag, but that's ok as many third-party retailers will help you score one contract for less than $100. Combine that price tag with the incredibly wide developer community that supports this device through the likes of XDA you've got one of the best Android devices ever.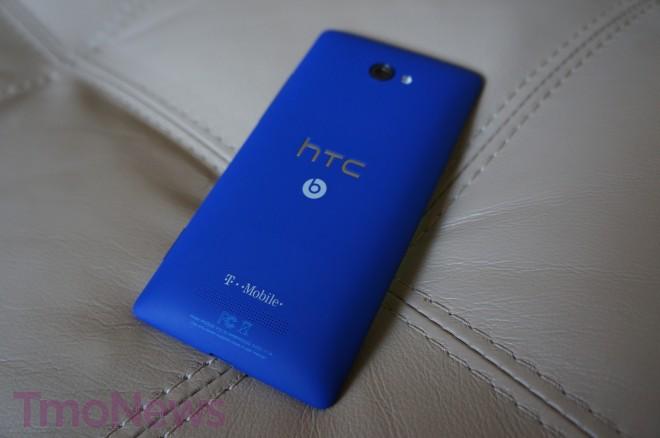 Windows Phone 8X ($199 after $50 mail-in rebate on T-Mobile.com)
I'm literally pushing this article out just hours before I finalize and post my review of the Windows Phone 8X on T-Mobile and when it comes to the hardware, it's a glowing review. The dual-core processor and beautiful display make for an excellent experience. You'll find virtually no lag and you'll work even harder to ultimately discover can't slow this device down no matter what kind of multi-tasking you throw at it.
The flip side is the Windows Phone 8 app store which is still my biggest concern when considering full-time ownership of a WP8 device. Based on employee feedback at T-Mobile store locations, the Windows Phone 8X easily outsells the Lumia 810 and we're betting that at least part of that is looks alone. The 8X hardware is sharp, and I mean that literally with somewhat the sharp corners. Even so, this is HTC manufacturing at its best.
Fingers crossed that Windows Phone 8 gets its due and developers come knocking because the platform really is ready to show the masses there is a completely new way to smartphone.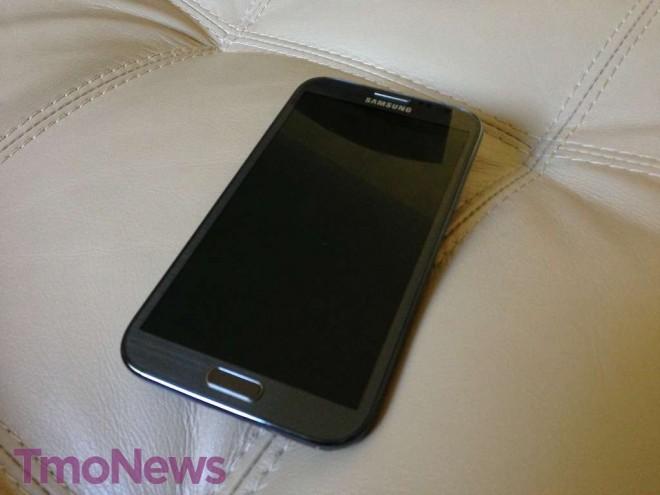 Galaxy Note II ($369 after $50 mail-in rebate on T-Mobile.com)
Like the Galaxy S III, the Galaxy Note II is one of the best Samsung smartphones ever produced by the Korean manufacturer. Unfortunately, the incredible functionality comes with a heavy price tag on T-Mobile, but in the end you get exactly what you paid for. Featuring a 5.5″ Super AMOLED HD display, 1.6GHz Exynos quad-core processor, 2GB or RAM, 8 megapixel camera, Android 4.1.1 Jelly Bean, recently added multi-window support and S Pen capability, you've got the makings of a business owners dream device.
The price tag might be high, but the Galaxy Note II hits all the right notes and when you combine the idea that you've got a phone that is both a smartphone and a tablet, the price tag becomes much easier to swallow. Add the latest specs, a huge developer community and Samsung's marketing machine and the Galaxy Note II ranks easily as one of the best smartphones of the year.
Check out my review of the Galaxy Note II.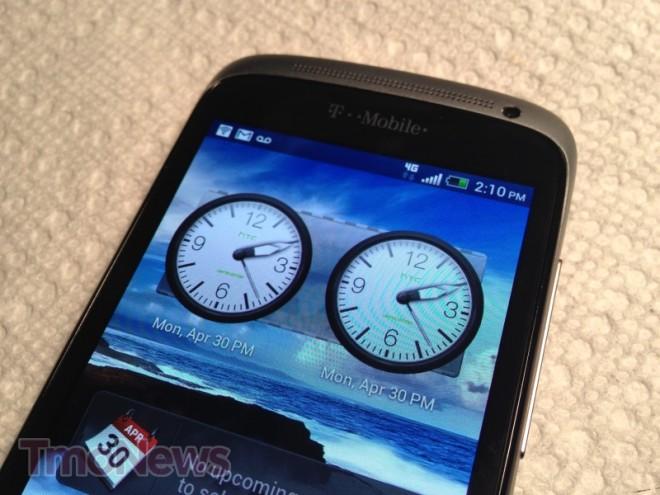 HTC One S ($149 after $50 mail-in rebate on T-Mobile.com) 
The HTC One S is the "oldest" phone on the list, meaning it was first on this list to release earlier in the year. Our review hit April 30th and it was glowing and it all holds true to this day. While it may not have top of the line specs compared to the Galaxy Note II, when it launched the One S was the best smartphone on T-Mobile and remains of the best today.
Featuring a 1.5GHz dual-core processor, 4.3″ Super AMOLED display, 1GB of RAM, 16GB of storage, 8 megapixel camera with HTC ImageChip technology and Android 4.0, the One S is no slouch. HTC has promised that the One S will receive the Android 4.1 Jelly Bean update sometime in the near future breathing brand new life into an already great handset. With the beautiful design and excellent hardware, the size of the device still has it as one of my go-to Android devices. This one will always hold a special place for me and its still a device to consider, especially with Jelly Bean on the horizon.
See my review of the HTC One S.
So, what's your vote for the number 1 smartphone on T-Mobile for 2012? Polls close at noon on December 28th so get your vote in now!