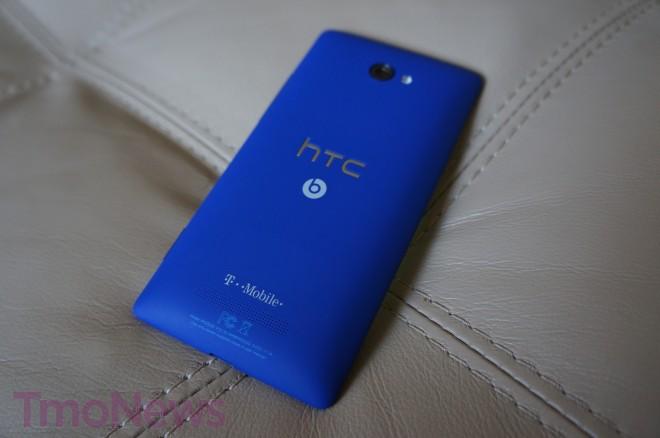 It's a mixed bag when you are working to review two devices that run the exact same OS at the same exact time. As you saw, my Lumia 810 review was a combination of both the good and not so good. You won't definitely won't see much in the way of complaints when it comes to the Windows Phone 8X hardware. I think it's leaps and bounds better than the Lumia 810 in terms of overall looks. So let it go on record that there is no question I'm going to say nice things about the Windows Phone 8X hardware in this review. When placed side by side with the Lumia 810, I think the 8X is sleek, beautiful and sharp. That's not to say I don't have some of the the same complaints about the platform, specifically when it comes to the somewhat sparse app selection but more on that later.
The thing about the Windows Phone 8X hardware is that, at its deepest point, it's almost the same depth as the Lumia 810 or as thick as the Lumia 810 if you will. The fortunate news for the 8X is that the device feels a lot smoother and a lot better in the hand because that depth doesn't continue throughout the entire phone. I get why some of you stated the heft of the Lumia 810 was refreshing. I totally get that and it's meaningful especially when taking photos. My problem with the Lumia 810 was that the design is so different from market trends right now and Nokia's design reasoning seems supported by the hope that wireless charging will take off in the near future. I feel like HTC made a better design decision by allowing some aspect of the device to be a little thicker, but the overall look and feel is thin. So let's delve right into a deeper look at the Windows Phone 8X.
Hardware: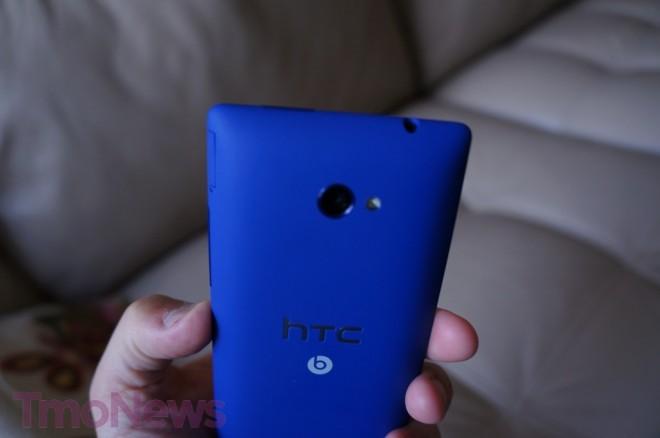 Beautiful, thin, polycarbonate with a matte finish, the Windows Phone 8X is a great-looking piece of hardware. As I stated earlier, I made a lot out of the Lumia 810 and it's bulky finish. While the WP8X has its thick point, the overall feel and look of the device is the opposite of the Lumia 810. Specifically, I was harsh on the size and feel of the Lumia 810, but, comparatively, the WP8X feels like a breath of fresh air. However, there is one negative and that's the rounded-ish corners which jabbed into my hand during some one-handed operation. The corners are rounded, but only slightly so, depending on your grip, this may or may not be an issue.
The front of the phone has a lot less travel between the screen and the standard back, home and search buttons than the Lumia 810, making one-handed operation just a little easier. I know these are all minor complaints and for some of you they aren't complaints at all, but I have far more appreciation for the WP8X craftsmanship than other Windows Phone options on T-Mobile.
On the right-hand side of the device, you'll find the volume rocker and dedicated camera function, along with the microSIM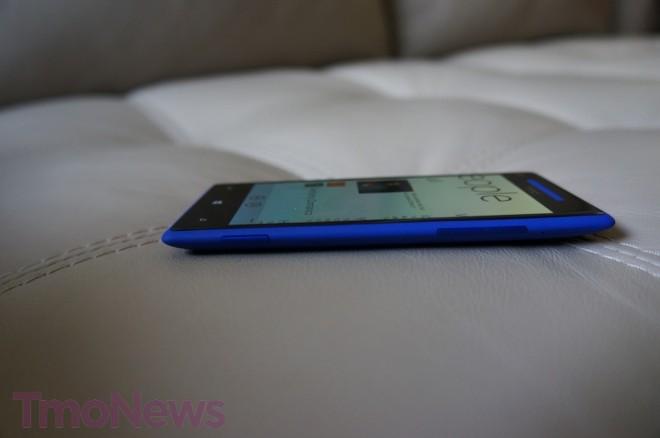 slot. On the top of the device rests the power button and 3.5mm power jack. The left side of the device is empty, leaving the microUSB charging port to grace the bottom of the device. The rear of the device features the 8 megapixel camera with LED flash and speaker.
At its thickest point, the 8X is just a smidgen smaller than the Lumia 810 ,measuring in at 5.21″ x 2.61″ x 0.4″ against the Lumia 810 measuring in at 5″ x 2.69″ x 0.44″. At quick glance, you'd be hard pressed to see the 8X as a size that almost measures the same depth as the Lumia 810 when staring at both devices top down. The good news is that the curvature of the 8X makes the device very comfortable to hold, aside from those pointy corners I mentioned earlier. The grippy polycarbonate just adds to the comfort level and there's little concern about this one slipping from hands ala some of the more plasticky devices on the market.
Overall, I'd argue that the Windows Phone 8X has the best Windows Phone hardware on the market and, while I haven't had a chance with the Lumia 920, I'd still put money that I'd walk away liking the 8X hardware.
The screen is excellent with beautiful colors and while blacks may get a little washed out at the highest brightness setting, anything below that (medium and low) shows great color reproduction. The 4.3" Super LCD 2 HD screen features a resolution of 1280×720 and has Gorilla Glass 2 for extra durability.
The 1.5GHz dual-core Snapdragon S4 processor ensures all tasks happens immediately and that's exactly what they do. No matter how hard I tried, I couldn't get this phone to lag, slow down or freeze up. Honestly, I actually spent a good hour throwing everything I could at it hoping to get even a hint of a slowdown and no luck. The 8X handles every task with energy to spare. The interface and menus all happen fast and there's plenty of reason to love that in a smartphone. Nobody wants to wait for apps to open or a camera to load and, thankfully, that's never an issue.
Software: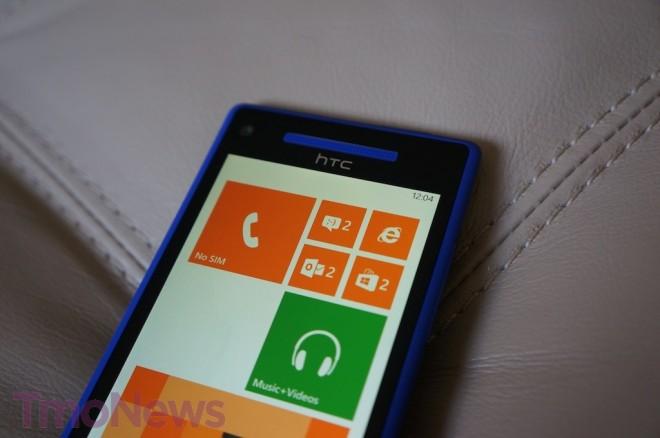 Windows Phone 8 remains a breath of fresh air in terms of how Microsoft tackled its approach to icon layout with tiles. Still, I called the Lumia 810 "boring" and, unfortunately, I may have missed the chance at putting that into context or admitted that was a poor word choice. I don't believe Windows Phone 8 is boring in its own right. It isn't. However, when it comes to the static set of icons on iOS, even with live tiles, Windows Phone 8 has limited personalization options. Few operating systems hold a candle to Android widgets, themes and overall opportunities to personalize the device. Just take a cursory glance at mycolorscreen.com and tell me some of what can be done with Android doesn't appeal to you. Now, if you're like me, there are more important things than customization and I believe software wise, Windows Phone 8 and iOS are more fluid than Android. Scrolling works faster and everything overall in WP8 ties together very well.
Before I dig myself into a hole, please try and understand what I am saying — that Windows Phone 8 isn't for someone who cares about or wants customization. It would not be the right platform for someone like that but it will be the right platform for someone who cares about tying everything together with social media, live tiles and a total Microsoft approach to the mobile world. In that regard, Windows Phone 8 is amazing. I'll expand more on what is most appealing with the Windows Phone 8 software right now as I touch on some of the apps that are most interesting.
Apps: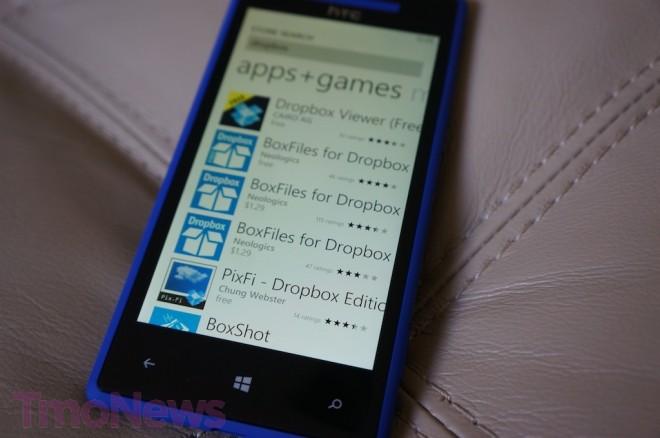 I don't often designate an entire section of a review to apps outside of either ranting about the volume of bloatware or discussing manufacturer specific apps that come preinstalled out of the box. However, given the somewhat negative response to my Lumia 810 review in regards to the poor app selection, I think I'd like to readdress this as it also pertains to the Windows Phone 8X. I may be alone in this thought or the majority of you may agree with me, but the idea that any smartphone purchase these days isn't in some way influenced by the idea you can add apps would be missing how the industry has morphed in the last few years. Apps have changed the way we think, interact and respond to the mobile world and there is no going back. Apps are here to stay. For better or worse, they are now a quintessential part of the mobile ecosphere we live in.
With that in mind, my biggest concern with Windows Phone 8 isn't specifically the lack of apps. It's the lack of official stock apps. In other words, if you want a halfway decent Dropbox or Pocket app, you need to pay for a third party and/or possibly trust your info to an unknown third party. We trust our info to third-party developers all the time and that includes how much info we place inside our own Google accounts. Obviously, there's plenty of personal information inside our search results and emails. My concern is that when third-party developers charge for their apps in the absence of official stock apps, I feel like I'm paying for API access more than anything else. Now, that isn't true in all cases as some of the third party apps I've used on Windows Phone 8 have been stellar, but it's still a matter of trust. Granted, the same argument can be found on both iOS and Android. There are better apps than some of the official apps from major developers. However, in both of those cases, I have a choice as to which app I'm going to use. That isn't the case with Windows Phone 8 and it remains the platform's biggest handicap.
Still, there are some seriously excellent aspects of the Windows Phone 8 platform that should be addressed. Whether or not they will have you running out to switch your device of choice is up to you, but they are worth highlighting all the same.
People Hub: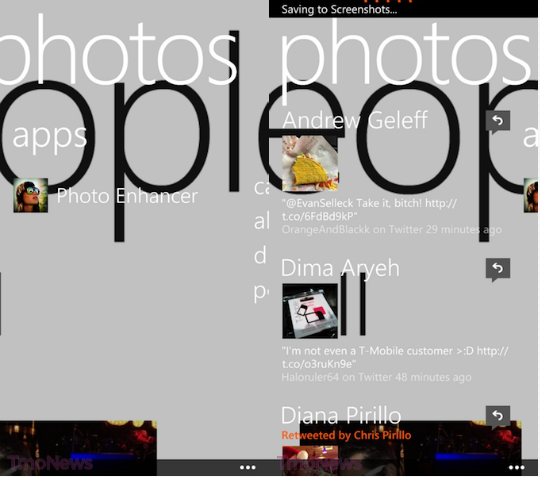 The People Hub on Windows Phone 8 is in a league of its own as a contact directory and while it can be duplicated with third party solutions, it's a beautiful addition. The People Hub is built to be a mixed combination of contact directory mashed with Facebook, Twitter and Linkedin contact info. There are a ton of third party apps that will accomplish the same thing on Android and iOS but few do it with the elegance and style of the People Hub.
Upon opening the app for the first time, you're brought to the main contact screen where you can also see your very last tweet. One swipe to the right and it's full on Twitter mode (you could also add another category for Facebook and LinkedIn) where it shows your current Twitter stream. No @mentions or Direct Messages are available here, but you can reply to tweets. Another swipe to the right brings up the most recent contacts and their tiles, pretty much your recent call list. The final swipe to the right brings up your Rooms and Groups. Like Android and iOS, you can set up contacts by group and help distinguish between work and personal. Family Room allows you to private share a calendar, initiate a group chat, add group notes and basically share things with just family.
It's an amazing and seamless addition to the platform and one that is unrivaled by the current stock additions on Windows Phone 8 competitors.
Photos App: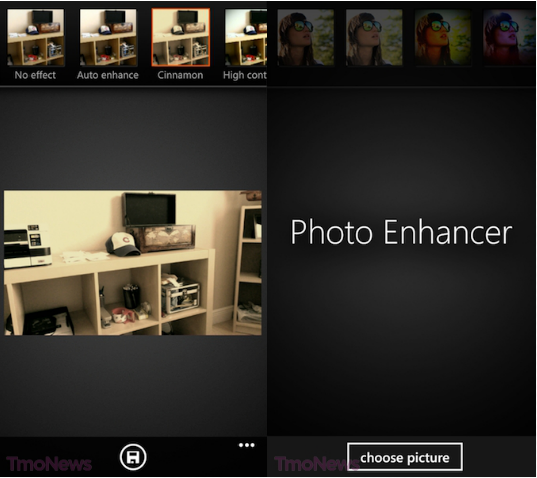 The Windows Phone 8 photo app jumps you right into "What's New" and brings in all the recent images inside your Twitter and Facebook streams. One swipe to the right and you'll be presented with a list of camera apps installed on the device. In this case, the stock Photo Enhancer is the only app I've installed since I'm not much of a filter or camera guru. Photo Enhancer on its own is pretty slick and it provides options to add filters, auto enhance, and pretty much go all Instagram with your images. It's a meaningless addition if you haven't jumped on the photo filter crazy train, but if you have, you'll have some fun and it's a nice addition overall.
The next swipe to the right brings up the meat of the Photo App with Camera Roll, Albums, Date, and People. For the most part, these should be fairly easy to figure out, though the organization of photos by date is wonderful.
One more swipe to the right and you'll find yourself able to choose from some of your favorite photos or snapshots to help personalize the Photo Hub tile. You can set favorites to display on the Photos live tile or pin them onto the start screen from one-tap access. A nice little touch and it's an easy way to find your favorite contact, like a significant other with his/her very own tile.
The Photo Hub is an incredibly smooth and beautiful addition to the Windows Phone 8 platform and the "don't call it Metro" style really excels here. It's apps like the Photo Hub that the rest of the smartphone world needs to see to truly understand just how well put together Windows Phone 8 is.
Office: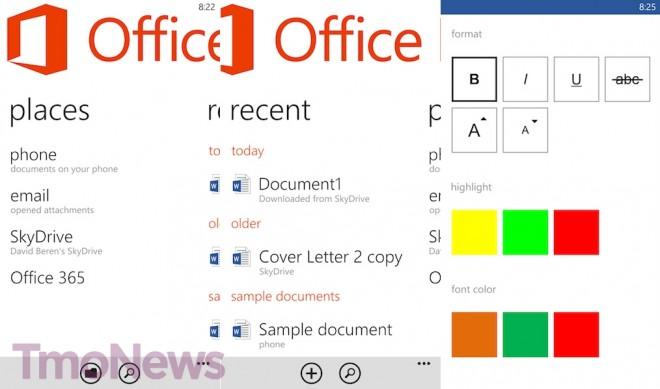 Office is pretty much what you'd expect on a Microsoft device and what you've likely seen for years, even before Windows Phone with Windows Mobile. The real kicker is the ability to not only edit docs but also create them from scratch. I'm not sure how detailed one can get with a Spreadsheet from a 4.3" screen, but, in a pinch, you could definitely work some magic. You can edit Powerpoint from the device itself, but you cannot create it.  You can only create word and excel documents.
There are one thousand one things I could say about Office on Windows Phone 8, but the bottom line is that all the details won't mean much until you use it. If you're concerned about documents on the go, you'd be hard pressed to find a better solution. Even with Google Docs growing in popularity, Office still dominates.
Skydrive: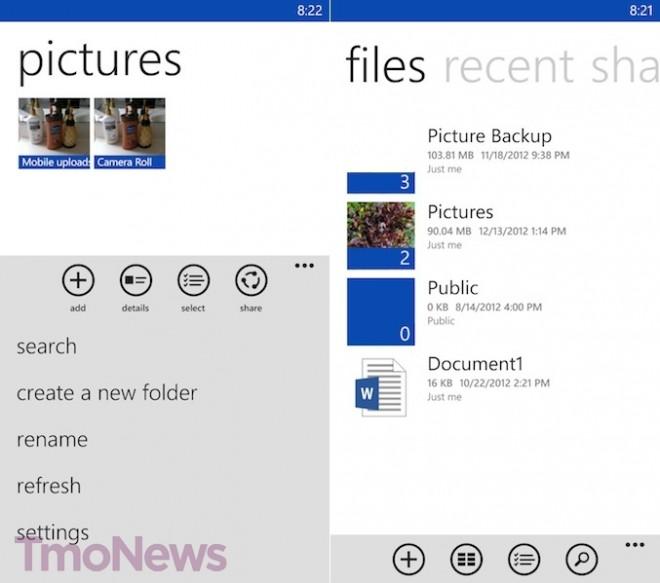 I'll go on record and say that Skydrive is without a doubt one of the best-looking apps ever to come out of Redmond. It's just beautiful, both on the web and on the Windows Phone platform. The integration that Microsoft has utilized for Skydrive rivals Google's integration with Google Drive and Apple's iCloud. It's just incredibly functional and works as smoothly as it looks.
Upon first opening the app, you are greeted with a breakdown of all your files and folders. In my case, I use Skydrive as a backup to Dropbox, but that's only because I've got well over 200GBs of Dropbox space so it's just my go-to app. However, if I had to choose an alternative, I'd absolutely go with Skydrive second. Sorry Google Drive, it's not you, it's me.
The top heading opens with Files, and then swiping to the right will bring up Recent, Shared, and back to Files again. It's simple and yet beautifully put together with an incredibly smooth gallery to look up files and/or images. It's one of the best cloud apps I've ever used on a Smartphone and Microsoft should be promoting this from the mountain tops. Any Word, Excel and Powerpoint docs already inside of Dropbox can be directly moved into the Office app, edited and then resaved right back into Dropbox. It's both seamless and functional and something that should readily appeal to the business world.
Skydrive on Windows Phone 8 is undoubtedly one of the premier apps on the platform and, while it's available on other platforms, it excels here and should one of the most important tools Microsoft uses to draw in both casual and business users.
Local Scout: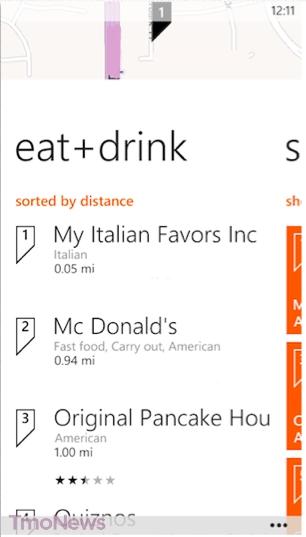 Microsoft describes Local Scout as "New to the area or just looking for something new to do? Local Scout can help you find nearby restaurants, shops, and things to do. You can then get relevant info about the different places to help you decide where to go."
That's exactly what it was and it excels at what it does. It's an incredibly useful tool if you're looking some food or entertainment locally. It nailed every restaurant locally including some of the hole-in-the-wall sushi locations and delis.
There's nothing here you can't find through Google or Apple Maps, third-party apps, or even Google itself, but from your mobile it's great to have all the information in one place. Local Scout is another one of the apps, along with Skydrive and Office, that Microsoft should be promoting from the mountain tops. Even if third-party apps can take care of what Local Scout does, there's something nice about having it available right out of the box.
Battery:
As I read through earlier Windows Phone 8X reviews, there seemed to be a fairly good mix of battery life. I'm happy to report that, in my case, I was able to push the 8X through an entire day no matter how hard I tried to drain it. With hundreds of emails, browsing, tweeting and a little Facebooking thrown in with some RSS searching, I pushed from morning till night with ease. Your mileage may vary, but I'm comfortable in calling the 8X one of the better phones I've used lately in regards to battery life. It's great.
Camera: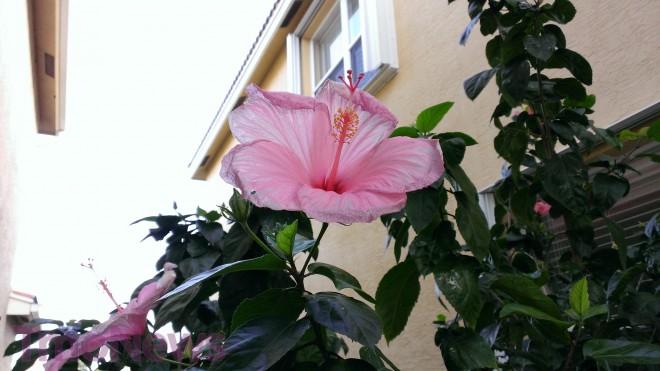 The 8X sports the same ImageChip technology that appears in HTC's One series of devices and it shows. The camera app on Windows Phone 8 opens quickly and Microsoft's dedicated camera key hardware requirement is amazingly useful for quick shots. The photos are taken with an 8-megapixel shooter and white balance and exposure are pretty good, but you might want to do some editing afterwards to get the best picture.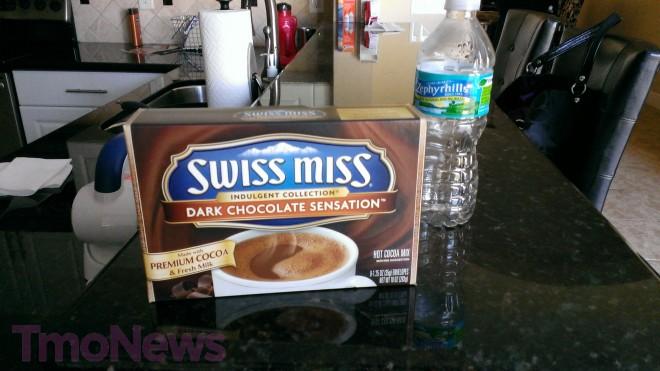 Focus. Shoot. Save. All in about two seconds. That's about the most praise I can give. It's fast and the 8X camera takes great shots. Obviously some images are better than others, but that can be said for even the most expensive DSLR so I was hardly thrown off when some colors didn't turn out right or there was too much light brought into a picture. Overall, I'd have to say that anyone wanting a great camera on his/her smartphone will be happy with the 8X. It's not going to win any awards and I still feel the Galaxy S III and iPhone 5 do better as overall cameras, not to mention the Lumia 920 is likely a clear winner camera-wise in the Windows Phone category. Still, for mobile shots on the go, you'll find enough to like here.
Messaging:
When it comes to messaging on the Windows Phone 8X, I'll just reiterate my thoughts from the review of the Lumia 810. They apply in every way.
If there's one area where Windows Phone 8 or even its predecessor with Windows Phone 7 excels, it's in the keyboard. Messaging on the Windows Phone platform is amazing and the keyboard plays a role in 95% of that success. I honestly love it and it may even be my favorite keyboard right behind Swiftkey. It doesn't have the predictability of Swiftkey and, like iOS, you're stuck with whatever Microsoft allows you to use, but that doesn't take away from it being excellent on its own merit.

I know this review has teetered between some praise and some frustration, but let messaging be one area where I'm crystal clear. It's fantastic. That's it, there's nothing else I need to say about it.
Network Performance: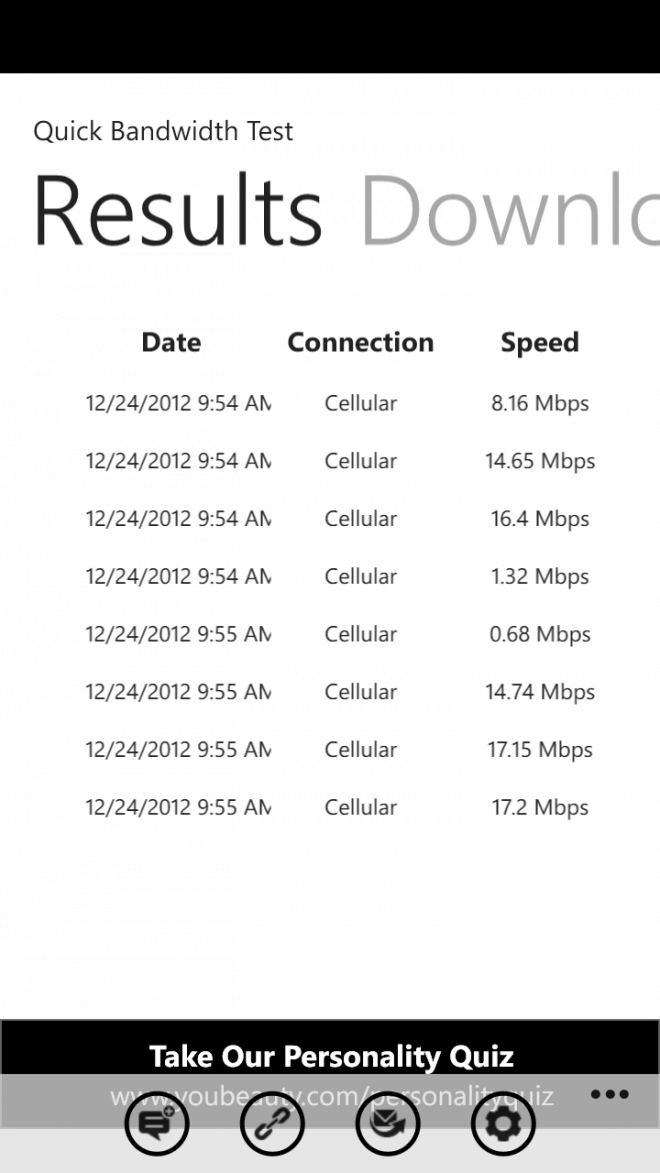 I found overall signal reception on the Windows Phone 8X to be excellent. The browsing speeds didn't my match my usual Android speeds, but you'd be hard pressed to notice that during everyday use. Tweets went up instantly, Facebook posts were instant and web pages loaded without any noticeable delay. Overall, the 8X performed admirably from a data perspective with speeds hovering in the mid to high teens on T-Mobile's HSPA+ network.
Callers said I sounded great and there was no extra background noise or hints of tinny sound. I had no complaints on my end as the 8X performed well enough that I hardly concerned myself with where I was or where I was calling from. I was hard pressed to drop T-Mobile's signal, though I do live in a great signal area for everyone but Verizon so I have a tough time dropping signal anywhere I go with every carrier save for Verizon.
Still, the Windows Phone 8X met and exceeded even my most basic requirements for personal ownership based on network performance. I'd have no qualms telling you the 8X finds a signal and latches onto it. Combine that with great calling quality and you've got a winner.
Wrap-Up:
So here we go, the wrap-up, conclusion and final thoughts. As is the case with the Lumia 810, I've teetered back and forth between praise and reasons why I think Windows Phone sits in fourth place. I don't believe there is anything you can say that will convince me that we don't live in a world where app selection isn't an argument for choosing which platform you should use. This is a day and age where companies praise milestones for number of apps in their respective stores, so I think it's a futile discussion to say that apps don't matter or that we shouldn't be "codependent" on them. Horses make just fine modes of transportation these days as well, but I'd rather be in a car, bus or plane because life is easier. That too is how I feel about apps. They make life easier, allow us to be more creative and open our eyes to a world we didn't know existed a few years ago. I survived just fine without the internet, but as soon as I found Prodigy, I was hooked. So, the world changes and we need to change with it and Microsoft needs to continue its push to get more big name app developers on board if it hopes to move Windows Phone into third place.
As for the Windows Phone 8X, it's a beautiful piece of hardware and while I'm not a huge fan of the pointy/rounded corners, the polycarbonate feel is something I love. Overall, the phone feels solid and put together as though it was manufactured with care. There are better-looking phones on the market, but when you compare the T-Mobile Windows Phone 8 selection, I'd argue that the 8X is better looking than the Lumia 810 every day of the week and twice on Sundays.
Apps like Skydrive, Local Scout, Office integration and a great messaging platform are reason enough to try the 8X and Windows Phone 8 as a platform. What concerns me most is there are so many tech blogger and even professional journalist reviews that heap praise on the Windows Phone platform, but few actually make the switch from Android or iOS. There are still quite a few reasons for that and now with the Gmail situation coming to a head next month, I'm even less inclined to consider a transition until Microsoft can figure out a way to help me properly sync calendars and contacts straight from Google.
The inability to set Google as a default search tool seems a little oxymoronish on a Microsoft-based platform, but the fact that I can't disappoints me. There is still plenty of room for notifications to improve and that goes for Apple as much as Microsoft but Google is ahead in this category by a mile. Don't get me wrong. I WANT to love Windows Phone 8, I do, but I can't find any convincing reason to make a permanent switch and I find as I did a little more research into the platform these last few weeks that many other tech bloggers felt the same. Lots of praise, but little reason to switch away from their current platform of choice. Regardless of how hard it is to switch out of an ecosystem nowadays anyway, the still disappointing app selection combined with areas like Google integration and notifications leave plenty of room for Microsoft to make sweeping changes with their next iteration of the platform. There's plenty of precedent there for Microsoft to make changes. Just consider how far Android has come from Android 1.5 to 4.2. Microsoft still has time to perfect the platform, but how many more releases can they go through before people stop paying attention altogether?
I want Windows Phone 8 to succeed, I want it to pass Blackberry and be a viable third place contender. It's smoother than Android and better looking than iOS with design concepts that surpass the competition. The problem isn't just the app store, even if center all my complaints around it. It's also getting the message out and I don't care to see Microsoft use celebrities to sell the platform. Show me what it can do, show me more of the simple aspects and how WP8 can help me take pictures faster, search local restaurants easier and incorporate my Xbox. These are things I want Microsoft to do more of, but, unfortunately, they seem hell bent on letting Will Arnett sell me a phone. Sorry, but not even Jessica Alba is going to convince me I should buy something these days. I need to know how it's going to make my life easier and that is a message Microsoft has yet to get out.