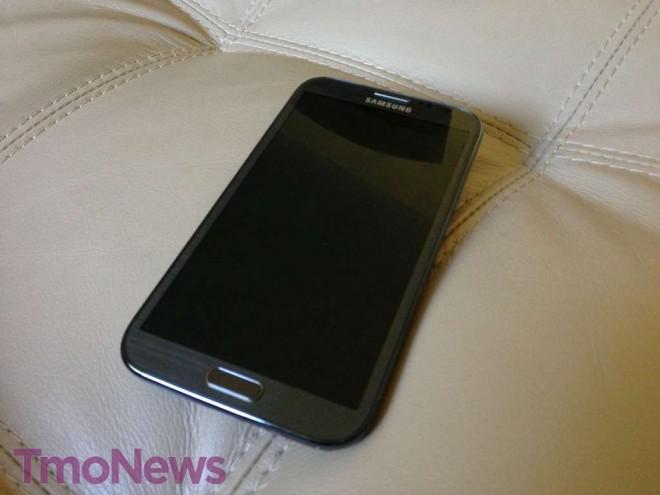 The Galaxy Note II is a hard phone to discuss without first trying to make sense of whether it's a phone, a tablet or something else entirely. I've jokingly called the original Galaxy Note and now the Galaxy Note II a "phablet" and I stand by that term. It's easy to see that the Galaxy Note II is a vastly different animal than its predecessor. With more power under the hood, the "latest" Android operating system, at least until this past week, and new S Pen features, the Galaxy Note II is a true powerhouse.
Specifications:
5.5″ Super AMOLED display
1.6GHz Exynos quad-core processor
Android 4.1 Jelly Bean
2GB RAM
16GB internal memory
HSPA+ 42Mbps LTE Ready
MicroSD expandable to 64GB
8 megapixel rear camera with 1080p video capture
1.9 megapixel front-facing camera
Stylus support
Wi-Fi Calling
Pros:
Beautiful display
Powerful hardware
S Pen functionality makes some tasks a whole lot easier
Pre-loaded with Android 4.1 Jelly Bean
Cons:
Large, cumbersome form factor may deter some
TouchWiz can be frustrating
Saddled with carrier and manufacturer bloatware
Needs more dedicated S Pen apps
Hardware: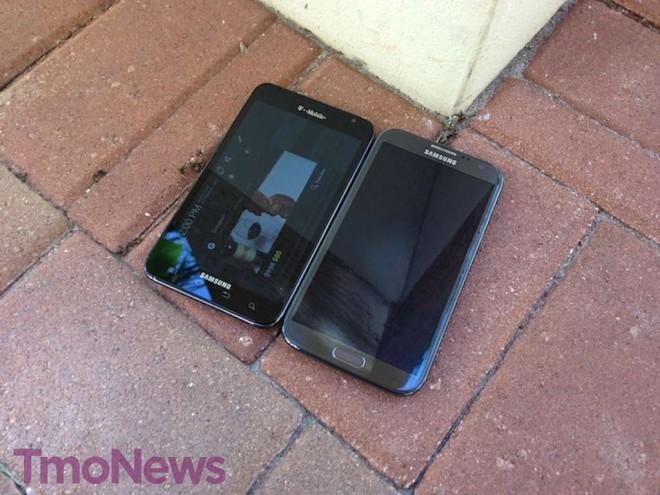 The first thing you'll notice is the subtle but distinct differences in size between the original Galaxy Note and the Note II. The Note II is taller but not as wide which makes holding it a little more comfortable. With devices this "large" doubling as phones, that little difference in width makes a huge difference in comfort during a lengthy phone call.
There's little question that Samsung packed some powerful hardware inside the Galaxy Note II and it shows in day-to-day use. The Exynos quad-core processor is going to make sure your day-to-day tasks complete with nary any lag.
Let's step back for a moment and consider the initial reaction to the first Galaxy Note and the idea that a device that size, 5.3″, could not only function as a sort of tablet but also as a phone. This time around Samsung has adopted the pebble-like design of the Galaxy S III, which allows for a slightly slimmer device and it helps the Note II feel a little less cumbersome in the hand. The result is that using the device with one hand isn't as difficult, but still, if size is an issue, this is a try before you buy device.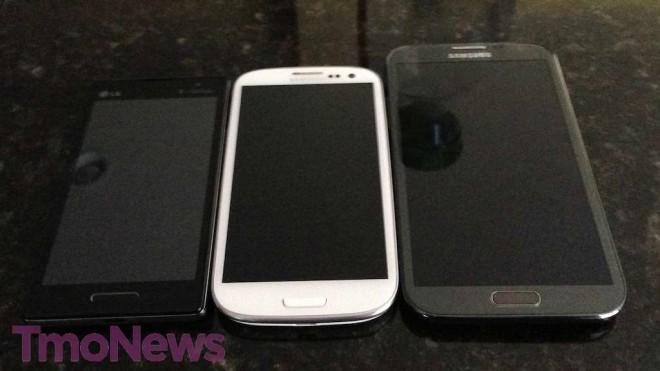 There's no question that the star of this show is the 5.5" display, with its 1280×720 HD Super AMOLED screen and 16:9 ratio. There's little question that this display will impress you. It may not be the "best" screen you've ever used, but I'd be surprised if anyone came back to me after touching the Note II for the first time and saying the display wasn't good enough.
The home button at the bottom of the front of the phone is set in the middle of a capacitive menu button on the left and a back button on the right. The buttons themselves are nonexistent in bright light, but given that you have just three buttons to memorize, it shouldn't be hard to figure out which is which. The power button rests on the right-hand side of the device, with the volume rocker on the left and the 3.5mm jack resting at the top. The charger port and the S Pen are found at the bottom of the device, and comfortably so. The S Pen is very well hidden and is almost an afterthought if you didn't know to look for it.
While the screen may be the star of the show, the understudy is definitely the quad-core Exynos processor running at 1.6GHz and supported by 2GB of RAM. Since this is coupled with 16GB of onboard memory, you've got yourself one monster of a smartphone, err… tablet, no… phablet. The 3100mAh battery helps make sure that you can power through a day and, with this device, you're sure to be working on it non-stop. Unless you are the most power-hungry of power users, getting through a day's worth of charge should be doable.
The kicker with the hardware is not just access to T-Mobile's HSPA+ 42Mbps network, but also the future proof promise of on-board LTE thanks to the FCC. In fact, T-Mobile's hardware is identical to the Galaxy Note II that will be on AT&T store shelves. That being said, I've had a number of people ask if they should take advantage of some of the international deals that are running frequently. Under normal circumstances, I'd say yes. By all means, get the most you can get for your money, but with the promise of a future-proofed device here, buying the T-Mobile variant seems the best way to go.
I'll say this about the Note II. Don't expect to comfortably use the phone one-handed all the time as this device just begs for two-handed operation. That's not to say it's not functional with one-hand, but you'll get much more done if you don't limit what you can do with both hands. That's also an argument that allows for the S Pen to come into play since that's obviously a two-handed function that greatly enhances the purpose of the Note II. Sure, you can get away with never touching the S Pen and some might find it to be nothing more than a gimmick. However, there are ways to use the S Pen for both fun and function and it all adds up to an extra bonus with the Note II.
Software: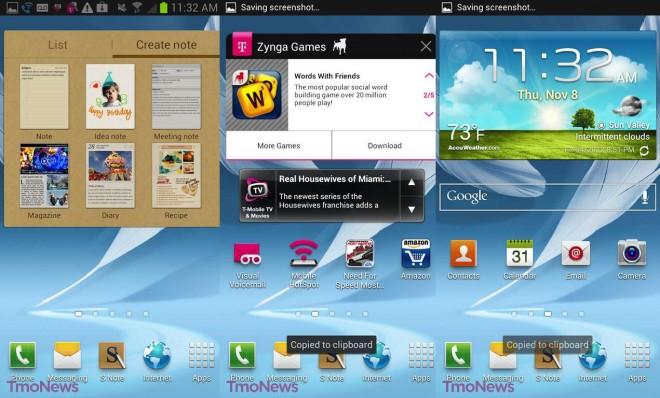 Hardware aside, the first thing you'll notice is how smooth and crisp the Note II works when you pick it up. It breezes through basic tasks and handles multitasking easily. This isn't your old feature phone. Samsung certainly worked to make sure the Note II was responsive and that's all thanks to the intense power running under the hood. However, you're once again saddled with TouchWiz, which I've frequently described as an interface that you will either love or hate. The good news is that the Note II already has an incredible development community and ROMs will be plentiful to root and make TouchWiz disappear forever. If you're not a member of the Android rooting community, no worries as there are still plenty of launchers to help make sure TouchWiz never creeps back into your life.
Still, TouchWiz isn't all bad and there are some great features that Samsung and T-Mobile have added in. There's the usual amount of bloatware, but it's the same TouchWiz Android 4.1 interface we can expect on this phone and every other Samsung device launching around the world with Jelly Bean pre-installed. There's no question that Samsung is introducing new features, apps and widgets that make the combination of the S Pen and larger screen a pleasure to use.
The real kicker here is that if you've used a previous Samsung device, especially the Galaxy S III, you'll feel right at home. Everything about the software feels faster and I rarely experienced any lag. Whether or not Samsung's TouchWiz enhancements or Project Butter is responsible for that is really beside the point. "It just works" to steal a line from the fruit company.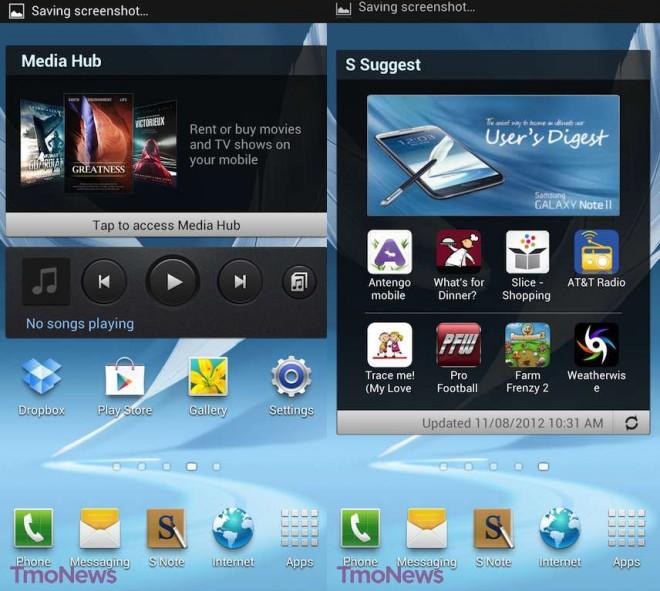 One area where we'd prefer to see a little less work is the notification screen as it's just very busy. Between Samsung's own TouchWiz "improvements" and T-Mobile's Wi-Fi calling and bill cycle notification screen, there's a lot going on, perhaps too much. Wi-Fi calling may be a great feature and billing information is important, but I would prefer to minimize the notification screen to actually focus on notifications, rather than settings and billing. It's a minor quibble, but it's one area of the device I found lacking. You can turn both options off, leaving only the Wi-Fi calling function bottom on the top, which would be ok, but still, this should be the default.
Like all good T-Mobile Android phones as of late, the Note II is victim to a large number of pre-loaded bloatware apps. Some of them are welcome such as Flipboard, Dropbox and Amazon, and even Need for Speed. However, I could do without pre-installed applications, which goes to show one of the reasons why a pure Nexus device is so appealing. It's easy enough to remove carrier bloatware once you root, but you have to root and, for the average user, that's not a plausible scenario. Still, we've seen worse devices with far more pre-installed apps, but no matter the volume of apps, it always rubs us the wrong way even as I recognize that they will never go away.
On the positive note, there are some Android 4.1 Jelly Bean-centric features here. Most notable is the presence of Google Now, the card-based system from Google which learns your habits, interests, and other information as you continue to use it. Notifications are also expandable and once again I'll mention Project Butter as one of the ways the Note II remains so responsive.
T-Mobile Apps: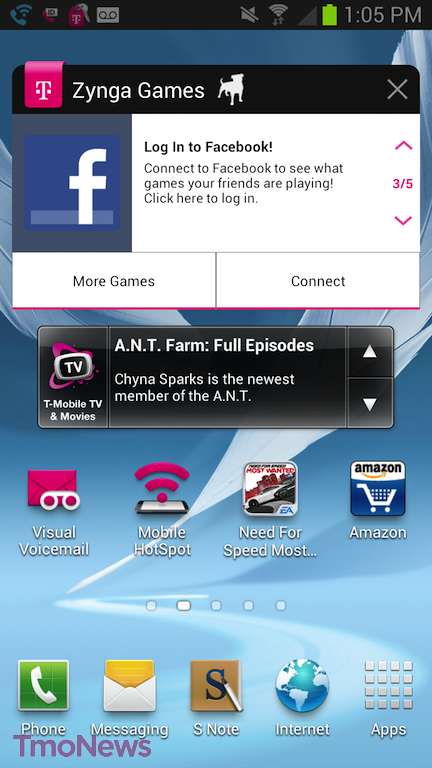 As a short addendum to the software section, it's worth noting the T-Mobile specific inclusions on the Note II. The usual allotment of apps are available: Mobile HotSpot, My Account, Name ID, T-Mobile TV, as well as a few pages and widgets. Along with Samsung's own dedicated widgets, T-Mobile has dedicated widgets for T-Mobile TV and Zynga Games. Along with that is Need for Speed, as mentioned above, which is provided by T-Mobile along with support for the MOGA gaming system which will be sold in stores beginning this month.
S Pen: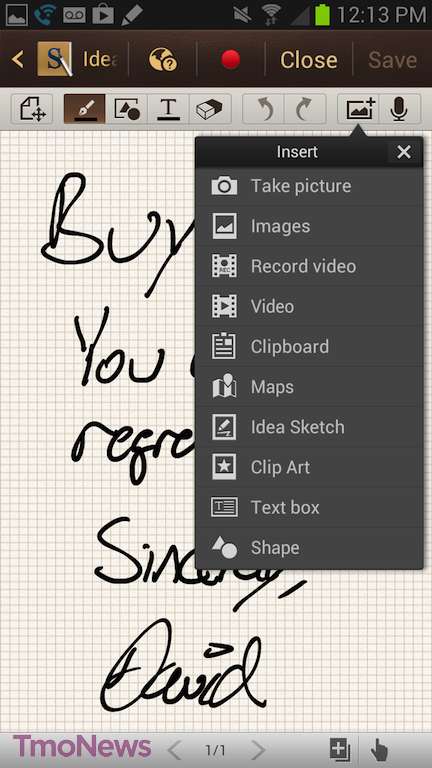 I'd be hard pressed to review the Note II without a specific mention of the S Pen and its ability to make a difference in how you use the Note II. The S Pen itself has a received some changes since the original Note, with Samsung making it slightly larger allowing for a better grip. It feels exactly like a pen or a pencil and the moment it's removed from the device, the Note II knows it and jumps you to an S Pen home screen. The notification screen brings up "recommended shortcuts" using the S Pen once the Pen is removed from the body of the phone. Unfortunately, when I say it makes a "difference" in how you use the Note II, that would be true but it's not always for the positive. It feels as if Samsung is still trying to figure out how the Note II and the S Pen come together and there's a real lack of quality S Pen apps. Samsung's apps work well enough, but after a while you'll likely find yourself ignoring them except to entertain yourself during moments of boredom.
Still, the S Pen itself is one of the best stylus solutions on the market, and I managed to get some joy out of using it for navigating the phone, browsing the web, moving emails and so on. The Air View function for the S Pen is another Note II feature that enhances the experience with the stylus. Air View places a dot on the screen using a digitizer to sense when the S Pen is near the display. When the S Pen is a few millimeters away, you'll receive a "cursor" on the screen which helps enable airview preview popups and more. For example, take the S Pen near a gallery in the photo album and you'll receive an entire preview without clicking on the album. The S Pen would almost be better described as a mouse on a PC, but it's both more and less than that.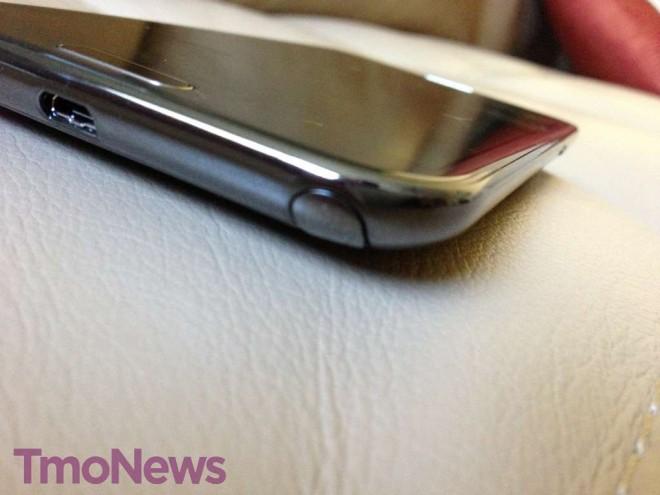 Samsung's own S Note app is pretty familiar to owners of the original Note, just improved. S Note helps raise the Note II into a formidable business machine with crop images, handwritten text, and an incredible dearth of operations,
Performance, Call Quality and Battery Life:
As an addendum to the hardware section, it's my belief that a short section dedicated to the performance of the Note II is worthwhile for the purpose of this review. Quadrant benchmark scores hovered in the 5500+ range but they don't tell the whole story. The Note II is a rapidly responsive to everything you touch and I was hard pressed to find any lag. Stressing the device with multiple applications never slowed it down. It just kept on chugging along. This definitely isn't the original Note which, while awesome, was definitely underpowered. The only interaction that seemed to lag was the time delay between pressing the power button and the screen coming alive. There's a moment there where the screen remains black and you wonder what's going on.
As the first device to ship Jelly Bean out of the box, the combination of Jelly Bean and the quad-core processor should really give some expectations and it's likely the Note II will not only meet them but also surpass them. Not to forward think too much, but it'll be interesting to see what Samsung can come up with in the third generation Note to provide a better user experience than the Note II can provide.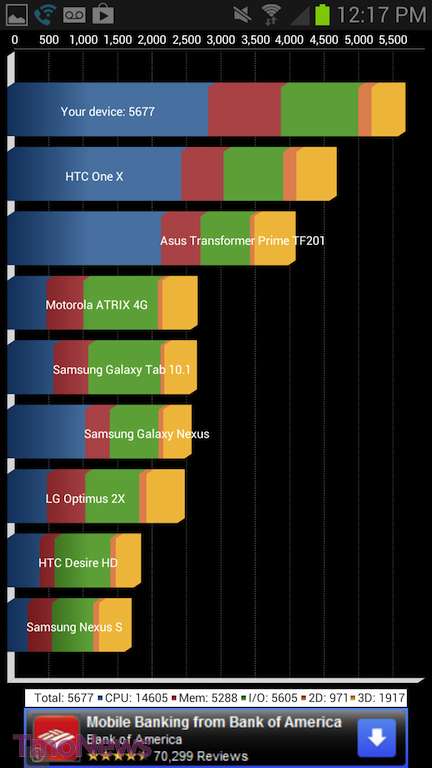 Unfortunately, only Sprint has the Multi-Window feature available as of this writing, and, while T-Mobile is expected to have it rollout along with AT&T and Verizon, we have little doubt that the Note II will do anything other than stare it down and keep on moving. The quad-core Exynos processor really is pushed to the limit and it shows in the everyday performance. If you thought the performance of the Galaxy S III was good, the Note II will come off as great.
The 3,100mAh battery provides plenty of juice for everyday use, and, while we'd love to see a larger battery, I had zero issues powering through a day's use. Between emails, Twitter and blog management, I'm on the phone enough that I'd easily be considered a power user and I still made it through the whole day with charge to spare. I base battery life based on whether or not you can go from the time you wake up to the time you can go to bed with only one charge and the Note II met this requirement. All things considered, I averaged between 8–9 hours with 50% brightness, email, Twitter, browsing and tinkering around. That is more than enough battery for two days of use for a less frequent user.
Call quality was also a bright spot for the Note II, with strong reception even in areas that are generally difficult for me. The addition of Wi-Fi calling adds an extra bonus and can really make a difference for in-building coverage. Still, the size of the device can be a hiccup, as it takes a little bit of time to find a comfortable place in the hand and on the ear. Volume is excellent both through the ear and the speaker and comes across with little distortion. Friends and family on the other end of phone calls had no complaints and said I sounded great.
When it comes to T-Mobile's HSPA+ network, my greatest results are always with a Samsung device and the Note II was no different. Speeds averaged in the 20+ range for HSPA+ and earlier today I captured my greatest result ever with a 31.12Mbps result. That's as fast as my home internet.
Camera: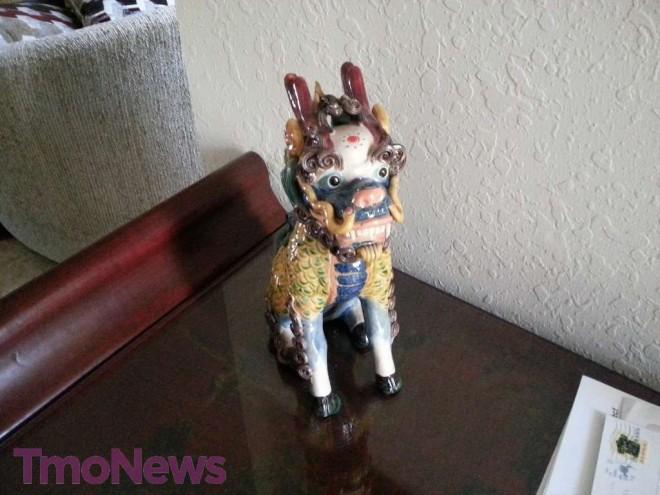 Samsung's Galaxy camera line needs little introduction, if you've used the camera on the S III, you've used the camera on the Note II. Needless to say, there's an 8 megapixel rear camera and 1.9 megapixel camera on the front, and they are great. Samsung's camera apps have a ton of shot options, capabilities and opportunities to edit your image post-shot. Like all smartphone cameras, the Note II camera is an imperfect beast, but I wouldn't hesitate to tell you that with the Note II, you could leave your point and shoot behind.
The most impressive inclusion with the Note II camera is the Best Face feature. Best Face allows for capturing multiple group photos and then determines the best faces for each person and then creates a single photo out of multiple images. Pretty slick feature and handy when someone decides to look away from the camera.
The Note II records 1080p video and because of the size of the device, you can easily cut down on the shakiness that can often plague smaller form factors. I could spend a lot of time praising Samsung for the Note II camera, and they would deserve every word of it. The bottom line is that Samsung has once again produced a great shooter that matches the quality of the Galaxy S III. You'll have to explore the incredible depth of options, but once you become familiar with the various shots you can produce, you'll be thankful you did.
Bottom Line:
I'll go on record as saying the Galaxy Note II is one of the best Android devices I've ever used, and, if you'll pardon the pun, it's smooth like butter. Project butter that is. With a flagship Samsung device you're assured at least a few upcoming Android updates as Samsung continues to place the Note II on a level that has it billed as one of their premiere devices. Along with that, the promise of a huge development community means that even the most ardent Android fan should rest assured that the device has plenty of life and will be littered with improvements thanks to the Android community.
On T-Mobile's lineup, the Note II is a top Android device, but it may not be the best device for you. The Galaxy S III is a fantastic choice and while it's still large in its own right, it's small compared to the Note II. The Galaxy S III may be a little more comfortable for you to hold and if you can live without the S Pen, it may be a better choice. Making the decision even harder in the past few weeks is the upcoming release of the Nexus 4. Normally I wouldn't add in a Nexus device as a deciding factor, but given that T-Mobile will subsidize the Nexus, it's thrown right into the mix of choices. There's no question these three devices given T-Mobile a seriously competitive Android lineup, adding to the problem of deciding which phone is right for you.
The Galaxy Note II may come across at first as a larger Galaxy S III, but it's far more than that as the aforementioned S Pen, future multi-window and multi-tasking support add some extra features that business users may enjoy immensely. Compared to its predecessor, the Galaxy Note II is like a whole new world and a major, major upgrade.
Ultimately, it comes down to size and whether or not that's a blessing or a curse. The power of the handset aside, the size may be a limiting factor for many. There's no question that this may be a "try before you buy" device, and that's okay. You may feel ridiculous holding a phone this large up to your ear, but you may love the tablet-like experience with Flipboard, Pulse and various apps.
At the end of the day, the Note II is what some may consider the ultimate compromise between both a smaller phone and a larger tablet. The only question is whether that  compromise is right for you.