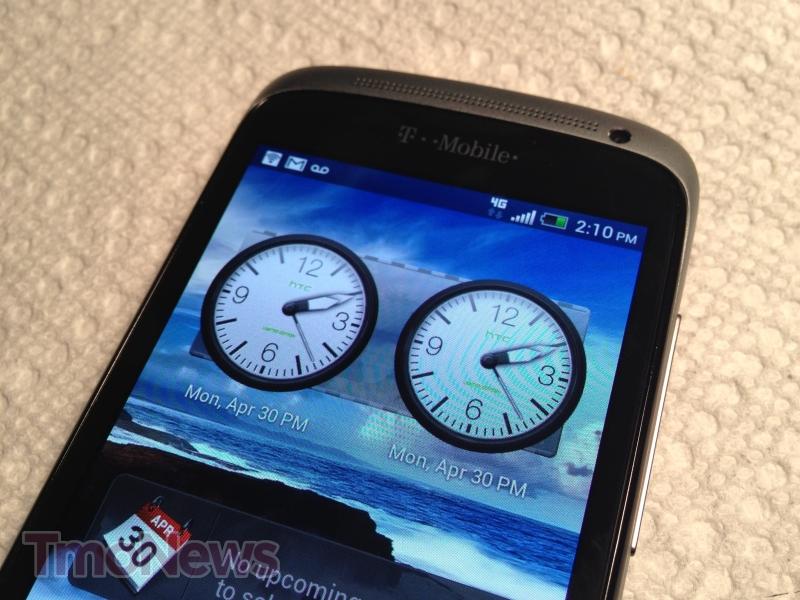 There is little question that HTC has been criticized for releasing too many phones that all seemed to be too much like each other. HTC was putting out the newest and best phone once a month, every month, for as long as we can remember. Arguably, these "superphones" helped launch Android into the stratosphere but, as a company, HTC was doing itself more harm than good. As HTC recognized a change in direction was necessary and that quality over quantity had to be the new emphasis, they came up with "One". Three new smartphones, the HTC One X, HTC One S and HTC One V, make up the core of HTC's 2012 launches thus far. There is little hope in beating around the bush so we'll just come right out and say, all things considered, the HTC One X is HTC's top-of-the-line model. That being said, the HTC One S is no slouch and it's dual-core Snapdragon S4 processor is ready to stand its ground against the HTC One X. The HTC One has gorgeous hardware, a beautiful display, a powerful set of features and it is T-Mobile's newest Android hero phone. So how did I like it? Read on and find out.
Specifications: 
4.3" qHD Super AMOLED 960 x 540 display
Android 4.0 + HTC Sense 4
8 megapixel rear camera with flash
VGA front-facing camera
1.5GHZ dual-core, Qualcomm MSM8260A processor
1GB RAM
16GB onboard storage
1650mAh battery
HSPA+ 42Mbps compatible
Beats Audio
5.15" x 2.56" 0.31"
7.88mm thin
HTC ImageChip technology
1080p HD video
10.5 hour talk time, 13.2 days standby
Pros: 
Sexy hardware
Beautiful screen
HSPA+ 42 speed
Very good battery life
Superb camera quality
Cons: 
HTC Sense is love it/hate it
Non-removable battery
Pentile display isn't everyone's favorite
Pre-installed bloatware
Will it stand out against Galaxy S III?
Hardware: 
The HTC One S can only be introduced as thin, like I want to caress-this-in-my-hands-thin thin. Your first impression of the phone will almost certainly be a little bit of wonderment around its the slim profile. While it may anger a small percentage of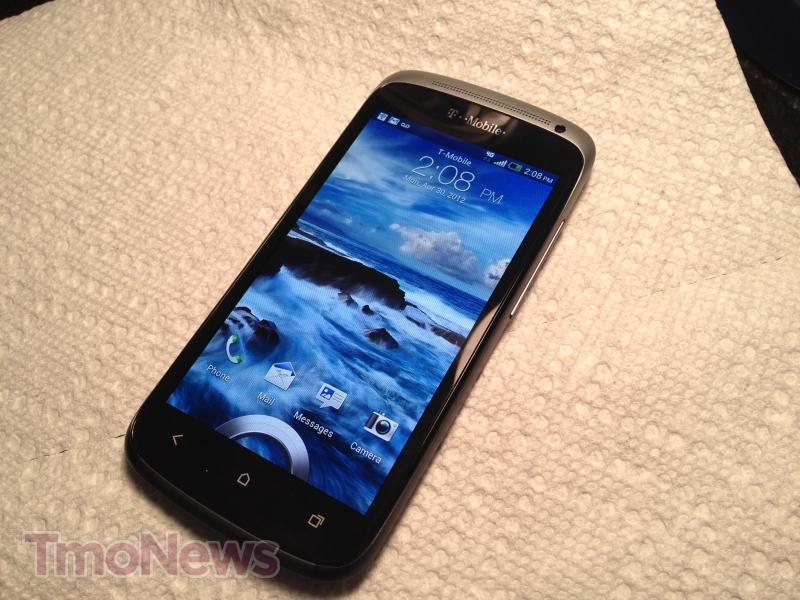 users, HTC was partially able to accomplish the sleek profile by making the battery of the HTC One S non-removable. That's not always a plus, especially when a hard rest is required due to a lingering issue disrupting your smartphone workday. Also, there is no Micro-SD slot. Instead, HTC opted to include 16GB of onboard storage which can be paired with 25GB of Dropbox storage. The only removable part of the phone is the top cover on the rear of the device which hides the microSIM. Yup, you read that right, I said microSIM.
As for the rest of the outside of the device, on the top lies the Power button and 3.5mm headphone jack. The microUSB port is located on the left side, and on the opposite side you'll find the volume rocker. It's a pretty standard smartphone configuration and HTC didn't try anything radical with the hardware button placement. The One S is going to appeal to many users, partially due to the beauty of its 4.3" Super AMOLED qHD display. However, there are some potential One S owners who will be turned off by the Pentile display.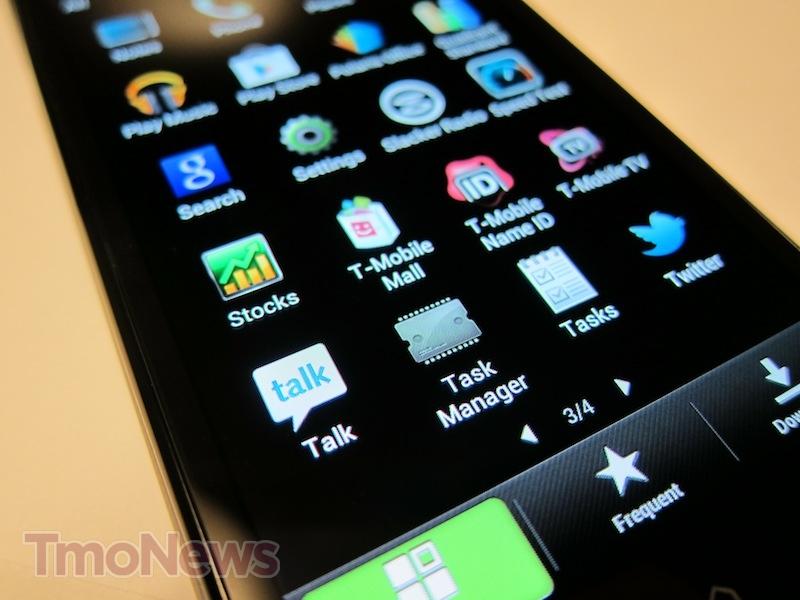 So what does Pentile display mean? In layman's terms, when viewed up close, the sub-pixel matrix of a Pentile display will make lines look jagged meaning the edges of text and graphics don't appear smooth. If you're looking at the display at any distance farther than 18 inches or so, you'd be hard pressed to detect any difference between a Pentile and non-Pentile display. The qHD display has 540 x 960 resolution, which is better than the Galaxy S II, but less so than say the iPhone's retina display or even the screen on the Galaxy Nexus. Will any of this matter to you? To a very small sub-set of users who swear off Pentile display, yes. To the layman, no, you will likely never notice as the display is still beautiful.
The aluminum body of the HTC One S has to impress you. It's seriously just that thin, that sleek and that sharp. T-Mobile opted against the micro arc oxidation treatment HTC has been giving international versions of the HTC One X and One S, providing it with a smoother finish. Not having tried the international version, we make our own fair comparison, but for those that have, there seems to be agreement that T-Mobile made the right choice. Most important, the HTC One S will not show fingerprints, at least not on the aluminum parts of the phone.
There is little question that HTC has compiled a powerful phone. The reigning benchmark champ on T-Mobile, the Galaxy S II, puts up a Quadrant benchmark score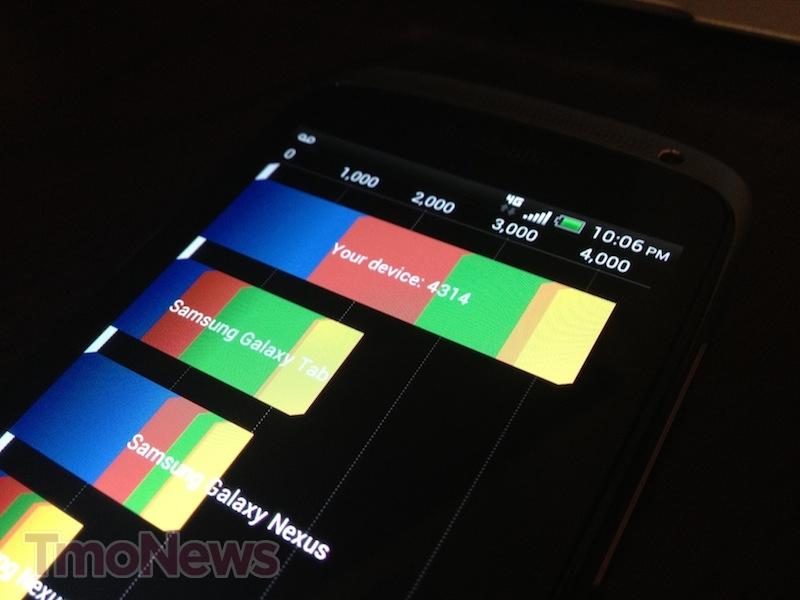 right around the low-mid 3000's. The HTC One S? Every Quadrant score I attempted on the One S scored over 4800+. I know, benchmarks mean little in the real world and that's very true, but you can't set aside just how powerful the HTC One S really is. Gorilla glass screen, 1.5GHz Qualcomm Snapdragon S4 processor and 1GB of RAM — they all give the One S the goods to perform.
Software: 
I'll go out on a limb right away and say that HTC Sense 4 combined with Ice Cream Sandwich is the best-looking Android overlay currently on the market. Like all Android overlays, they exist in a love it or hate it world and that's very fair to say. I've seen and read enough of your feedback to know that there are clear battle lines drawn in the TouchWiz vs. Sense war.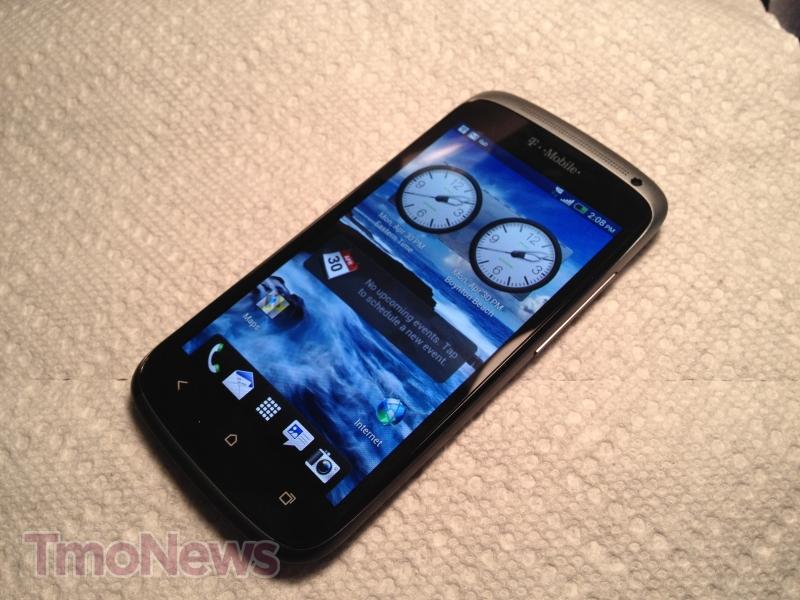 The One S packs a punch with graphical widgets, but with less 3D effects than we've seen in previous iterations of Sense. The iconic HTC clock and weather widget greet you as soon as you've finished booting the device, and they are joined by the internet and gallery apps, as well as the Google search widget. Google Play is surprisingly relegated to a second homescreen, just one screen flip to the right. Enter the main app screen and you're immediately greeted with far too much pre-installed T-Mobile bloatware. Say hello to 411 & More, Amazon, Game Base, Lookout security, T-Mobile Hotspot, More for Me, My T-Mobile, Polaris Office, Slacker, T-Mobile Mall, T-Mobile Name ID, T-Mobile TV, Where's My Water and Zinio. There is a pretty good argument for including apps like T-Mobile Hotspot and My T-Mobile, but less so for Lookout security, Polaris Office Slacker and the like. How about this? Just stop installing bloatware all together. None of this accounts for the apps HTC has pre-loaded but we won't get into those. Needless to say, there is — like all Android smarpthones these days — far too much preloaded.
On a side-note, for all of those who have asked recently, Wi-Fi calling is pre-installed.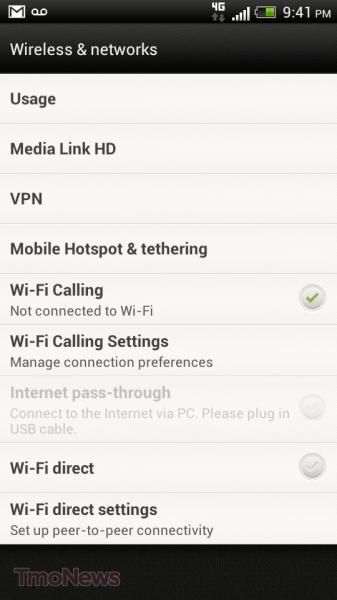 Sense 4 is seemingly redesigned to mirror Android 4.0 and it's safe to say that Android 4.0 has its own set of pretty large design changes. Upon starting up the phone, you'll be prompted to work through HTC's start up process and it's easy. You'll choose your data connection, HTC account options, Dropbox account options, privacy policy and so on. My biggest issue with Android 4.0 and Sense 4 is the lack of a menu button. It simply doesn't exist. To help counter the lack of the button, HTC has added a black bar that pops up with three vertical small dots that stand for menu. How they stand for menu and how you are supposed to know that the first time they pop up is beyond me. They do appear anywhere there isn't a designated menu option and that's good, but it's inconsistent at best and you may find yourself looking for that menu button more often than you think during your first few days with the phone. Sometimes though, apps that haven't been updated for Android 4.0 have the bar but no options, but, hopefully, this will resolve itself as more apps are updated for Android 4.0 compatibility.
When it comes down to it, Sense 4 is easily removed. I spent the last few days playing around with Apex and Nova launchers and while I won't get into which you should choose, they are both great for getting rid of any real noticeable inclusion of Sense 4 on the device. That's not to say that getting rid of Sense 4 was a deal-breaker for me. I stand by my opinion that Sense 4 is "better" than TouchWiz. For all the customization Android has to offer, I had more fun playing around with launchers. For the every person, Sense 4 is intuitive and most of the lingering issues regarding apps should be rectified as they update.
Camera: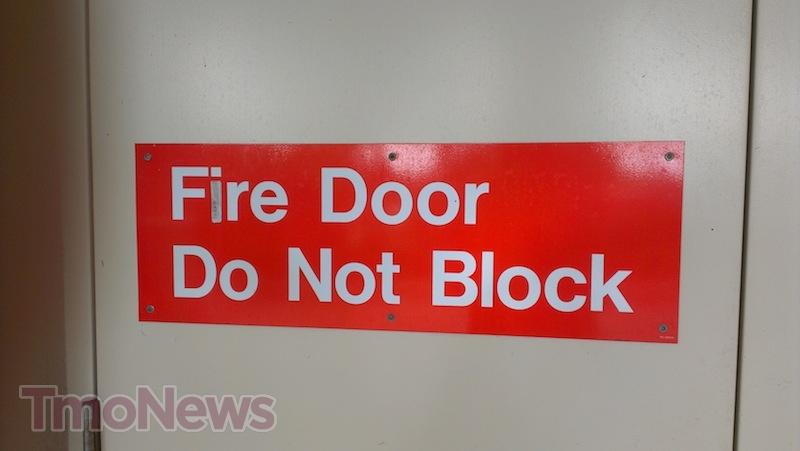 Camera quality is the meat, the goods and one of the critical advantages HTC tried to lay out for the One series of devices. HTC has included their new ImageSense or ImageChip processor which is said to provide nearly instantaneous shutter speed. At 0.7 seconds, it's pretty instantaneous as far as I was concerned. There is no question this is the best camera HTC has ever produced on a smartphone, but that's not to say the included 8 megapixel camera is so perfect you can throw out your DSLR. I still have to give Apple and Nokia the edge for camera quality as they've really gotten it right. However, if you're coming from an older HTC product or even an older Samsung, LG or alternate Android manufacturer, you're going to be impressed. I'd be interested to see how HTC Amaze 4G owners compare the camera quality. That's where the real change could or should be noticed.
HTC has included an 8 megapixel f/2.0 back side illuminated camera capable of 180p and 60fps HD video recording. HTC included features like a 0.2 second autofocus, high-speed burst, and the ability to take pictures while recording among other less marketable features. There's even a few filters if you just can't wait to run the picture through Instagram before uploading to Facebook.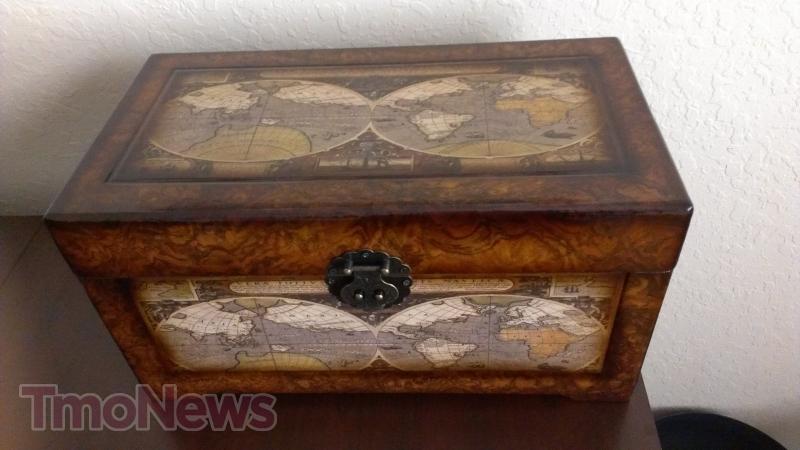 Overall, pictures were good and certainly better than 90% of the smartphones out there, but that's not to say they were perfect. I often saw over-saturation of brighter colors, which wasn't such an issue in low-light settings but there was enough noise on some of the images to make me retake the photo. Part of that could be lighting, focus or just user error, but there was more than one occasion I wanted to re-snap the picture just to see if I would get the same results. Sometimes I did, sometimes I didn't.
I would have to say that I would still rank the iPhone 4S as the most solid camera in my stable of smartphones, but HTC comes close. It's just not "there." I will say that the ability to take a picture while recording video is just so awesome I could celebrate it all on its own. Video itself was very good, but not perfect. I feel like I should stop and say that while it may sound like I didn't really care for the camera on the One S, that wouldn't be true. I did like it and I found it more than useful for everyday shots. I think the problem is that we've come to expect more from our smartphone cameras as we tend to live our days more and more by the "the best camera is the one you have with you" mantra. For so many of us, our expectations grow as the manufacturers tell us how awesome x feature is and how great y feature will be in low-light. It's a sales pitch and we know it, but it creates impossible expectations that can't be lived up to. The bottom line is that One S camera is absolutely good enough for your every day life. If you spot Bigfoot, you'll get a great shot of him with the One S. If you're looking to capture your wedding with the One S, you should look elsewhere.
Speed: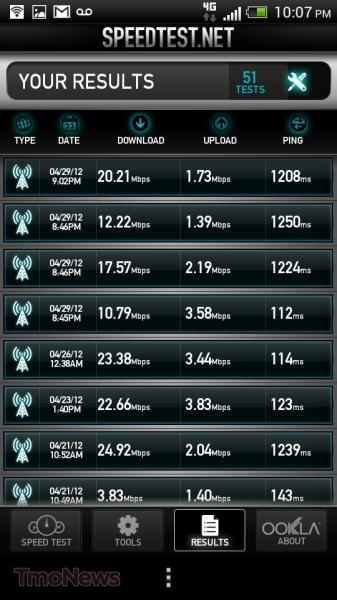 In my preview of the One S, I noted that I was experiencing slower than usual HSPA+ 42 speeds because T-Mobile had not yet provisioned our hardware for the network. That's something that happens from time to time when phones go out before they are ready for sale. It's not uncommon that, as a reviewer, we received pre-production hardware or early versions of the final software. Almost 24 hours after my preview was posted, T-Mobile activated HSPA+ 42 on my One S and the difference was more than noticeable.
I performed two sets of final speed tests, one from April 23rd, the day after my HSPA+ network was activated, and yesterday, April 29th. Out of the last seven speed tests I performed, four saw download speeds of more than 20Mbps, and none were lower than 10. I'd call those speeds pretty good and more than acceptable for browsing, downloading and posting on your Facebook wall.
I still have to give the Samsung Galaxy S Blaze 4G the crown as the fastest phone on T-Mobile's network. I performed the same set of speed tests in the same area as the One S and saw a more consistent set of results on the Blaze 4G. I still have to give an asterisk here due to the lack of HSPA+ network provisioning in early speed test trials. The bottom line here is that T-Mobile's network still performed admirably on the One S and it's an easy recommendation on their HSPA+ 42Mbps network.
Call Quality and Battery: 
Overall, I found call quality on the HTC One S to be great. The speaker was loud, the earpiece was loud and I really had no complaints using the phone the past two weeks. All in all, I'd have to say this was one of the better performing handsets I've used recently on T-Mobile's network. Considering I've used just about all them, that's high praise. I maintained a 4G network connection in all but one notorious dead zone location for T-Mobile near my home. No T-Mobile phone has ever survived the "4G" test there. It's apparently an EDGE for life location.
The 1650mAh battery got me through an entire day of browsing, emailing, texting, tweeting, tweeting some more and checking my usual ton of daily emails. In my 12 days of fully charged overnight battery, only one saw me needing a charge and that was around 5pm, so late enough in the day when I consider a second recharge acceptable based on my usual smartphone habits. That I got through most days without needing any extra charge was impressive. I really think the One S performs admirably on battery life and it's definitely a phone I would recommend to a smartphone warrior.
Conclusion: 
There is little in mind that would have me say the HTC One isn't one of the first smartphones you should look at on your next venture to your local T-Mobile store. The incredibly sexy hardware, screen, camera and video quality, and Sense 4 all scream "hey, look at me, I'm awesome". The HTC One is truly an awesome device and the only hiccups on the One S aren't likely to bother most smartphone buyers. The non-removable battery, Pentile display and lack of expandable storage is something that will likely rile up hardcore Android fans, but for most buyers, 16GB of storage with a promising 25GB of extra storage from Dropbox provides more than enough memory capacity for doing everything you want on your One S and more. Is removable battery really a non-starter? For some, yes, but I really have to say these are all nit-picky reasons not to choose the One S that affect less than a very small percentage of possible buyers. It may even only be one percent . Still, if those little things nag at you, look elsewhere than the One S.
If you're looking for the best smartphone T-Mobile currently has to offer, the One S makes a very compelling argument. For those of you strictly in the Samsung camp, the Galaxy S II is absolutely a true competitor, though the Benchmark scores tell somewhat of a different story. HTC would also have you believe that ImageSense technology is another major differentiator between HTC and Samsung, but our real-world results tell us it's not as big a deal as they may want us to believe.
The real decision may come down to the HTC One S and Samsung Galaxy S III/3 if and when it's announced for T-Mobile in the US. Based on rumored specs, it's going to arguably be the best Android phone ever but that doesn't mean it'll be the right phone for you. For Android fans who need the very latest, the extra few days wait is worth checking out the specs (and availability) on the Galaxy S III. Do you want to know what the best smartphone is on T-Mobile right now? The HTC One S will make a very compelling argument.