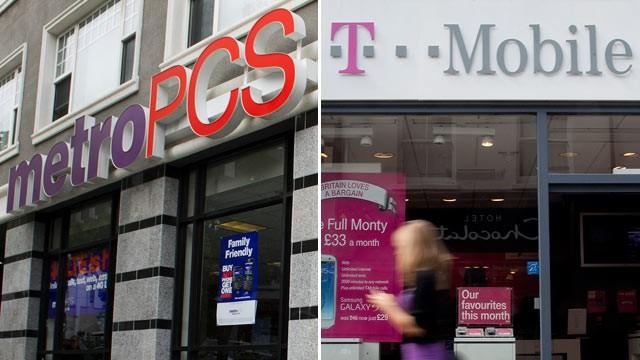 Since the announcement of the MetroPCS merger with T-Mobile USA, the company's shares have dropped 27 percent. The decline in share price could potentially leave the door open for other suitors, including Sprint and Dish Network, though both companies seem unlikely to make bids. Given that Sprint has just announced their intent to buy 100% of Clearwire and Dish continues its search for a national carrier to partner with, MetroPCS shareholders appear "stuck" with T-Mobile USA.
The question then becomes, whether or not T-Mobile is getting a steal? T-Mobile's October deal with Metro will see the carrier buy shares between $9.27 and $16, depending on the multiple applied. While Softbank CEO Masayoshi Son would love to see Sprint purchase Metro further strengthening Sprint's place in the US market, it would interfere with the company's efforts to pick up the rest of Clearwire. It seems unlikely that the FCC and DOJ would approve a three-way deal and leave T-Mobile out in the cold.
Dish Network has already made at least one offer for Metro when they offered $11 per share back in August. However, as Dish just received permission from the FCC to use its spectrum holdings for wireless service, they've made their intent to join up with an existing carrier clear. Sprint's move with Softbank leaves them in an unlikely position to partner with Dish, and MetroPCS will give them an existing footprint, but not a terribly large one. It's possible that Dish could partner with a joint T-Mobile, MetroPCS which would give them an existing national footprint. As Deutsche Telekom pledges another $4.7 billion in T-Mobile's network in 2013, Dish could use less of its own capital to build out a nationwide LTE network.
In the end, MetroPCS shareholders may find that a deal with T-Mobile is their only option and should take their cash dividend and hope that the deal materializes into a rejuvenated fourth-place carrier. With the promise of Apple "products" launching next year, 2013 already looks bright for T-Mobile. Circling back around to Metro's sagging share price and whether or not that signals fear that even combined with T-Mobile, the joint company will be still be in a distant fourth place.